Drug information of Albiglutide
Albiglutide
Albiglutide is a glucagon-like peptide-1 agonist (GLP-1) biologic drug indicated in the treatment of type 2 diabetes. It is a dipeptidyl peptidase-4-resistant glucagon-like peptide-1 dimer fused to human albumin.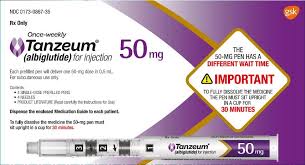 Mechanism of effect
Albiglutide is an agonist of the GLP-1 (glucagon-like peptide 1) receptor and augments glucose-dependent insulin secretion. Albiglutide also slows gastric emptying.
Pharmacodynamic
Not Available
Pharmacokinetics
Peak plasma time: 3-5 days
Peak plasma concentration: 1.74 mcg/mL
AUC: 465 mcg•h/mL
Steady-state concentration: 4-5 weeks
Vd: 11 L
Metabolism
Biotransformation studies have not been performed
Likely follows a metabolic pathway similar to native human serum albumin, which is catabolized primarily in the vascular endothelium
Half-life: 5 days
Dosage
Adult
Diabetes Mellitus, Type 2
30 mg SC once weekly; may increase to 50 mg once weekly if glycemic response is inadequate
Pediatric
Safety and efficacy not established
Alerts
Acute pancreatitis reported (rare); discontinue if pancreatitis suspected and do not restart if confirmed; consider other antidiabetic therapies in patients with a history of pancreatitis
Hypoglycemia may occur when used in combination with insulin secretagogues (eg, sulfonylureas) or insulin; consider lowering sulfonylurea or insulin dosage when starting albiglutide
Serious hypersensitivity reactions reported, including angioedema and generalized pruritus, rash, and dyspnea; discontinue albiglutide if such reactions occur
Anaphylaxis and angioedema reported with other GLP-1 receptor agonists; use caution in a patient with a history of anaphylaxis or angioedema with another GLP-1 receptor agonist because it is unknown whether such patients will be predisposed to these reactions with therapy
Acute renal failure and worsening of chronic renal failure (some requiring hemodialysis) reported with treatment with GLP-1 receptor agonists; monitor renal function in patients with renal impairment
reporting severe adverse gastrointestinal reactions; use caution when initiating or escalating doses in patients with renal impairment and/or in those reporting severe gastrointestinal symptoms; advise patients of potential risk of dehydration in relation to gastrointestinal side effects and to take precautions to avoid fluid depletion
Black Box Warnings
Risk of thyroid C-cell tumors
Causes thyroid C-cell tumors in rodents; human risk could not be determined
Contraindicated in patients with personal or family history of medullary thyroid carcinoma (MTC) or in patients with multiple endocrine neoplasia syndrome type 2 (MEN-2)
Routine monitoring of serum calcitonin or using thyroid ultrasound monitoring is of uncertain value for early detection of MTC in patients treated with albiglutide
Points of recommendation
Tell all of your health care providers that you take albiglutide. This includes your doctors, nurses, pharmacists, and dentists.
Follow the diet and workout plan that your doctor told you about.
Check your blood sugar as you have been told by your doctor.
Have blood work checked as you have been told by the doctor. Talk with the doctor.
It may be harder to control your blood sugar during times of stress like when you have a fever, an infection, an injury, or surgery. A change in level of physical activity or exercise and a change in diet may also affect your blood sugar. Talk with your doctor.
Talk with your doctor before you drink alcohol.
Do not share pen or cartridge devices with another person even if the needle has been changed. Sharing these devices may pass infections from one person to another. This includes infections you may not know you have.
If you cannot drink liquids by mouth or if you have upset stomach, throwing up, or diarrhea that does not go away, you need to avoid getting dehydrated. Contact your doctor to find out what to do. Dehydration may lead to new or worse kidney problems.
It is given as a shot into the fatty part of the skin on the top of the thigh, belly area, or upper arm.
Take with or without food.
Take the same day each week.
Do not shake.
Use the dose within 8 hours after mixing.
Use your dose right away after you put the needle on the pen.
Do not use if the solution is cloudy, leaking, or has particles.
This medicine is yellow after mixing. Do not use if the solution changes color.
Wash your hands before and after use.
Move site where you give the shot each time.
Do not mix albiglutide in the same syringe with insulin.
If you are also using insulin, you may inject albiglutide and the insulin in the same area of the body but not right next to each other.
Keep taking albiglutide as you have been told by your doctor or other health care provider, even if you feel well.
Attach new needle before each dose.
What do I do if I miss a dose?
Take a missed dose as soon as you think about it.
If you miss your dose by more than 3 days, skip the missed dose. Take your next dose on your normal day.
Do not take 2 doses at the same time or extra doses.
Pregnancy level
Group c - Not adequate studies in pregnant women