Drug information of Efinaconazole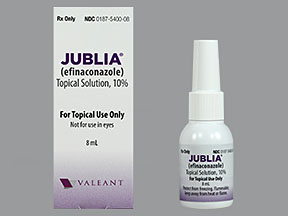 Pharmacodynamic
Efinaconazole topical solution is in a class of medications called antifungals. It works by stopping the growth of nail fungus.
Pharmacokinetics
mean ± SD plasma Cmax on Day 28 of treatment: 0.67 ± 0.37 ng/mL. mean ± SD AUC was 12.15 ± 6.91 ng*h/mL
Half life: 29.9 hours in healthy patients.
Drug indications
Treatment of fungal infection of the nail, known as onychomycosis.
Dosage
Before applying this medication, clean and dry the infected toenail(s). Wait at least 10 minutes after showering, bathing, or washing before applying. Use this medication only on the infected toenail(s) as directed by your doctor, usually once daily for 48 weeks. If this medication is used on a child, an adult should apply it for them.
Interactions
There are no known significant interactions.
Alerts
Local irritation: Persistent local pain, irritation, or dermatitis may develop. If this occurs, contact health care provider.
Points of recommendation
Inform patient report immediately to prescriber severe application site irritation or ingrown toenail
Educate patient about signs of a significant reaction (eg, wheezing; chest tightness; fever; itching; bad cough; blue skin color; seizures; or swelling of face, lips, tongue, or throat).
Related drugs