Drug information of Naftifine
Naftifine
Naftifine is a synthetic, broad spectrum, antifungal agent and allylamine derivative for the topical treatment of tinea pedis, tinea cruris, and tinea corporis caused by the organisms Trichophyton rubrum, Trichophyton mentagrophytes, Trichophyton tonsurans and Epidermophyton floccosum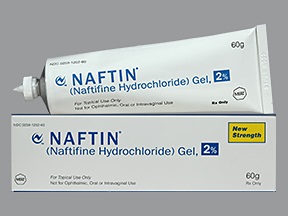 Mechanism of effect
Although the exact mechanism of action against fungi is not known, naftifine appears to interfere with sterol biosynthesis by inhibiting the enzyme squalene 2,3-epoxidase. This inhibition of enzyme activity results in decreased amounts of sterols, especially ergosterol, and a corresponding accumulation of squalene in the cells.
Pharmacodynamic
Naftifine is a synthetic, broad spectrum, antifungal agent and allylamine derivative. The following in vitro data are available, but their clinical significance is unknown. Naftifine has been shown to exhibit fungicidal activity in vitro against a broad spectrum of organisms including Trichophyton rubrum, Trichophyton mentagrophytes, Trichophyton tonsurans, Epidermophyton floccosum, and Microsporum canis, Microsporum audouini, and Microsporum gypseum; and fungistatic activity against Candida species including Candida albicans. However it is only used to treat the organisms listed in the indications
Pharmacokinetics
Following single topical applications of 3H-labeled naftifine gel 1% to the skin of healthy subjects, up to 4.2% of the applied dose was absorbed
Drug indications
This medication is used to treat a variety of fungal skin infections such as ringworm, athlete's foot, and jock itch. Naftifine is an antifungal that works by preventing the growth of fungus.
Drug contraindications
Do not use the medication in the eyes, nose, mouth, or inside the vagina. If you do get the medication in those areas, flush with plenty of water.
Side effects
Burning, stinging, irritation, redness, dry skin, or itching at application site may occur. If any of these effects persist or worsen, notify your doctor or pharmacist promptly.
Remember that your doctor has prescribed this medication because he or she has judged that the benefit to you is greater than the risk of side effects. Many people using this medication do not have serious side effects.
A very serious allergic reaction to this drug is rare. However, seek immediate medical attention if you notice any symptoms of a serious allergic reaction, including: rash, itching/swelling (especially of the face/tongue/throat), severe dizziness, trouble breathing.
This is not a complete list of possible side effects. If you notice other effects not listed above, contact your doctor or pharmacist.
Interactions
Drug interactions may change how your medications work or increase your risk for serious side effects. This document does not contain all possible drug interactions. Keep a list of all the products you use (including prescription/nonprescription drugs and herbal products) and share it with your doctor and pharmacist. Do not start, stop, or change the dosage of any medicines without your doctor's approval.
Alerts
Before using naftifine, tell your doctor or pharmacist if you are allergic to it; or to other allylamine antifungals (e.g., terbinafine); or if you have any other allergies. This product may contain inactive ingredients, which can cause allergic reactions or other problems. Talk to your pharmacist for more details.


Do not apply more often or use longer than prescribed. This may increase the risk of side effects.
Use this medication regularly to get the most benefit from it. To help you remember, use it at the same time(s) each day.
Continue to use this medication until the full prescribed treatment period is finished, even if symptoms disappear after a few days. Stopping the medication too early may result in a return of the infection.
Before using this medication, tell your doctor or pharmacist your medical history.
Points of recommendation
Use this medication on the skin only. Clean and thoroughly dry the area to be treated. Apply a thin layer of the medication to and around the affected area and gently rub in. This medication is usually applied once daily if you are using the cream, or twice daily (morning and evening) if you are using the gel, or as directed by your doctor. Wash your hands after using unless the area to be treated includes the hands. Do not wrap, cover, or bandage the area unless directed to do so by your doctor.
Pregnancy level
HAVE NOT BEEN ESTABLISHED
During pregnancy, this medication should be used only when clearly needed. Discuss the risks and benefits with your doctor.
Breast feeding warning
It is unknown if this drug passes into breast milk. Avoid applying near the breast area if breast-feeding. Consult your doctor before breast-feeding.