Drug information of dinutuximab
dinutuximab
Dinutuximab is a cancer medicine that interferes with the growth and spread of cancer cells in the body.
Dinutuximab is used in combination with other medicines to treat neuroblastoma (a type of brain tumor) in children.
Dinutuximab is usually given after other treatments or medicines have been tried without success.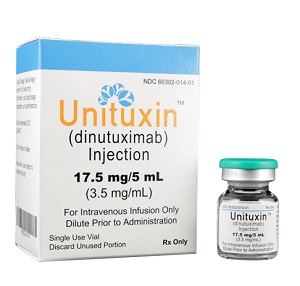 Mechanism of effect
Dinutuximab binds to the disialoganglioside GD2, which is highly expressed in neuroblastoma, most melanomas, and other tumors, as well as on normal tissues such as neurons, skin melanocytes, and peripheral sensory nerve fibers (Yu 2010). By binding to cell surface GD2, dinutuximab induces cell lysis (of GD2-expressing cells) through antibody-dependent cell-mediated cytotoxicity (ADCC) and complement-dependent cytotoxicity (CDC).
Pharmacokinetics
Distribution
Pediatric patients (age: 3.9 ± 1.9 years): Vdss: 5.4 L
Half life
Terminal: 10 days
Excretion
Clearance: Pediatric patients (age: 3.9 ± 1.9 years): 0.21 L/day; increased with body size.
Drug indications
Neuroblastoma: Treatment of high-risk neuroblastoma (in combination with granulocyte-macrophage colony-stimulating factor [GM-CSF; sargramostim], interleukin-2 [IL-2; aldesleukin] and 13-cis-retinoic acid [RA; isotretinoin]) in pediatric patients who achieve at least a partial response to prior first-line multiagent, multimodality therapy.
Dosage
:Usual Pediatric Dose for Neuroblastoma
17.5 mg/m2/day IV over 10 to 20 hours for 4 consecutive days for a maximum of 5 cycles
-Infuse on days 4, 5, 6, and 7 during cycles 1, 3, and 5 (cycles 1, 3, and 5 are 24 days in duration
-Infuse on days 8, 9, 10, and 11 during cycles 2 and 4 (cycles 2 and 4 are 32 days in duration).
Drug contraindications
History of anaphylaxis to dinutuximab.
Side effects
Cardiovascular: Hypotension, capillary leak syndrome, tachycardia , edema, hypertension
Central nervous system: Pain, peripheral neuropathy
Dermatologic: Urticaria
Endocrine & metabolic: Hyponatremia, hypokalemia, hypoalbuminemia, hypocalcemia, hypophosphatemia, hyperglycemia, hypertriglyceridemia, hypomagnesemia
Gastrointestinal: Increased serum ALT, vomiting, diarrhea, increased serum AST, decreased appetite
Genitourinary: Proteinuria
Hematologic & oncologic: Thrombocytopenia, lymphocytopenia, anemia, neutropenia , hemorrhage
Hypersensitivity: Severe infusion-related reaction
Infection: Sepsis, infection , bacteremia
Renal: Increased serum creatinine
Respiratory: Hypoxia
Miscellaneous: Fever, infusion-related reaction
Central nervous system: Peripheral sensory neuropathy, peripheral motor neuropathy
Dermatologic: Anaphylaxis
Endocrine & metabolic: Weight gain
Gastrointestinal: Nausea
Hematologic & oncologic: Febrile neutropenia, hemolytic-uremic syndrome
Ophthalmic: Blurred vision
Interactions
prednisone
,
Ciclesonide
,
Brimonidine
,
Deferiprone
,
Duloxetine
,
Diazoxide
,
Fingolimod
,
cladribine
,
Naftopidil
,
Alfuzosin
,
mesalamine
,
Barbiturates
,
Benperidol
,
Lormetazepam
,
Molsidomine
,
Chloramphenicol
,
Clozapine
,
denosumab
,
BCG vaccine
,
Amifostine
,
echinacea
,
Meningococcal conjugate vaccine
,
alirocumab
Alfuzosin, Amifostine, Antipsychotic Agents (Second Generation [Atypical]), Barbiturates, Baricitinib, BCG (Intravesical), BCG (Intravesical), Benperidol, Blood Pressure Lowering Agents, Brimonidine (Topical), Chloramphenicol (Ophthalmic), Cladribine, CloZAPine, Coccidioides immitis Skin Test, Deferiprone, Denosumab, Diazoxide, Dipyrone, DULoxetine, Echinacea, Fingolimod, Herbs (Hypotensive Properties), Hypotension-Associated Agents, Leflunomide, Levodopa-Containing Products, Lormetazepam, Mesalamine, Molsidomine, Naftopidil
Alerts
1-Serious and possibly life-threatening infusion reactions have been reported in 26% of patients receiving treatment with dinutuximab. Administer prehydration and premedication prior to each infusion and monitor patients for signs and symptoms of infusion reactions during treatment and for at least 4 hours after the infusion is completed. If severe infusion reactions occur during treatment, immediately stop the infusion. Permanently discontinue use if anaphylaxis occurs. Dinutuximab causes serious neurologic adverse reactions including severe neuropathic pain in most patients, as well as peripheral neuropathy (eg, peripheral sensory neuropathy, severe motor neuropathy). Not all cases of neuropathy were resolved during clinical trials. Administer IV opioids prior to, during, and for 2 hours after completion of treatment. Discontinue use if severe unresponsive pain, severe sensory neuropathy, or moderate to severe peripheral motor neuropathy occur.
2-Severe (grade 3 or 4) anemia, neutropenia, thrombocytopenia, and neutropenic fever were observed in dinutuximab-treated patients. Monitor complete blood counts closely during treatment.
3-Severe capillary leak syndrome was reported in close to one-fourth of patients receiving dinutuximab. Immediately interrupt infusion if capillary leak syndrome develops; infusion rate reduction and/or therapy discontinuation may be necessary. Initiate appropriate management in patients with symptomatic or severe capillary leak syndrome.
4-Electrolyte abnormalities (such as hyponatremia, hypokalemia, and hypocalcemia) were reported in at least one-fourth of patients who received dinutuximab, including grade 3 or 4 events. In a study of a related anti-GD2 antibody, syndrome of inappropriate antidiuretic hormone secretion (SIADH) resulting in severe hyponatremia was reported. Monitor electrolytes closely during therapy.
5-Dinutuximab is associated with a moderate emetic potential; antiemetics are recommended to prevent nausea and vomiting.
6-Hemolytic uremic syndrome (without documented infection) resulted in renal insufficiency, electrolyte abnormalities, anemia, and hypertension in a small number of patients. Atypical hemolytic uremic syndrome recurred in one patient upon rechallenge. Permanently discontinue if hemolytic uremic syndrome develops; manage supportively.
7-Severe hypotension occurred more frequently in patients receiving dinutuximab. Intravenous hydration is required prior to each infusion; closely monitor blood pressure during infusion. May require therapy interruption or discontinuation; initiate appropriate medical management in patients with a systolic blood pressure (SBP) less than lower limit of normal for age, or SBP that is decreased by more than 15% compared to baseline.
8-Severe (grade 3 or 4) bacteremia was reported more frequently in dinutuximab-treated patients, and required intravenous antibiotics or other urgent interventions. Sepsis was also observed in patients receiving dinutuximab. Monitor closely for signs/symptoms of systemic infection; may require therapy interruption until resolution of infection.
9-Transverse myelitis has occurred in patients receiving dinutuximab; signs/symptoms (weakness, paresthesia, sensory loss or incontinence) should be evaluated promptly. Discontinue permanently in patients who develop transverse myelitis.
Points of recommendation
1-Call your doctor at once if you have severe or worsening pain, numbness, tingling, weakness, or burning in your hands or feet, or if you have problems with walking or daily activities.
2-Some side effects may occur during the injection or up to 24 hours afterward. Tell your caregiver right away if you feel dizzy or light-headed, or if you have a skin rash, chest tightness, wheezing, trouble breathing, or swelling in your face.
3-To make sure dinutuximab is safe for you, tell your doctor if you have:
-any type of bacterial, fungal, or viral infection
-an eye disorder or vision problems
-bone marrow suppression
-low blood pressure
-an electrolyte imbalance (such as low levels of potassium, sodium, or calcium in your blood)
-liver or kidney disease
-problems with urination
4-Do not use dinutuximab if you are pregnant. It could harm the unborn baby. Use effective birth control to prevent pregnancy while you are using dinutuximab and for at least 2 months after your treatment ends.
5-Dinutuximab is injected into a vein through an IV. A healthcare provider will give you this injection. Dinutuximab must be given slowly and the IV infusion can take 10 to 20 hours to complete.
6-Dinutuximab is given with other medicines in a 28-day treatment cycle, and you may only receive dinutuximab for 4 days per cycle. Your doctor will determine how long to treat you with dinutuximab.
7-You will be watched closely for at least 4 hours after receiving dinutuximab, to make sure you do not have a reaction to the medicine.
8-Dinutuximab can lower blood cells that help your body fight infections and help your blood to clot. Your blood will need to be tested often. Your cancer treatments may be delayed based on the results of these tests.
Storage
-Store vials under refrigeration at 2°C to 8°C until time of use. Do not freeze.
-Do not shake the vial.
-Keep the vial in the outer carton in order to protect from light.
Pregnancy level
HAVE NOT BEEN ESTABLISHED
Studies in pregnant women and reproductive studies in animals have not been performed; monoclonal antibodies are transported across placenta in a linear fashion as pregnancy progresses, with the largest amount transferred during the third trimester; advise pregnant women of potential risk to a fetus; advise females of reproductive potential to use effective contraception during treatment and for 2 months after the last dose of dinutuximab.
Breast feeding warning
Unknown whether distributed in breast milk; potential for serious adverse reactions in a breastfed infant; advise nursing mother to discontinue breastfeeding during therapy.
Drug forms
Unituxin