Drug information of Hepatitis B Vaccine
Hepatitis B Vaccine
Hepatitis B is a serious disease caused by a virus. Hepatitis causes inflammation of the liver, vomiting, and jaundice (yellowing of the skin or eyes). Hepatitis can lead to liver cancer, cirrhosis, or death.
Hepatitis B is spread through blood or bodily fluids, sexual contact, and by sharing items such as a razor, toothbrush, or IV drug needle with an infected person. Hepatitis B can also be passed to a baby during childbirth when the mother is infected.
The hepatitis B adult vaccine is used to help prevent this disease in adults. The dialysis form of this vaccine is for adults receiving dialysis.
This vaccine helps your body develop immunity to hepatitis B, but it will not treat an active infection you already have.
Vaccination with hepatitis B adult vaccine is recommended for all adults who are at risk of getting hepatitis B. Risk factors include: living with someone infected with hepatitis B virus; having more than one sex partner; men who have sex with men; having sexual contact with infected people; having hepatitis C, chronic liver disease, kidney disease, diabetes, HIV or AIDS; being on dialysis; using intravenous (IV) drugs; living or working in a facility for developmentally disabled people; working in healthcare or public safety and being exposed to blood or body fluids; living or working in a correctional facility; being a victim of sexual abuse or assault; and traveling to areas where hepatitis B is common.
Like any vaccine, the hepatitis B vaccine may not provide protection from disease in every person.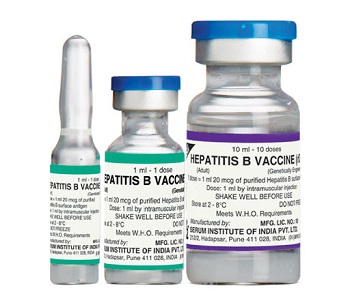 Mechanism of effect
Recombinant (adjuvanted) hepatitis B vaccine is a noninfectious viral vaccine, which confers active immunity via formation of antihepatitis B antibodies.
Drug indications
Labeled Indications
Hepatitis B virus disease prevention: Prevention of infection caused by all known subtypes of hepatitis B virus in adults
The Advisory Committee on Immunization Practices (ACIP) recommends routine vaccination for the following (CDC/ACIP [Schillie 2018b]):
- All unvaccinated adults requesting protection from HBV infection
- All unvaccinated adults at risk for HBV infection such as those with:
Behavioral risks: Sexually active persons not in a long-term, mutually monogamous relationship; persons seeking evaluation or treatment for a sexually transmitted disease; men who have sex with men; injection drug users
Occupational risks: Health care personnel (HCP) and public safety workers with reasonably anticipated risk for exposure to blood or blood contaminated body fluids
Medical risks: Persons with ESRD (including predialysis, hemodialysis, peritoneal dialysis, and home dialysis); persons with HIV infection; persons with chronic liver disease (eg, hepatitis C virus infection, cirrhosis, fatty liver disease, alcoholic liver disease, autoimmune hepatitis, ALT or AST level >2 times the upper limit of normal); adults (<60 years of age) with diabetes mellitus; adults ≥60 years of age with diabetes mellitus may also be vaccinated at the discretion of their treating clinician
Other risks: Household contacts or sex partners of persons who are HBsAg-positive; residents and staff of facilities for developmentally disabled persons; international travelers to regions with high or intermediate levels of endemic HBV infection; incarcerated persons.
Dosage
Usual Adult Dose for Hepatitis B Prophylaxis
Primary Vaccination:

Engerix-B(R):
19 years and younger: Three doses (0.5 mL each) intramuscularly on a 0, 1, and 6 month schedule
20 years and older: Three doses (1 mL each) intramuscularly on a 0, 1, and 6 month schedule

Heplisav-B(R): Two doses (0.5 mL each) intramuscularly one month apart

Recombivax-HB(R):
19 years and younger: Three doses (0.5 mL each) intramuscularly on a 0, 1, and 6 month schedule (use pediatric/adolescent formulation)
20 years and older: Three doses (1 mL each) intramuscularly on a 0, 1, and 6 month schedule (use adult formulation)

Known or Presumed Hepatitis B Exposure:

Engerix-B(R) : Use recommended doses of (above) on a 0, 1, and 6 month schedule OR a 0, 1, 2, and 12 month schedule.
Recombivax-HB(R): Refer to recommendations of the Advisory Committee on Immunization Practices (ACIP)

Comments:
-Administer hepatitis B immune globulin if appropriate.
-Start hepatitis B vaccine as soon as possible after exposure.
Drug contraindications
Severe hypersensitivity (eg, anaphylaxis) to any hepatitis B vaccine or any component of the formulation (including yeast)
Side effects
Side effects requiring immediate medical attention
Along with its needed effects, hepatitis b adult vaccine may cause some unwanted effects. Although not all of these side effects may occur, if they do occur they may need medical attention.
Check with your doctor immediately if any of the following side effects occur while taking hepatitis b adult vaccine:
Rare
Chest pain or discomfort
inability to move the arms and legs
nausea
pain or discomfort in the arms, jaw, back, or neck
sudden numbness and weakness in the arms and legs
sweating
vomiting
Side effects not requiring immediate medical attention
Some side effects of hepatitis b adult vaccine may occur that usually do not need medical attention. These side effects may go away during treatment as your body adjusts to the medicine. Also, your health care professional may be able to tell you about ways to prevent or reduce some of these side effects.
Check with your health care professional if any of the following side effects continue or are bothersome or if you have any questions about them:
More common
General feeling of discomfort or illness
headache
pain at the injection site
unusual tiredness or weakness
Less common
Fever
redness or swelling at the injection site
Interactions
Thymoglubin
,
Prednisolone
,
Canakinumab
,
Basiliximab
,
Alefacept
,
Rilonacept
,
Azathioprine
,
Everolimus
,
Infliximab
,
Budesonide
,
Prednisolone fort
,
Tacrolimus
,
Muromonab-CD3
,
Ustekinumab
,
Temsirolimus
,
Siponimod
,
cortisone
,
Adalimumab
,
Golimumab
,
Tocilizumab
,
Anakinra
,
Ocrelizumab
,
Glatiramer acetate
,
Mycophenolate mofetil
,
Methylprednisolone
,
Hydroxychloroquine
,
Hydrocortisone
,
prednisone
,
Triamcinolone
,
Deflazacort
,
Dexamethasone
,
Sirolimus
,
Cyclosporine
,
Fludrocortisone
,
secukinumab
antithymocyte globulin equine , antithymocyte globulin rabbit , acetonide injectable suspension
Alerts
Hepatitis B vaccine will not protect against infection with hepatitis A, C, and E, or other viruses that affect the liver. It may also not protect against hepatitis B if you are already infected with the virus, even if you do not yet show symptoms.
You should not receive this vaccine if you have ever had a life-threatening allergic reaction to any vaccine containing hepatitis B, or if you are allergic to yeast.
If you have any of these other conditions, your vaccine may need to be postponed or not given at all:
multiple sclerosis;
kidney disease (or if you are on dialysis);
a bleeding or blood clotting disorder such as hemophilia or easy bruising;
weak immune system (caused by disease or by using certain medicine);
an allergy to latex; or
a neurologic disorder or disease affecting the brain (or if this was a reaction to a previous vaccine).
Points of recommendation
You can still receive a vaccine if you have a minor cold. If you have a more severe illness with a fever or any type of infection, your doctor may recommend waiting until you get better before you receive this vaccine.
It is not known whether this vaccine will harm an unborn baby. However, if you are at a high risk for infection with hepatitis B during pregnancy, your doctor should determine whether you need this vaccine.
If you are pregnant, your name may be listed on a pregnancy registry to track the effects of this vaccine on the baby.
It may not be safe to breastfeed while receiving hepatitis B adult vaccine. Ask your doctor about any risk.


Storage
Store refrigerated at 2°C to 8°C (35°F to 46°F). Do not freeze; discard if the vaccine has been frozen.
Pregnancy level
C
Animal studies have not been conducted. There are no controlled data in human pregnancy.

Use is not recommended unless clearly needed.

AU TGA pregnancy category: B2
US FDA pregnancy category: C
Breast feeding warning
A study in 12 lactating women did not show evidence of this vaccine being excreted in breast milk. The Centers for Disease Control and Prevention (CDC) state that the vaccine may be used during lactation.
Caution is recommended.

Excreted into human milk: Unknown
Excreted into animal milk: Data not available
Drug forms
Heplisav-B