Drug information of Methocarbamol
Methocarbamol
Methocarbamol is a muscle relaxant. It may works by blocking nerve impulses (or pain sensations) that are sent to your brain. It may used together with rest and physical therapy to treat skeletal muscle conditions such as pain or injury.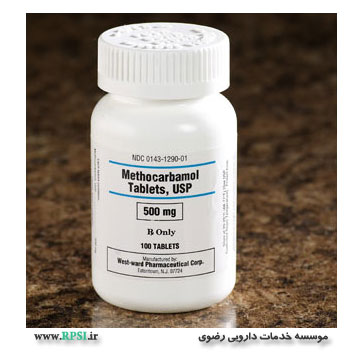 Mechanism of effect
The mechanism of action of methocarbamol is currently unknown, but may involve the inhibition of carbonic anhydrase. The muscle relaxant effects of methocarbamol are largely attributed to central depressant effects; however, peripheral effects of methocarbamol to prolong muscle refractory period have also been reported.Experts are not sure how methocarbamol works because it has no direct action on contractile mechanism of striated muscle, the motor end plate or the nerve fiber muscle; however, its effects may be due to its sedative properties or the way it blocks nerve impulses to the brain.
Pharmacokinetics
Absorption
Onset: 30 min
Peak serum time: 1-2 hr
Peak plasma concentration: 16.5-29.8 mcg/mL
Protein binding: 46-50%
Metabolism
Liver (dealkylation and hydroxylation)
Metabolites: Glucuronide and sulfate conjugates of 3-(2-hydroxyphenoxy)-1,2-propanediol-1-carbamate and 3-(4-hydroxy-2-methoxyphenoxy)-1,2-propanediol-1-carbamate; unidentified metabolites
Elimination
Half-life: 0.9-1.8 hr
Excretion: Urine
Dosage
**Usual Adult Dose for Muscle Spasm
Oral:
Initial dose: 1500 mg four times a day for the first 48 to 72 hours, up to a maximum dosage of 8 g/day for severe symptoms.
Maintenance dose: 4000 to 4500 mg/day in divided doses.

IV or IM:
1000 mg up to every 8 hours if necessary, not to exceed 3 g/day for more than 3 consecutive days except in the treatment of tetanus. A like course may be repeated after a lapse of 48 hours if the condition persists. Oral therapy should be instituted as soon as possible. For symptoms of moderate severity, oral doses may be adequate after one injection if patient can tolerate oral medications.
**Usual Adult Dose for Tetanus
1 to 2 g directly into IV tubing, followed by an additional 1 to 2 g by IV infusion for a total dose of up to 3 g initially. This procedure may be repeated every 6 hours until nasogastric tube can be inserted. Then, crushed tablets suspended in water or saline solution can be given through the nasogastric tube. Total daily oral doses up to 24 g may be required.
**Usual Pediatric Dose for Tetanus
Initial dose: 15 mg/kg/dose IV or 500 mg/m2/dose IV, may repeat every 6 hours if needed.

Maximum dose: 1.8 g/m2/day IV for 3 days only
Interactions
Thalidomide
,
Zolpidem
,
Azelastine
,
fentanyl
,
Pethidine
,
Oxycodone
,
Blonanserin
,
Chlormethiazole
,
methotrimeprazine
,
lemborexant
,
Droperidol
,
DihYDROCODONE
,
Hydrocodone
,
Orphenadrine
,
Paraldehyde
,
Suvorexant
,
Sodium Oxybate
,
Tapentadol
,
Alfentanil
,
Acetaminophen and benzhydrocodone
,
Oxymorphone
,
Ethchlorvynol
Alerts
Since Methocarbamol may possess a general CNS depressant effect, patients receiving tablets should be cautioned about combined effects with alcohol and other CNS depressants.
It may impair mental and/or physical abilities required for performance of hazardous tasks, such as operating machinery or driving a motor vehicle. Patients should be cautioned about operating machinery, including automobiles, until they are reasonably certain that Methocarbamol therapy does not adversely affect their ability to engage in such activities.
Methocarbamol may inhibit the effect of pyridostigmine bromide. Therefore, It should be used with caution in patients with myasthenia gravis receiving anticholinesterase agents.
Older adults may be more sensitive to the side effects of this drug, especially confusion, dizziness, or drowsiness. These side effects can increase the risk of falling.
This drug may change colour of urine to green or blue. This is a normal effect and is not cause for alarm.
Caution is recommended if the injectable form of methocarbamol is administered to epileptic patients due to the potential for inducing seizures.
The injectable preparation of methocarbamol is intended for IV or IM use only.

Injectable methocarbamol may be administered undiluted directly into the vein at a maximum rate of 3 mL (300 mg) per minute. It may also be added to an intravenous infusion of Sodium Chloride Injection or 5% Dextrose Injection. One vial given as a single dose should not be diluted to more than 250 mL for IV infusion. Care should be exercised to avoid vascular extravasation of the solution, which may result in thrombophlebitis. Patient should preferably be in a recumbent position during and for at least 10 to 15 minutes following the injection.

When given intramuscularly, not more than 5 mL should be injected into each gluteal region.
Points of recommendation
Methocarbamol May be taken with or without food.
Before taking It, tell your doctor or pharmacist if you are allergic to it; or if you have any other allergies. This product may contain inactive ingredients, which can cause allergic reactions or other problems. Talk to your pharmacist for more details.
Before using this medication, tell your doctor or pharmacist your medical history, especially of: liver disease.
Methocarbamol may make you more likely to fall over. Remove any trip hazards around your home, such as loose rugs.
Do not take any other medication, including medicines brought over-the-counter, in addition to methocarbamol , without first checking with your doctor or pharmacist first to make sure they are compatible.
Seek urgent medical advice if you develop unexplained flu symptoms, a slow heart rate, extreme dizziness, seizures, or a yellowing of your skin or eyes.
Use this drugs with cautions under age 16 only for tetanus.
Pregnancy level
Not assigned
Tags