Drug information of Ramucirumab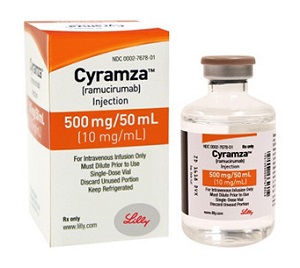 Mechanism of effect
Vascular endothelial growth factor receptor 2 (VEGFR2) antagonist that specifically binds VEGF receptor 2 and blocks binding of VEGFR ligands, VEGF-A, VEGF-C, and VEGF-D.
As a result, ramucirumab inhibits ligand-stimulated activation of VEGF2, thereby inhibiting ligand-induced proliferation, and migration of human endothelial cells
Pharmacokinetics
Steady-state achieved at ~ 12 weeks
Vd (steady-state): 5.4L
Clearance: 0.015 L/hr
Half-life: 14 days
Drug indications
-Colorectal cancer, metastatic
-Gastric cancer, advanced or metastatic
-Hepatocellular carcinoma, advanced or relapsed/refractory
-Non-small cell lung cancer, metastatic
Dosage
Premedicate prior to infusion with an IV H1 antagonist (eg, diphenhydramine); for patients who experienced a grade 1 or 2 infusion reaction with a prior infusion, also premedicate with dexamethasone (or equivalent) and acetaminophen.
Colorectal cancer, metastatic: IV: 8 mg/kg every 2 weeks in combination with FOLFIRI (irinotecan, leucovorin, and fluorouracil); continue ramucirumab until disease progression or unacceptable toxicity.
Gastric cancer, advanced or metastatic: IV: 8 mg/kg every 2 weeks as a single agent or in combination with weekly paclitaxel; continue ramucirumab until disease progression or unacceptable toxicity.
Hepatocellular carcinoma (advanced, relapsed/refractory): IV: 8 mg/kg every 2 weeks (as a single agent); continue ramucirumab until disease progression or unacceptable toxicity
Non-small cell lung cancer, metastatic: IV: 10 mg/kg on day 1 every 21 days in combination with docetaxel; continue ramucirumab until disease progression or unacceptable toxicity.
Drug contraindications
Hypersensitivity to ramucirumab or any component of the formulation
Side effects
Peripheral edema ,hypertension ,Fatigue , headache , insomnia ,Hypoalbuminemia , hyponatremia , hypocalcemia ,Abdominal pain , decreased appetite , nausea , diarrhea ,Proteinuria ,Thrombocytopenia , neutropenia ,Ascites, Epistaxis ,Infusion related reaction ,Arterial thromboembolism, Skin rash ,Vomiting , intestinal obstruction, Anemia, Hepatic encephalopathy , hepatorenal syndrome ,Antibody development , neutralizing,Back pain ,Pneumonia ,Fever ,Acute myocardial infarction, cerebral ischemia, cerebrovascular accident, severe hypertension, Hypothyroidism,Gastrointestinal hemorrhage, gastrointestinal perforation,Major hemorrhage,Hemangioma, nephrotic syndrome, reversible posterior leukoencephalopathy syndrome, thrombotic microangiopathy
Interactions
Binimetinib
,
Betrixaban
,
Alteplase
,
Eptifibatide
,
Streptokinase
,
Enoxaparin
,
Ibuprofen
,
Indomethacin
,
vortioxetine
,
cangrelor
,
caplacizumab
,
defibrotide
,
romosozumab
,
Dasatinib
,
Iron Dextran Complex
,
منیزیم سالیسیلات
,
fondaparinux
,
vorapaxar
,
zanubrutinib
,
Anisindione
,
Meclofenamate
,
Nabumetone
,
etodolac
,
Ruxolitinib
,
Omacetaxine
,
Tenecteplase
,
Edoxaban
,
Treprostinil
,
Bromfenac
,
Cabozantinib
,
Levomilnacipran
,
Anistreplase
,
Ibrutinib
,
Drotrecogin alfa
,
Reteplase
,
encorafenib
,
Fedratinib
,
Acalabrutinib
,
Desvenlafaxine
,
Milnacipran
,
Dexfenfluramine
,
inotersen
,
Antithrombin alfa
,
Tinzaparin
,
Danaparoid
,
Tositumomab
,
Ibritumomab tiuxetan
,
Antithrombin III
,
Ardeparin
,
fenoprofen
,
Salsalate
,
Diflunisal
,
Dalteparin
,
Sulindac
,
Tipranavir
,
deoxycholic acid
,
Anagrelide
,
Idelalisib
,
Regorafenib
,
Ponatinib
,
Ketoprofen
,
Ticagrelor
,
Epoprostenol
,
Iloprost
,
Nepafenac Ophthalmic
,
Suprofen
,
flurbiprofen
,
Lepirudin
,
Phenylbutazone
,
Dicoumarol
,
Tirofiban
,
Abciximab
,
Panobinostat
,
Fenfluramine
,
Apixaban
,
Vilazodone
,
Desirudin
,
Bivalirudin
,
Argatroban
,
Rivaroxaban
,
escitalopram
,
sulfinpyrazone
,
Aspirin
,
Plicamycin
,
Dabigatran
,
Heparin
,
Warfarin
,
Venlafaxine
,
Ketorolac
,
Clopidogrel
,
Clomipramine
,
Citalopram
,
Cilostazol
,
Fluvoxamine
,
Fluoxetine
,
Mefenamic acid
,
Meloxicam
,
Deferasirox
,
Duloxetine
,
Dipyridamole
,
Diclofenac
,
Sertraline
,
Sibutramine
,
Bismuth
,
Paroxetine
,
Prasugrel
,
Piroxicam
,
Tolmetin
,
Ticlopidine
,
Oxaprozin
,
Urokinase
,
alirocumab
Abciximab, acalabrutinib, ado-trastuzumab emtansine, alteplase, anagrelide, anisindione, anistreplase, antithrombin (recombinant), antithrombin iii, apixaban, ardeparin, argatroban, aspirin, betrixaban, binimetinib, bismuth subsalicylate, bivalirudin, bromfenac, cabozantinib, cangrelor, caplacizumab, choline salicylate, cilostazol, citalopram, clomipramine, clopidogrel, dabigatran, dalteparin, danaparoid, dasatinib, deferasirox, defibrotide, deoxycholic acid, desirudin, desvenlafaxine, dexfenfluramine, dextran 1, dextran, high molecular weight, dextran, low molecular weight, diclofenac, dicumarol, diflunisal, dipyridamole, drotrecogin alfa, duloxetine, edoxaban, encorafenib, enoxaparin, epoprostenol, eptifibatide, escitalopram, etodolac, fedratinib, fenfluramine, fenoprofen, fluoxetine, flurbiprofen, fluvoxamine, fondaparinux, hemin, heparin, horse chestnut, ibritumomab, ibrutinib, ibuprofen, idelalisib, iloprost, indomethacin, inotersen, iodine i 131 tositumomab, ketoprofen, ketorolac, lepirudin, levomilnacipran, magnesium salicylate, meclofenamate, mefenamic acid, meloxicam, milnacipran, nabumetone, naproxen, nepafenac ophthalmic, omacetaxine, oxaprozin, panobinostat, paroxetine, pentosan polysulfate sodium, phenylbutazone, piroxicam, plicamycin, ponatinib, prasugrel, regorafenib, reteplase, rivaroxaban, romosozumab, ruxolitinib, salsalate, sertraline, sibutramine, sodium salicylate, sodium thiosalicylate, streptokinase, sulfinpyrazone, sulindac, suprofen ophthalmic, tenecteplase, ticagrelor, ticlopidine, tinzaparin, tipranavir, tirofiban, tolmetin, tositumomab, treprostinil, urokinase, venlafaxine, vilazodone, vorapaxar, vortioxetine, warfarin, zanubrutinib
Alerts
-Increased risk of hemorrhage and GI hemorrhage, including severe and sometimes fatal hemorrhagic events; permanently discontinue in patients who experience severe bleeding
-Serious, sometimes fatal, arterial thromboembolic events including myocardial infarction, cardiac arrest, cerebrovascular accident, and cerebral ischemia reported during clinical trials
-Increased incidence of severe hypertension reported;
-Infusion-related reactions observed that include rigors/tremors, back pain/spasms, chest pain and/or tightness, chills, flushing, dyspnea, wheezing, hypoxia, and paresthesia; in severe cases, symptoms included bronchospasm, supraventricular tachycardia, and hypotension
-Ramucirumab is an antiangiogenic therapy that can increase the risk of GI perforation and affect wound healing; withhold prior to surgery; permanently discontinue ramucirumab in patients who experience a gastrointestinal perforation
-Impaired wound healing can occur with antibodies inhibiting the VEGF pathway; VEGFR2 antagonist has the potential to adversely affect wound healing; not studied in patients with serious or non-healing wounds
-Clinical deterioration, manifested by new-onset or worsening encephalopathy, ascites, or hepatorenal syndrome, reported in patients with Child-Pugh B or C cirrhosis; use only if the benefits outweigh the risks
-Posterior reversible encephalopathy syndrome (PRES), also known as reversible posterior leukoencephalopathy syndrome (RPLS), reported;
-Severe proteinuria, including nephrotic syndrome, reported, particularly when administered with FOLFIRI
-May cause hypothyroidism
-Based on its mechanism of action, ramucirumab can cause fetal harm when administered to pregnant women
-Bone marrow suppression: A higher incidence of neutropenia and thrombocytopenia were observed when ramucirumab was used in combination with paclitaxel
Points of recommendation
-control hypertension before initiating treatment and monitor blood pressure q2weeks or more frequently as indicated; temporarily suspend therapy for severe hypertension
- monitor thyroid function during treatment
-Verify pregnancy status of females of reproductive potential before initiating therapy
- Advise females of reproductive potential to use effective contraception during treatment and for 3 months after the last dose
-Advise females of reproductive potential that based on animal data, fertility may be impaired
Pregnancy level
HAVE NOT BEEN ESTABLISHED
Based on its mechanism of action, fetal harm may occur when administered to a pregnant woman.
There are no available data on use in pregnant women
Breast feeding warning
Unknown if distributed in human breast milk; a decision should be made whether to discontinue breastfeeding or discontinue the drug, taking into account the importance of the drug to the mother.
Human IgG is excreted in human milk, but published data suggest that breast milk antibodies do not enter the neonatal and infant circulation in substantial amounts
Drug forms
Cyramza