Drug information of Paricalcitol
Paricalcitol
Paricalcitol is a synthetic (man-made) form of vitamin D. Vitamin D is important for the absorption of calcium from the stomach and for the functioning of calcium in the body.

Paricalcitol is used to help maintain healthy levels of parathyroid hormone in people with chronic kidney disease who are on dialysis.

Paricalcitol oral is for use in adults and children at least 10 years old.

Paricalcitol injection is for use in adults and children at least 5 years old.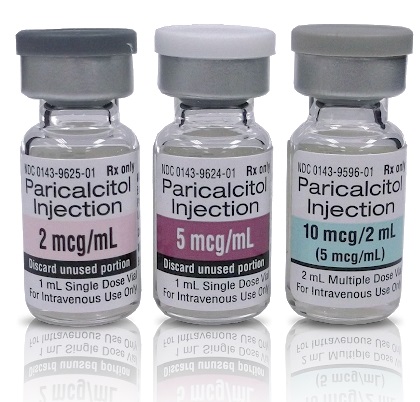 Mechanism of effect
Decreased renal conversion of vitamin D to its primary active metabolite (1,25-hydroxyvitamin D) in chronic renal failure leads to reduced activation of vitamin D receptor (VDR), which subsequently removes inhibitory suppression of parathyroid hormone (PTH) release; increased serum PTH (secondary hyperparathyroidism) reduces calcium excretion and enhances bone resorption. Paricalcitol is a synthetic vitamin D analog which binds to and activates the VDR in kidney, parathyroid gland, intestine and bone, thus reducing PTH levels and improving calcium and phosphate homeostasis.
Pharmacodynamic
Metabolism
Hydroxylation and glucuronidation via hepatic and nonhepatic enzymes, including CYP24, CYP3A4, UGT1A4; forms metabolites (at least one active)
Time to reach the peak
Plasma: 3 hours: Delayed by food
Half life
Healthy subjects: Oral: 4 to 6 hours; IV: 5 to 7 hours
Stage 3 and 4 CKD: Oral: 17 to 20 hours
Stage 5 CKD (on HD or PD): Oral: 14 to 18 hours; IV: 14 to 15 hours
Excretion
Healthy subjects: Feces (oral: 70%; IV: 63%); urine (oral: 18%, IV: 19%); 51% to 59% as metabolites
Drug indications
IV: Prevention and treatment of secondary hyperparathyroidism in adults and pediatric patients 5 years and older with chronic kidney disease (CKD) on dialysis

Oral: Prevention and treatment in adults and pediatric patients 10 years and older with secondary hyperparathyroidism associated with stage 3 and 4 CKD and stage 5 CKD patients on hemodialysis or peritoneal dialysis
Dosage
Usual Adult Dose for Secondary Hyperparathyroidism
Injectable:
Initial dose: 0.04 to 0.1 mcg/kg (2.8 to 7 mcg), injected as a bolus dose through a hemodialysis vascular access port at any time during dialysis
Maximum frequency: Every other day
Oral:
Initial dose:
Stage 3 or 4 Chronic Kidney Disease (CKD):
Initial dosing is based on baseline intact parathyroid hormone (iPTH):
500
pg/mL or less: 1 mcg orally daily OR 2 mcg orally 3 times a week
-Over 500 pg/mL: 2 mcg orally daily OR 4 mcg orally 3 times a week

Stage 5 CKD:
Starting dose (micrograms) = baseline iPTH level (pg/mL)/80
Starting dose is given orally 3 times a week; only start if baseline serum calcium has been adjusted to 9.5 mg/dL or lower.
Usual Pediatric Dose for Secondary Hyperparathyroidism
Safety and efficacy have not been established in pediatric patients.
The following is dosing used in a very small pediatric trial.
No data are available on children under 5 years old.

Initial dose, children 5 to 18 years:
0.04
mcg/kg three times per week if baseline intact parathyroid hormone (iPTH) is less than 500 pg/mL
0.08
mcg/kg three times per week if baseline iPTH is 500 pg/mL or higher
-Injected as a bolus dose through a hemodialysis vascular access port at any time during dialysis
Maximum frequency: Every other day
Drug contraindications
Hypersensitivity to paricalcitol or any component of the formulation; vitamin D toxicity; hypercalcemia

Documentation of allergenic cross-reactivity for vitamin D analogues is limited. However, because of similarities in chemical structure and/or pharmacologic actions, the possibility of cross-sensitivity cannot be ruled out with certainty
Side effects
>10%:
Gastrointestinal: Nausea (children, adolescents, and adults), diarrhea
Infection: Infection (bacterial, fungal, viral)
Respiratory: Rhinitis (children and adolescents)
1%
to 10%
Cardiovascular: Hypertension, edema, hypotension, palpitations, chest pain, peripheral edema, syncope, atrial flutter, cardiac arrhythmia, cerebrovascular accident, chest discomfort, ischemic bowel disease
Central nervous system: Dizziness, chills, insomnia, vertigo, headache, anxiety, depression, fatigue, malaise, abnormal gait, agitation, confusion, delirium, hypoesthesia, myoclonus, nervousness, paresthesia, restlessness
Dermatologic: Skin rash, dermal ulcer, ecchymoses, acne vulgaris, alopecia, burning sensation of skin, extravasation reactions, night sweats, pruritus, urticaria
Endocrine & metabolic: Hypervolemia, dehydration, hypoglycemia, hirsutism, hypercalcemia, hyperkalemia, hyperparathyroidism, hyperphosphatemia, hypocalcemia, hypoparathyroidism, increased thirst, weight loss
Gastrointestinal: Vomiting, gastrointestinal hemorrhage, peritonitis, constipation, abdominal pain, dyspepsia, xerostomia, decreased appetite, dysgeusia, dysphagia, gastritis, gastroesophageal reflux disease
Genitourinary: Urinary urgency (children and adolescents), chronic renal failure, uremia, urinary tract infection, erectile dysfunction, mastalgia, vaginal infection
Hematologic & oncologic: Anemia, lymphadenopathy, malignant neoplasm of breast, prolonged bleeding time, rectal hemorrhage
Hepatic: Abnormal hepatic function tests, increased serum AST
Hypersensitivity: Hypersensitivity reaction
Infection: Influenza, sepsis
Local: Pain at injection site
Neuromuscular & skeletal: Arthralgia, arthritis, weakness, back pain, leg cramps, muscle spasm, joint stiffness, muscle twitching, myalgia
Ophthalmic: Conjunctivitis (children and adolescents), glaucoma, ocular hyperemia
Otic: Otalgia
Respiratory: Nasopharyngitis, asthma (children and adolescents), pneumonia, oropharyngeal pain, bronchitis, cough, sinusitis, dyspnea, orthopnea, pulmonary edema, upper respiratory tract infection, wheezing
Miscellaneous: Fever, laboratory test abnormality, swelling
<1%, postmarketing, and/or case reports: Angioedema (including laryngeal edema), increased serum creatinine
Interactions
aluminum hydroxide/magnesium carbonate
,
Aluminum carbonate
,
Danazol
,
Digoxin
,
Sucralfate
,
orlistat
,
Aluminium hydroxide
,
Burosumab
,
Erdafitinib
,
Doxercalciferol
,
Calcitriol (topical)
,
Calcifediol
Aluminum Hydroxide, Bile Acid Sequestrants, Burosumab, Calcium Salts, Cardiac Glycosides,
CYP3A4 Inhibitors (Strong), Danazol, Digoxin, Erdafitinib, Mineral Oil, Multivitamins/Fluoride (with ADE), Multivitamins/Minerals (with ADEK, Folate, Iron), Orlistat, Sucralfate, Thiazide and Thiazide-Like Diuretics, Vitamin D Analogs
Alerts
Avoid using any vitamin D or calcium supplements without your doctor's advice

If you take paricalcitol oral: Ask your doctor before using an antacid, and use only the type your doctor recommends

Grapefruit may interact with paricalcitol and lead to unwanted side effects. Avoid the use of grapefruit products
Points of recommendation
you should not use paricalcitol if you are allergic to it, or if you have highy levels of vitamin D or calcium in your body

Tell your doctor if you have ever had:
high blood pressure
liver disease
an electrolyte imbalance (such as low levels of potassium or magnesium in your blood)

If you breastfeed while receiving paricalcitol injection, watch for signs of hypercalcemia in your baby (such as feeding problems, vomiting, constipation, or seizure

Paricalcitol is usually given every other day or 3 times per week. Follow your doctor's instructions carefully

Paricalcitol oral is taken by mouth

You may take paricalcitol oral with or without food

Paricalcitol injection is given as an infusion into a vein during dialysis. A healthcare provider will give you this injection

Tell your caregivers if you feel any burning, pain, or swelling when paricalcitol is injected

Your blood will need to be tested often. Your doses may be delayed based on the results

Even if you have no symptoms, tests can help your doctor determine if paricalcitol is effective

You may need to follow a special diet while using paricalcitol. Follow all instructions of your doctor or dietitian. Learn about the foods to eat or avoid to help control your condition

Store paricalcitol oral at room temperature away from moisture, light, and heat
Pregnancy level
HAVE NOT BEEN ESTABLISHED
Limited data with Paricalcitol Injection in pregnant women are insufficient to inform a drug-associated risk for major birth defects and miscarriage; there are risks to mother and fetus associated with chronic kidney disease in pregnancy
Breast feeding warning
There is no information available on the presence of paricalcitol in human milk, the effects of the drug on the breastfed infant or effects of drug on milk production; studies in rats have shown that drug and/or its metabolites are present in milk of lactating rats; when a drug is present in animal milk, it is likely that drug will be present in human milk
Drug forms
Zemplar