Drug information of Methylergonovin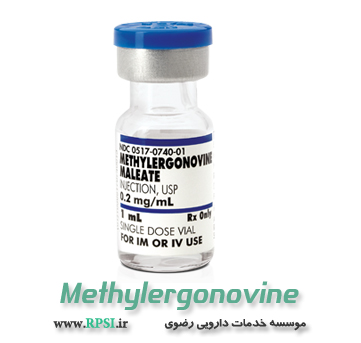 Mechanism of effect
Uterine stimulant :
Methylergonovine directly stimulates the uterine muscle to increase force and frequency of contractions. Contraction of the uterine wall around bleeding vessels at the placental site produces hemostasis. The sensitivity of the uterus to the oxytocic effect is much greater toward the end of pregnancy. The oxytocic actions of methylergonovine are greater than its vascular effects.
Vasoconstriction:
Methylergonovine, like other ergot alkaloids, produces arterial vasoconstriction by stimulation of alpha-adrenergic and serotonin receptors and inhibition of endothelial-derived relaxation factor release.

Pharmacodynamic
Methylergonovine acts directly on the smooth muscle of the uterus and increases the tone, rate, and amplitude of rhythmic contractions. Thus, it induces a rapid and sustained tetanic uterotonic effect which shortens the third stage of labor and reduces blood loss.
Pharmacokinetics
• Bioavailability: 60% (PO); 78% (IM)
• Peak Plasma Time: 30 min
• Peak Plasma Concentration: 3 ng/mL
• Onset: 5-15 min following oral administration, within 2-5 min after IM injection, & immediately following IV injection
• Duration: 3 hr (PO); 3hr (IM); 45 min (IV)
• Vd: 39-73
• Plasma clearance (CLp/F): 14.4 ± 4.5 liters per hour
• Mean elimination half-life: 3.39 hours
• Metabolism: Liver
• Excretion: Urine and feces

Dosage
• Intramuscularly
1 mL, 0.2 mg, after delivery of the anterior shoulder, after delivery of the placenta, or during the puerperium. May be repeated as required, at intervals of 2-4 hours.
• Intravenously
1 mL, 0.2 mg, administered slowly over a period of no less than 60 seconds.
• Orally
One tablet, 0.2 mg, 3 or 4 times daily in the puerperium for a maximum of 1 week.
Children
Safety and efficacy have not been established.

Interactions
Spiramycin
,
Expectorant
,
Bupivacaine
,
Itraconazole
,
Posaconazole
,
Rifampin
,
Fluvoxamine
,
Fluoxetine
,
Fluconazole
,
stiripentol
,
Abametapir
,
nevirapine
,
Zileuton
,
Methoxyflurane
,
Halothane
,
Roxithromycin
,
lisuride
,
Nitroglycerin
,
Voriconazole
,
Ketoconazole
,
Clotrimazole
,
Nefazodone
,
Darunavir
,
Almotriptan
,
Diethylpropion
,
ritonavir
,
saquinavir
,
nelfinavir
,
eletriptan
,
Phenylpropanolamine
,
Amprenavir
,
lisdexamfetamine
,
Amyl Nitrite
,
Efavirenz
,
Tipranavir
,
Xylometazoline
,
acrivastine+pseudoephedrine
,
Mibefradil
,
chlorcyclizine + pseudoephedrine
,
chlorcyclizine + phenylephrine
,
cobicistat
,
Delavirdine
,
Letermovir
,
Benzphetamine
,
Lorlatinib
,
Troleandomycin
,
chlorcyclizine
,
Nicotine
Alerts
Patients sensitive to other ergot derivatives may be sensitive to this medication also, although there is some degree of variation among ergot alkaloids in their ability to elicit oxytocic, CNS, or vasoconstrictive effects .
Methylergonovine should not be administered prior to delivery of the placenta. Administration prior to delivery of the placenta may cause captivation of the placenta or missed diagnosis of twin gestation, due to excessive uterine contractions.
Ergot alkaloids have the potential to cause chronic ergot poisoning in the infant only if used in the mother in higher-than-recommended doses or if used for a longer period of time than is generally recommended.
This drug should not be administered intravenously routinely because of the possibility of inducing sudden hypertensive and cerebrovascular accidents. If intravenous administration is considered essential as a lifesaving measure, methylergonovine should be given slowly over a period of no less than 60 seconds with careful monitoring of blood pressure. Intra-arterial or periarterial injection should be strictly avoided.

Points of recommendation
You should not use methylergonovine if you are allergic to it, or if you have:
• high blood pressure;
• toxemia of pregnancy;
• if your baby has not yet been born.
To make sure methylergonovine is safe for you, tell your doctor if you have:
• liver or kidney disease;
• risk factors for coronary artery disease (such as diabetes, menopause, smoking, being overweight, having high blood pressure or high cholesterol, having a family history of coronary artery disease).
Use exactly as prescribed by your doctor. Do not use in larger or smaller amounts or for longer than recommended. Follow the directions on your prescription label.
Injectable methylergonovine is injected into a muscle or into a vein through an IV. You will receive this injection while you are in the delivery room and for a short time after your baby is born, if needed.
Oral methylergonovine is taken as a tablet 3 or 4 times daily for up to 1 week after your baby is born. Follow your doctor's instructions.
Methylergonovine should not be used for longer than 1 week unless your doctor has told you otherwise.
Store at room temperature away from moisture, heat, and light.
Take the missed dose as soon as you remember. Skip the missed dose if it is almost time for your next scheduled dose. Do not take extra medicine to make up the missed dose.