Drug information of Risankizumab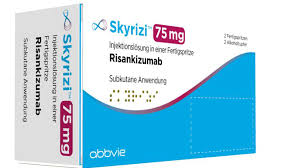 Mechanism of effect
Risankizumab acts to prevent the release of pro-inflammatory cytokines and chemokines that often lead to inflammatory skin symptoms, such as redness, pain, and plaques. Risankizumab binds with a high affinity to the p19 subunit of human interleukin 23 (IL-23) cytokine 2, thereby preventing its action on the IL-23 receptor. IL-23 is a cytokine released in the human body that is involved in inflammatory and immune processes, especially in peripheral tissues
Pharmacodynamic
No formal studies examining pharmacodynamic properties have been completed with risankizumab , however, this drug is expected to relieve symptoms of psoriasis by targeting interleukin 23 (IL-23) and preventing the initiation of the
inflammatory cascade that is implicated in psoriasis
Pharmacokinetics
Distribution
Vdss: 11.2 L
Metabolism
Degraded into small peptides and amino acids via catabolic pathways in the same manner as endogenous IgG
Time to Peak
3 to 14 days
Half-Life Elimination
~28 days
Drug indications
This drug is for the treatment of moderate-to-severe plaque psoriasis in adults who are eligible to receive systemic therapy or phototherapy based on their disease process
Dosage
Plaque psoriasis, moderate to severe: SubQ: Two consecutive injections (75 mg each) for a total dose of 150 mg at weeks 0, 4, and then every 12 weeks thereafter.
Drug contraindications
There are no contraindications listed in the manufacturer's labeling
Side effects
Body aches or pain
chest pain
chills
confusion
cough
difficulty in breathing
dizziness
ear congestion
fast heartbeat
fever
headache
increase in bone pain
itching, pain, redness, swelling, tenderness, or warmth on the skin
lightheadedness
loss of voice
sore throat
unusual tiredness or weakness
Interactions
Adenovirus types 4 and 7 live, oral
,
Infliximab
,
Fingolimod
,
cladribine
,
Influenza vaccine
,
Adalimumab
,
Certolizumab
,
Ceritinib
,
Zoster Vaccines
,
Typhoid vaccine (live), oral
,
Yellow fever vaccine
,
Meningococcal conjugate vaccine
,
alirocumab
Alerts
Infections: Risankizumab may increase the risk of infections; upper respiratory tract and tinea infections have occurred more frequently. Consider the risks versus benefits prior to treatment initiation in patients with a history of chronic or recurrent infection; treatment should not be initiated in patients with clinically important active infections until it is resolved or treated..
• Tuberculosis: Patients should be evaluated for tuberculosis (TB) infection prior to initiating therapy. Do not administer to patients with an active TB infection. Treatment for latent TB should be administered prior to administering risankizumab. Monitor closely for signs/symptoms of active TB during and after risankizumab treatment.
Points of recommendation
Common cold symptoms
Loss of strength and energy
Injection site irritation
Headache
Infection
Flu-like symptoms
Shortness of breath
Weight loss
Warm, red, or painful skin or sores
Pregnancy level
US FDA pregnancy category: Not assigned.