Drug information of Methylprednisolone
Methylprednisolone
Methylprednisolone is a steroid that prevents the release of substances in the body that cause inflammation. Methylprednisolone is used to treat many different inflammatory conditions such as arthritis, lupus, psoriasis, ulcerative colitis, allergic disorders, gland (endocrine) disorders, and conditions that affect the skin, eyes, lungs, stomach, nervous system, or blood cells.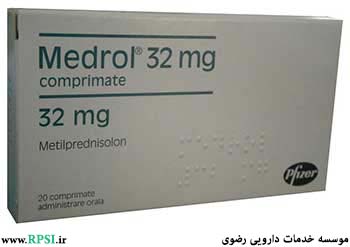 Mechanism of effect
Glucocorticoids, naturally occurring and synthetic are adrenocortical steroids. Naturally occurring glucocorticoids (hydrocortisone and cortisone), which also have salt retaining properties, are used in replacement therapy in adrenocortical deficiency states. Their synthetic analogs are used primarily for their anti-inflammatory effects in disorders of many organ systems. Glucocorticoids cause profound and varied metabolic effects. In addition, they modify the body's immune response to diverse stimuli.
Pharmacodynamic
Methylprednisolone and its derivatives, methylprednisolone sodium succinate and methylprednisolone acetate, are synthetic glucocorticoids used as antiinflammatory or immunosuppressive agents.
Pharmacokinetics
Oral bioavailability 80-99%,Protein binding: 78%,Metabolism: Hepatic, Half life: 1-3 hours.
Dosage
Usual Adult Dose for Anti-inflammatory 4 to 48 mg/day orally. Sodium succinate: 10 to 40 mg Intravenous over 1 to several minutes. Give subsequent doses IV or IM. Usual Adult Dose for Rheumatoid Arthritis Acetate: 40 to 120 mg intramuscular weekly Large joints: 20 to 80 mg intraarticular Medium joints: 10 to 40 mg intraarticular Small joints: 4 to 10 mg intraarticular Usual Adult Dose for Immunosuppression 4 to 48 mg orally per day. 2 to 2.5 mg/kg per day IV or IM, tapered slowly over 2 to 3 weeks or 250 to 1,000 mg IV once daily or on alternate days for 3 to 5 doses.
Side effects
Headache
,
insomnia
,
allergic reaction
,
vertigo
,
Hypertension
,
thrombocytopenia
,
lymphopenia
,
chronic heart failure
,
paresthesia
,
neuropathy
,
acne
,
edema
,
impotence
,
Infections
,
fluid retention
,
Hypokalemia
,
Hyperglycemia
,
Anaphylactic reaction
,
Cataracts
,
Weight increase
Interactions
Aprepitant
,
Ergotamine-C
,
Bleomycin
,
Trastuzumab
,
Cyclopentolate
,
Erythromycin
,
Itraconazole
,
Tacrolimus
,
Phenobarbital
,
Phenytoin
,
Midodrine
,
Ketoconazole
,
Clarithromycin
,
Rifabutin
,
Ranolazine
,
Aldesleukin
,
Phenindione
,
Desirudin
,
Indinavir
,
Hib vaccine
,
Grepafloxacin
,
cobicistat
,
Delavirdine
,
Tisagenlecleucel
,
Adenovirus types 4 and 7 live, oral
,
Axicabtagene ciloleucel
,
Metaxalone
,
Hepatitis B Vaccine
,
Lorlatinib
,
Troleandomycin
,
Glycerol Phenylbutyrate
,
Omacetaxine
,
Typhoid vaccine (live), oral
,
Meningococcal conjugate vaccine
,
Rabies Vaccine
Alerts
1-Serious neurologic events, some resulting in death, have been reported with epidural injection of corticosteroids. 2-This product contains benzyl alcohol which is potentially toxic when administered locally to neural tissue. 3-Average and large doses of corticosteroids can cause elevation of blood pressure, salt and water retention, and increased excretion of potassium. All corticosteroids increase calcium excretion. 4-Hypothalamic-pituitary adrenal (HPA) axis suppression. Cushing's syndrome, and hyperglycemia: Monitor patients for these conditions with chronic use. 5-Persons who are on corticosteroids are more susceptible to infections than are healthy individuals 6-Administration of live or live, attenuated vaccines is contraindicated in patients receiving immunosuppressive doses of corticosteroids. 7-Use of corticosteroids may produce posterior subcapsular cataracts, glaucoma with possible damage to the optic nerves, and may enhance the establishment of secondary ocular infections
Points of recommendation
1-Patients should be warned not to discontinue the use of corticosteroids abruptly or without medical supervision, to advise any medical attendants that they are taking corticosteroids, and to seek medical advice at once should they develop fever or other signs of infection. 2-Persons who are on corticosteroids should be warned to avoid exposure to chicken pox or measles. Patients should also be advised that if they are exposed, medical advice should be sought without delay. 3-Intraocular pressure may become elevated in some individuals. If steroid therapy is continued for more than 6 weeks, intraocular pressure should be monitored.