Drug information of Valdecoxib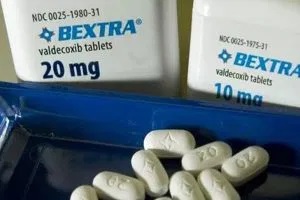 Mechanism of effect
Both COX-1 and COX-2 catalyze the conversion of arachidonic acid to prostaglandin (PG) H2, the precursor of PGs and thromboxane. Valdecoxib selectively inhibits the cyclooxygenase-2 (COX-2) enzyme, important for the mediation of inflammation and pain. Unlike non-selective NSAIDs, valdecoxib does not inhibit platelet aggregation.
Pharmacodynamic
Valdecoxib, a selective cyclooxygenase-2 (COX-2) inhibitor, is classified as a nonsteroidal anti-inflammatory drug (NSAID). Valdecoxib is used for its anti-inflammatory, analgesic, and antipyretic activities in the management of osteoarthritis (OA) and for the treatment of dysmenorrhea or acute pain.
Pharmacokinetics
Absorption:Oral bioavailability is 83%.
Volume of distribution:86 L
Protein binding:98%
Metabolism:Hepatic (involves CYP3A4 and 2C9)
Route of elimination:Valdecoxib is eliminated predominantly via hepatic metabolism with less than 5% of the dose excreted unchanged in the urine and feces. About 70% of the dose is excreted in the urine as metabolites, and about 20% as valdecoxib N-glucuronide.
Half-life:8-11 hours
Clearance:oral cl=6 L/h
Dosage
Osteoarthritis And Adult Rheumatoid Arthritis: 10 mg once daily
Primary Dysmenorrhea: 20 mg twice daily
Drug contraindications
Severe allergic reactions
-valdecoxib should not be given to patients who have demonstrated allergic-type reactions to sulfonamides.
-valdecoxib Tablets are contraindicated in patients with known hypersensitivity to valdecoxib. valdecoxib should not be given to patients who have experienced asthma, urticaria, or allergic-type reactions after taking aspirin or NSAIDs. Severe, rarely fatal, anaphylactic-like reactions to NSAIDs are possible in such patients .
-valdecoxib is contraindicated for the treatment of post-operative pain immediately following coronary artery bypass graft (CABG) surgery and should not be used in this setting.
Side effects
hypertension, aneurysm, angina pectoris, arrhythmia, cardiomyopathy, congestive heart failure, coronary artery disorder, heart murmur, hypotension,An increase in cardiovascular thromboembolic events, headache , dizziness,cerebrovascular disorder, hypertonia, hypoesthesia, migraine, neuralgia, neuropathy, paresthesia, tremor, twitching, convulsions, vertigo,erythema multiforme, exfoliative dermatitis, Stevens-Johnson syndrome, toxic epidermal necrolysis,Toxic epidermal necrolysis,Acne, alopecia, dermatitis, fungal dermatitis, eczema, photosensitivity allergic reaction, pruritus, erythematous rash, maculopapular rash, psoriaform rash, dry skin, skin hypertrophy, skin ulceration, increased sweating, urticaria,goiter,abdominal pain, dyspepsia, flatulence, nausea,abnormal stools, constipation, diverticulosis, dry mouth, duodenal ulcer, duodenitis, eructation, esophagitis, fecal incontinence, gastric ulcer, gastritis, gastroenteritis, gastroesophageal reflux, hematemesis, hematochezia, melena, tenesmus, vomiting,Pancreatitis ,cholelithiasis, hepatitis, abnormal hepatic function, increased ALT, increased AST,increases in alkaline phosphatase, BUN, CPK, and creatinine, diabetes mellitus, glycosuria, gout, hypercholesterolemia, hyperglycemia, hyperkalemia, hyperlipemia, hyperuricemia, hypocalcemia, hypokalemia, increased LDH, increased thirst, increases and decreases in weight, xerophthalmia,arthralgia, accidental fracture, myalgia, neck stiffness, osteoporosis, synovitis, tendonitis,sinusitis , upper respiratory tract infection,abnormal breath sounds, bronchitis, bronchospasm, coughing, dyspnea, emphysema, laryngitis, pneumonia, pharyngitis, pleurisy, rhinitis,anorexia, anxiety, increased appetite, confusion, depression, insomnia, nervousness, morbid dreaming, somnolence,anemia, ecchymosis, eosinophilia, epistaxis, hematoma, leukopenia, leukocytosis, lymphadenopathy, lymphangitis, lymphopenia, thrombocytopenia,blurred vision, cataract, conjunctival hemorrhage, conjunctivitis, eye pain, keratitis, abnormal vision,albuminuria, cystitis, dysuria, hematuria, micturition frequency increased, pyuria, urinary incontinence, urinary tract infection,amenorrhea, dysmenorrhea, leukorrhea, mastitis, menstrual disorder, menorrhagia, menstrual bloating, vaginal hemorrhage,impotence , prostatic disorder,Hypersensitivity , allergic reaction, asthenia, chest pain, chills, cysts, generalized edema, face edema, fatigue, fever, hot flushes, halitosis, malaise, pain, periorbital swelling, peripheral pain,anaphylactic reactions , angioedema ,Resistance mechanism disorder side effects (reported in less than 2% of patients have included herpes simplex, herpes zoster, fungal infection, soft tissue infection, viral infection, moniliasis, genital moniliasis, and otitis media)
Interactions
Diatrizoate (Amidotrizoic acid)
,
Iopamidol
,
Iopromide
,
Iodixanol
,
Adefovir
,
Everolimus
,
Tacrolimus
,
iodipamide
,
ioxilan
,
Ioversol
,
pexidartinib
,
Temsirolimus
,
botulism immune globulin
,
Cytomegalovirus immune globulin (CMV IG)
,
iodamide
,
iohexol (Omnipaque)
,
Cidofovir
,
aminolevulinic acid oral
,
Aminolevulinic acid topical
,
Metrizamide
,
inotersen
,
Deferasirox
,
Sirolimus
,
lithium
,
Lomitapide
,
Mipomersen
,
teriflunomide
,
Ioxaglate
,
Iothalamate Meglumine
immune globulin intravenous-immune globulin intravenous and subcutaneous-respiratory syncytial virus immune globulin
Alerts
- Serious gastrointestinal toxicity such as bleeding, ulceration and perforation of the stomach, small intestine or large intestine can occur at any time with or without warning symptoms in patients treated with nonsteroidal anti-inflammatory drugs
- Valdecoxib contains a sulfonamide moiety and patients with a known history of a sulfonamide allergy may be at a greater risk of skin reactions. Patients without a history of sulfonamide allergy may also be at risk for serious skin reactions .
- Serious skin reactions, including erythema multiforme, Stevens -Johnson syndrome, and toxic epidermal necrolysis, have been reported through postmarketing surveillance in patients receiving Valdecoxib
- In postmarketing experience, cases of hypersensitivity reactions (anaphylactic reactions and angioedema) have been reported in patients receiving Valdecoxib
- Patients treated with Valdecoxib for pain following coronary artery bypass graft surgery have a higher risk for cardiovascular/thromboembolic events, deep s urgical infections or s ternal wound complications
- Valdecoxib should be used with caution in patients with comorbid conditions, or co-therapies that may increase the risk of gastrointestinal bleeding, such as treatment with corticosteroids, anticoagulants, prolonged use of NSAIDs, smoking, alcoholism, older age, and poor general health status.
- Valdecoxib should be used with caution in patients with considerable dehydration. The manufacturer recommends that patients be rehydrated first before the drug is used.
- Borderline elevations of one or more liver tests may occur in up to 15% of patients taking NSAIDs. Notable elevations of ALT or AST (approximately three or more times the upper limit of normal) have been reported in approximately 1% of patients in clinical trials with NSAIDs.
- Long-term administration of NSAIDs has resulted in renal papillary necrosis and other renal injury
- Patients with asthma may have aspirin-sensitive asthma. The use of aspirin in patients with aspirinsensitive asthma has been associated with severe bronchospasm, which can be fatal. Since cross reactivity, including bronchospasm, between aspirin and other nonsteroidal anti-inflammatory drugs has been reported in such aspirin-sensitive patients, Valdecoxib should not be administered to patients with this form of aspirin sensitivity and should be used with caution in patients with preexisting asthma.
Points of recommendation
- Valdecoxib Tablets cannot be expected to substitute for corticosteroids or to treat corticosteroid insufficiency
- The pharmacological activity of valdecoxib in reducing fever and inflammation may diminish the utility of these diagnostic signs in detecting complications of presumed noninfectious, painful conditions.
- A patient with symptoms and/or signs suggesting liver dysfunction, or in whom an abnormal liver test has occurred, should be monitored carefully for evidence of the development of a more severe hepatic reaction while on therapy with valdecoxib
- Caution is also recommended in patients with preexisting kidney disease
- Anemia is sometimes seen in patients receiving valdecoxib. Patients on long-term treatment with valdecoxib should have their hemoglobin or hematocrit checked if they exhibit any signs or symptoms of anemia.
- valdecoxib should be used with caution in patients with fluid retention, hypertension, or heart failure
- Because serious GI tract ulcerations and bleeding can occur without warning symptoms, physicians should monitor for signs and symptoms of GI bleeding.
Pregnancy level
C
C
Valdecoxib should only be given during pregnancy when benefit outweighs risk. The manufacturer recommends that valdecoxib be avoided in late pregnancy (third trimester) due to the risk of premature closure of the ductus arteriosus.
Breast feeding warning
There are no data on the excretion of valdecoxib into human milk. Valdecoxib and its active metabolite are excreted in the milk of lactating rats. The manufacturer recommends that due to the potential for serious adverse reactions in nursing infants, a decision should be made to discontinue nursing or discontinue valdecoxib, taking into account the importance of the drug to the mother.
Drug forms
Bextra