Drug information of Ethambutol
Ethambutol
Ethambutol is an antibiotic that prevents growth of the tuberculous bacteria in the body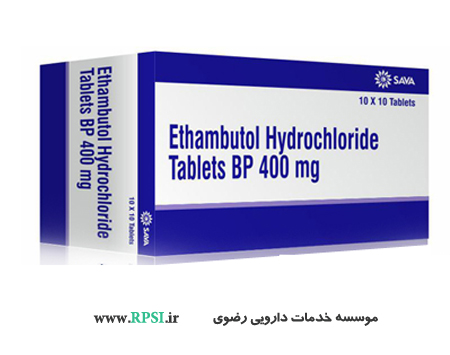 Mechanism of effect
Ethambutol diffuses into actively growing mycobacterium cells such as tubercle bacilli. Ethambutol appears to inhibit the synthesis of one or more metabolites.
Pharmacodynamic
Ethambutol Hydrochloride works by stopping the growth of TB cells. It should be administered on a once every 24-hour basis only.
Dosage
The dose of ethambutol will be different for different patients. The following information includes only the average doses of ethambutol. If your dose is different, do not change it unless your doctor tells you to do so. Ethambutol hydrochloride should not be used alone, in initial treatment or in retreatment .
For oral dosage form (tablets) :
For the treatment of tuberculosis (TB) :
Adults and children 13 years of age and older—15 to 25 milligrams (mg) per kilogram (kg) (6.8 to 11.4 mg per pound) of body weight once a day. Instead, your doctor may tell you to take 50 mg per kg (22.8 mg per pound) of body weight, up to a total of 2.5 grams, two times a week.
Another dose that your doctor may tell you to take is 25 to 30 mg per kg (11.4 to 13.6 mg per pound) of body weight, up to a total of 2.5 grams, three times a week. Ethambutol must be taken with other medicines to treat tuberculosis. Infants and children up to 13 years of age—Use and dose must be determined by your doctor.
In patients who have not received previous antituberculous therapy, administer Ethambutol hydrochloride 15 mg/ kg (7 mg/lb) of body weight, as a single oral dose once every 24 hours. In the more recent studies, isoniazid has been administered concurrently in a single, daily, oral dose.

Side effects
nausea
,
Headache
,
chest pain
,
dizziness
,
vomiting
,
Blurred vision
,
vertigo
,
fever
,
anorexia
,
Arthralgia
,
Tremor
,
Hypersensitivity
,
itching
,
hallucinations
,
general discomfort
,
yellowing of the skin
,
yellowing of the eyes
,
stomach upset
,
swelling of the face
,
swelling of the tongue
,
tightness in the chest
,
vision chang
,
redness or flaking of treated skin
Alerts
1-Make sure you know how you react to ethambutol before you drive, use machines, or do anything else that could be dangerous if you are not alert or able to see well.
2-You may have to take it every day for as long as 1 to 2 years or more. It is important that you do not miss any doses.
3-If you take Ethambutol with alcohol or certain medicines tell your doctor.
4-Long-term or repeated use of ethambutol may cause a second infection. Tell your doctor if signs of a second infection occur. Your medicine may need to be changed to treat this.
5-Ethambutol may cause or worsen attacks of gout.
6-Patients with kidney disease may be more likely to have side effects

Points of recommendation
1-To help clear up your tuberculosis (TB) infection completely, you must keep taking ethambutol for the full time of treatment, even if you begin to feel better. This is very important. It is also important that you do not miss any doses.
2-Ethambutol may cause decreased vision clearness, including vision loss.Contact your doctor right away if you experience vision changes (eg, decreased vision clearness).
3-If your symptoms do not improve within 2 to 3 weeks, or if they become worse, check with your doctor.
4-Ethambutol may be taken with food if ethambutol upsets your stomach.
5-Lab tests, including liver and kidney function, complete blood cell counts, and vision, may be performed while you use ethambutol.