Drug information of Darolutamide
Darolutamide
Darolutamide is used to treat prostate cancer that has not spread to other parts of your body.
Darolutamide is given after surgery or other treatments did not work or have stopped working.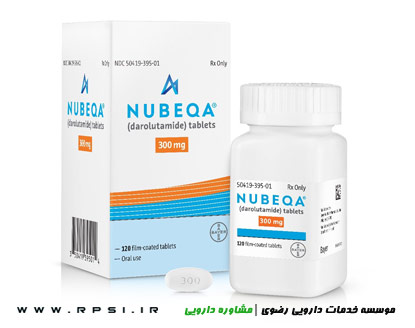 Mechanism of effect
Darolutamide is a competitive androgen receptor inhibitor. In addition to androgen binding inhibition, darolutamide also inhibits androgen receptor translocation and androgen receptor-mediated transcription. Keto-darolutamide (active metabolite) has similar in vitro activity to darolutamide. Androgen receptor inhibition results in decreased proliferation of prostate tumor cells and increased apoptosis, leading to a decrease in tumor volume.
Pharmacokinetics
Distribution
119 L; darolutamide has low blood-brain barrier penetration (Fizazi 2019).
Metabolism
Primarily metabolized by CYP3A4, as well as by UGT1A9 and UGT1A1; active metabolite is keto-darolutamide.
Excretion
Urine: 63.4% (~7% as unchanged drug); feces: 32.4% (~30% as unchanged drug); Clearance: 116 mL/minute.
Time to Peak
~4 hours.
Half-Life Elimination
~20 hours (darolutamide and keto-darolutamide).
Protein Binding
Darolutamide: 92%; keto-darolutamide (active metabolite): 99.8%; primarily to serum albumin.
Drug indications
Prostate cancer, nonmetastatic, castration-resistant: Treatment of nonmetastatic castration-resistant prostate cancer.
Dosage
Adult
Prostate cancer, nonmetastatic, castration-resistant: Oral: 600 mg twice daily (in combination with a gonadotropin-releasing hormone analog [if had not received bilateral orchiectomy]); continue until disease progression or unacceptable toxicity .
Missed dose: If a dose is missed, administer as soon as possible prior to the next scheduled dose; do not take 2 doses at the same time to make up for a missed dose.
Administration
Oral: Administer with food. Swallow tablets whole.
Drug contraindications
There are no contraindications listed in the US manufacturer's labeling.
Canadian labeling: Hypersensitivity to darolutamide or any component of the formulation.
Side effects
Side effects requiring immediate medical attention
Along with its needed effects, darolutamide may cause some unwanted effects. Although not all of these side effects may occur, if they do occur they may need medical attention.
Check with your doctor immediately if any of the following side effects occur while taking darolutamide:
Less common
Blood in the urine
painful or difficult urination
Rare
Blurred vision
dizziness
headache
nervousness
pounding in the ears
slow or fast heartbeat
Side effects not requiring immediate medical attention
Some side effects of darolutamide may occur that usually do not need medical attention. These side effects may go away during treatment as your body adjusts to the medicine. Also, your health care professional may be able to tell you about ways to prevent or reduce some of these side effects.
Check with your health care professional if any of the following side effects continue or are bothersome or if you have any questions about them:
More common
Pain in the arms or legs
unusual tiredness or weakness
Less common
Chest pain
cough
fever or chills
rash
sneezing
sore throat
troubled breathing
tightness in the chest
Rare
Interactions
Pitavastatin
,
Pazopanib
,
Primidone
,
Dexamethasone
,
Rifampin
,
Phenobarbital
,
Phenytoin
,
Carbamazepine
,
Enzalutamide
,
Rosuvastatin
,
Rifapentine
,
Fosphenytoin
,
Apalutamide
,
riociguat
,
talazoparib
,
vemurafenib
st. john's wort
Alerts
Before taking this medicine tell your doctor if you have ever had:
Although darolutamide is not for use by women, darolutamide can harm an unborn baby or cause a miscarriage if a woman is exposed to it during pregnancy.
Use effective birth control if your sex partner is able to get pregnant. Keep using birth control for at least 1 week after your last dose. Tell your doctor right away if a pregnancy occurs while you are using darolutamide.
This medicine may affect fertility (your ability to have children). However, it is important to use birth control to prevent pregnancy because darolutamide can harm an unborn baby.
Points of recommendation
Take with food.
Swallow the tablet whole and do not crush, chew, or break it.
If you have not had surgery to lower the amount of testosterone in your body, your doctor may also prescribe a gonadotropin-releasing hormone (GnRH) medicine such as Eligard, Lupron, Trelstar, Zoladex, or Vantas. Keep using your GnRH as directed.
Safety and efficacy have not been established in patients younger than 18 years.


Storage
Store at 20°C to 25°C (68°F to 77°F); excursions permitted between 15°C and 30°C (59°F and 86°F). Keep the bottle tightly closed after initial opening.
Pregnancy level
HAVE NOT BEEN ESTABLISHED
Use is contraindicated.
AU TGA pregnancy category: D
US FDA pregnancy category: Not assigned.
Risk Summary: The safety and efficacy of this drug have not been established in females. Based on its mechanism of action, this drug can cause fetal harm and loss of pregnancy.
Comments:
-Advise male patients with female partners of reproductive potential to use effective contraception during therapy and for 1 week after.
-Based on animal studies, this drug may impair fertility in males of reproductive potential.
Breast feeding warning
Safety has not been established.
Excreted into human milk: Unknown
Excreted into animal milk: Data not available
Comments:
-The effects in the nursing infant are unknown.
-This drug is not indicated for use in female patients.
Drug forms
Nubeqa