Drug information of upadacitinib
upadacitinib
Upadacitinib is used to treat moderate to severe rheumatoid arthritis in adults after other treatments have failed.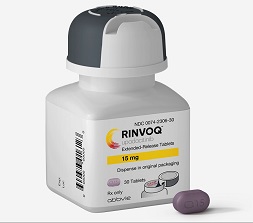 Mechanism of effect
Antirheumatic Miscellaneous
Antirheumatic, Disease Modifying
Janus Associated Kinase Inhibitor
Pharmacodynamic
Storage
Store at 2°C to 25°C (36°F to 77°F). Store in the original bottle to protect from moisture.
Metabolism
Hepatic, primarily via CYP3A4
Excretion
Urine (24% as unchanged drug); feces (38% as unchanged drug)
Time to Peak
2 to 4 hours
Half life
Terminal: 8 to 14 hours
Drug indications
Rheumatoid arthritis: Treatment of moderately to severely active rheumatoid arthritis in adults who have had an inadequate response or intolerance to methotrexate
Dosage
Usual Adult Dose for Rheumatoid Arthritis
15 mg orally once a day
Drug contraindications
1-None
2-Safety and efficacy have not been established in patients younger than 18 years.
Side effects
>10%: Respiratory: Upper respiratory tract infection
1% to 10%:
Gastrointestinal: Nausea
Hematologic & oncologic: Neutropenia
Hepatic: Increased serum aspartate aminotransferase
Neuromuscular & skeletal: Increased creatine phosphokinase in blood specimen
Respiratory: Cough
Miscellaneous: Fever
<1%: Herpes simplex infection, herpes zoster infection, oral candidiasis, pneumonia
Frequency not defined:
Cardiovascular: Deep vein thrombosis, pulmonary embolism, thrombosis
Dermatologic: Cellulitis
Endocrine & metabolic: Increased HDL cholesterol, increased LDL cholesterol, increased serum cholesterol, increased serum triglycerides
Gastrointestinal: Gastrointestinal perforation
Hematologic & oncologic: Malignant neoplasm, skin carcinoma
Infection: Bacterial infection, cryptococcosis, fungal infection, infection, opportunistic infection, reactivation of HBV, viral infection
Respiratory: Tuberculosis
Interactions
pimecrolimus
,
Tacrolimus
,
Deferasirox
,
Deferiprone
,
Leflunomide
,
Methotrexate
,
Dipyrone
,
Promazine
,
Dabrafenib
,
Erdafitinib
,
Roflumilast
,
Belimumab
,
Pidotimod
,
Natalizumab
,
cladribine
,
Chloramphenicol
,
Clozapine
,
denosumab
,
echinacea
BCG (Intravesical), Belimumab, Biologic Disease-Modifying Antirheumatic Drugs (DMARDs),
Chloramphenicol (Ophthalmic), Cladribine, Cladribine, CloZAPine, Coccidioides immitis Skin Test, CYP3A4 Inducers (Moderate), CYP3A4 Inducers (Strong), CYP3A4 Inhibitors (Strong), Dabrafenib, Deferasirox, Deferiprone, Denosumab, Dipyrone, Echinacea, Erdafitinib, Ivosidenib, Immunosuppressants, Leflunomide, Mesalamine, Methotrexate, Natalizumab,
Nivolumab, Pidotimod, Pimecrolimus, Promazine, Roflumilast, Sipuleucel-T, Smallpox and Monkeypox Vaccine (Live), Tacrolimus (Topical), Tertomotide, Trastuzumab, Vaccines (Inactivated), Vaccines (Live)
Alerts
Upadacitinib may harm an unborn baby. Use effective birth control to prevent pregnancy while you are using upadacitinib and for at least 4 weeks after your last dose

You should not breast-feed while using upadacitinib and for at least 6 days after your last dose

Upadacitinib is not approved for use by anyone younger than 18 years old

Do not receive a "live" vaccine while using upadacitinib. Live vaccines include measles, mumps, rubella (MMR), rotavirus, typhoid, yellow fever, varicella (chickenpox), zoster (shingles), and nasal flu (influenza) vaccine

Lymphoma and other malignancies have been observed in patients treated with upadacitinib

Thrombosis, including deep venous thrombosis, pulmonary embolism, and arterial thrombosis have occurred in patients treated with Janus kinase inhibitors used to treat inflammatory conditions. Many of these adverse events were serious and some resulted in death. Consider the risks and benefits prior to treating patients who may be at increased risk. Patients with symptoms of thrombosis should be promptly evaluated and treated appropriately


Points of recommendation
Upadacitinib affects your immune system. You may get infections more easily, even serious or fatal infections. Call your doctor if you have a fever, chills, aches, tiredness, cough, skin sores, diarrhea, weight loss, or burning when you urinate

You should not start taking upadacitinib if you have any kind of infection. Your doctor may perform tests to make sure you do not have tuberculosis or other infections

Tell your doctor if you have ever had:
a chronic infection
liver or kidney disease
hepatitis B or C
a stomach or intestinal problem such as diverticulitis or an ulcer
a perforation (a hole or tear) in your esophagus, stomach, or intestines
a blood clot
cancer
low red or white blood cell counts
(a weak immune system (caused by disease or by using certain medicine
(herpes zoster (also called shingles
high cholesterol
lung disease
diabetes
if you are scheduled to receive any vaccine

Tell your doctor if you have ever had tuberculosis or if anyone in your household has tuberculosis. Also tell your doctor if you have recently traveled. Tuberculosis and some fungal infections are more common in certain parts of the world, and you may have been exposed during travel

Using upadacitinib may increase your risk of developing certain cancers, such as lymphoma or skin cancer. Ask your doctor about this risk

You may need to have a negative pregnancy test before starting this treatment

Take this medicine with a full glass of water

Swallow the tablet whole and do not crush, chew, or break it

This drug may be used as monotherapy or in combination with methotrexate or other nonbiologic DMARDs

This drug is not recommended in patients with an absolute lymphocyte count (ALC) less than 500 cells/mm3, absolute neutrophil count (ANC) less than 1000 cells/mm3, or hemoglobin level less than 8 g/dL
Pregnancy level
HAVE NOT BEEN ESTABLISHED
Limited human data on use in pregnant women are not sufficient to evaluate a drug-associated risk for major birth defects or miscarriage
Verify pregnancy status of females of reproductive potential before starting treatment
Breast feeding warning
No data available on the presence of upadacitinib in human milk, the effects on the breastfed infant, or the effects on milk production
Available data in animals have shown upadacitinib excreted in milk
If a drug is present in animal milk, it is likely the drug will be present in human milk
Because of the potential for serious adverse reactions in the breastfed infant, advise patients that breastfeeding is not recommended during treatment with upadacitinib, and for 6 days (~10 half-lives) after the last dose
Drug forms
Rinvoq