Drug information of Megestrol
Megestrol
Megestrol Acetate is a synthetic, antineoplastic and progestational drug. Megestrol tablets are used to relieve the symptoms and reduce the suffering caused by advanced breast cancer and advanced endometrial cancer.
Megestrol suspension is used to treat loss of appetite, malnutrition, and severe weight loss in patients with acquired immunodeficiency syndrome (AIDS).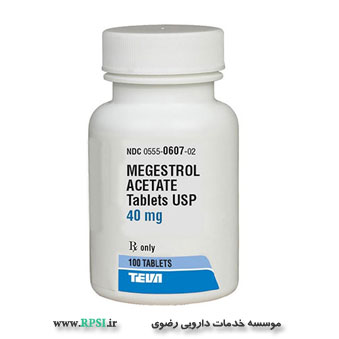 Mechanism of effect
The precise mechanism by which megestrol acetate produces effects in anorexia and cachexia is unknown at the present time, but its progestin antitumour activity may involve suppression of luteinizing hormone by inhibition of pituitary function.
Studies also suggest that the megestrol's weight gain effect is related to its appetite-stimulant or metabolic effects rather than its glucocorticoid-like effects or the production of edema. It has also been suggested that megestrol may alter metabolic pathyways via interferences with the production or action of mediators such as cachectin, a hormone that inhibits adipocyte lipogenic enzymes.
Pharmacodynamic
Megestrol is a synthetic progestin and has the same physiologic effects as natural progesterone. These effects include induction of secretory changes in the endometrium, increase in basal body temperature, pituitary inhibition, and production of withdrawal bleeding in the presence of estrogen.
Mestrogel has slight glucocorticoid activity and very slight mineralocorticoid activity. This drug has no estrogenic, androgenic, or anabolic activity.
Pharmacokinetics
Onset of action: Breast or endometrial cancer: At least 2 months of continuous therapy; Weight gain: 2 to 4 weeks
Absorption: Well absorbed
Metabolism: Hepatic (to free steroids and glucuronide conjugates)
Half-life elimination: Suspension: 20 to 50 hours; Tablet: Mean: 34.2 hours (range: 13 to 105 hours)
Time to peak, serum: Suspension: 5 hours; Tablet: 2.2 hours (range: 1 to 3 hours)
Excretion: Urine (57% to 78%; 5% to 8% as metabolites); feces (8% to 30%) within 10 days
Dosage
Dosage Forms & Strengths
tablet
oral suspension
Breast Cancer: 160 mg/day (40 mg qid).
Endometrial Carcinoma: 40 to 320 mg/day in divided doses.
At least 2 months of continuous treatment is considered an adequate period for determining the efficacy of megestrol.
Anorexia or cachexia associated with AIDS:
Oral: Suspension:
Initial: 625 mg daily (of the 125 mg/mL suspension) or 800 mg daily (of the 40 mg/mL suspension); daily doses of 400 mg to 800 mg have been found to be effective
There are no dosage adjustments provided for geriatric, renal and hepatic impairment in the manufacturer's labeling.
Side effects
Insomnia
,
Diarrhea
,
weight decrease
,
nausea
,
vomiting
,
rash
,
Hypertension
,
pulmonary embolism
,
impotence
,
dysphagia
,
flatulence
,
sweating
,
trouble in sleeping
,
local thrombophlebitis
,
Irregular periods
,
adrenal insufficiency
Alerts
Megestrol acetate may cause fetal harm when administered to a pregnant woman. There are no adequate and well-controlled studies in pregnant women. If this drug is used during pregnancy, or if the patient becomes pregnant while taking (receiving) this drug, the patient should be apprised of the potential hazard to the fetus. Women of childbearing potential should be advised to avoid becoming pregnant.
The use of Megestrol acetate in other types of neoplastic disease is not recommended.
The glucocorticoid activity of Megestrol has not been fully evaluated. Clinical cases of new onset diabetes mellitus, exacerbation of preexisting diabetes mellitus, and overt Cushing's syndrome have been reported in association with the chronic use of Megestrol.
In addition, clinical cases of adrenal insufficiency have been observed in patients receiving or being withdrawn from chronic Megestrol acetate therapy in the stressed and non-stressed state. Furthermore, adrenocorticotropin (ACTH) stimulation testing has revealed the frequent occurrence of asymptomatic pituitary-adrenal suppression in patients treated with chronic Megestrol acetate therapy.
Therefore, the possibility of adrenal insufficiency should be considered in any patient receiving or being withdrawn from chronic Megestrol acetate therapy who presents with symptoms and/or signs suggestive of hypoadrenalism (e.g., hypotension, nausea, vomiting, dizziness, or weakness) in either the stressed or non-stressed state.
Laboratory evaluation for adrenal insufficiency and consideration of replacement or stress doses of a rapidly acting glucocorticoid are strongly recommended in such patients. Failure to recognize inhibition of the hypothalamic-pituitary-adrenal axis may result in death.
Points of recommendation
Patients using Megestrol acetate should receive the following instructions:
This medication is to be used as directed by the physician.
Report any adverse reaction experiences while taking this medication.
Oral: Shake suspension well before use.
The 625 mg/5 mL suspension may be administered without regard to meals