Drug information of Medroxyprogesterone
Medroxyprogesterone
Medroxyprogesterone is a progestin (a form of progesterone), a female hormone that helps regulate ovulation (the release of an egg from an ovary) and menstrual periods. Medroxyprogesterone is used to treat conditions such as absent or irregular menstrual periods, or abnormal uterine bleeding. Medroxyprogesterone is also used to decrease the risk of endometrial hyperplasia (a condition that may lead to uterine cancer) while taking estrogens. Medroxyprogesterone is also used to prevent overgrowth in the lining of the uterus in postmenopausal women who are receiving estrogen hormone replacement therapy.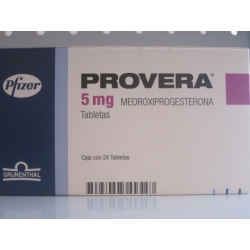 Mechanism of effect
Progestins diffuse freely into target cells in the female reproductive tract, mammary gland, hypothalamus, and the pituitary and bind to the progesterone receptor. Once bound to the receptor, progestins slow the frequency of release of gonadotropin releasing hormone (GnRH) from the hypothalamus and blunt the pre-ovulatory LH surge.
Pharmacodynamic
Medroxyprogesterone acetate is a synthetic progestin more potent than progesterone.
Pharmacokinetics
Rapidly absorbed from GI tract. Protein binding:90%. Metabolism:Hepatic. Following oral dosing, MPA is extensively metabolized in the liver via hydroxylation, with subsequent conjugation and elimination in the urine. Most MPA metabolites are excreted in the urine as glucuronide conjugates with only minor amounts excreted as sulfates. Half life:50 days.
Dosage
Usual Adult Dose for Contraception
150 mg intramuscularly or 104 mg subcutaneously every 3 months. The first dose should only be given within the first 5 days of a normal menstrual period, within 5 days postpartum if the patient is not breast feeding, or at 6 weeks postpartum if the patient is breast feeding. If the period between injections is > 14 weeks, pregnancy should be ruled out prior to administering. Usual Adult Dose for Amenorrhea
5 to 10 mg orally once a day beginning at any time and continuing for 5 to 10 days. Withdrawal bleeding usually occurs within 3 to 7 days after the last dose.
Usual Adult Dose for Renal Cell Carcinoma
400 to 1000 mg IM once a week. May reduce to as little as 400 mg IM once a month. The frequency of administration may be reduced if improvement or stabilization occurs, usually within a few weeks to months.
Usual Pediatric Dose for Amenorrhea
> 13 years:
5 to 10 mg orally once a day beginning at any time and continuing for 5 to 10 days. Withdrawal bleeding usually occurs within 3 to 7 days after the last dose.
Interactions
Aripiprazole
,
Aprepitant
,
Adapalene
,
Enoxaparin
,
Octreotide acetate
,
Oxecarbazepin
,
lesinurad
,
lixisenatide
,
Cannabidiol
,
fosaprepitant
,
cenobamate
,
tazemetostat
,
Rufinamide
,
cobicistat
,
Perampanel
,
Ixazomib
,
encorafenib
,
pexidartinib
,
Pitolisant
,
Efavirenz
,
Bexarotene
,
Tipranavir
,
lumacaftor and Ivacaftor
,
Ulipristal
,
Dabrafenib
,
carfilzomib
,
pomalidomide
,
Lopinavir
,
phosphination
,
Felbamate
,
Lumefantrine / artemether
,
Clobazam
,
Insulin aspart
,
Enzalutamide
,
Atazanavir
,
Darunavir
,
Mifepristone
,
acitretin
,
Heparin
,
Warfarin
,
Carbamazepine
,
cladribine
,
Clarithromycin
,
Diltiazem
,
Cyclosporine
,
Fluvoxamine
,
Phenytoin
,
Griseofulvin
,
Modafinil
,
Bevacizumab
,
Bortezomib
,
Bosentan
,
Primidone
,
Tranexamic acid
,
Topiramate
,
ritonavir
,
nelfinavir
,
brigatinib
,
Bromazepam
Alerts
1-Estrogen plus progestin therapy should not be used for the prevention of cardiovascular disease or dementia.
2-The WHI estrogen plus progestin substudy demonstrated an increased risk of invasive breast cancer
Points of recommendation
1-Blood pressure should be monitored at regular intervals with estrogen plus progestin therapy.
2-Estrogen plus progestin therapy may cause an exacerbation of asthma, diabetes mellitus, epilepsy, migraine, porphyria, systemic lupus erythematosus, and hepatic hemangiomas and should be used with caution in women with these conditions
3-Take with food.