Drug information of Alizapride
Alizapride
Alizapride is a dopamine antagonist that is capable of demonstrating both prokinetic and antiemetic effects. This kind of pharmacological activity makes it effective for use in the treatment of various kinds of nausea and vomiting, including that which may occur postoperatively.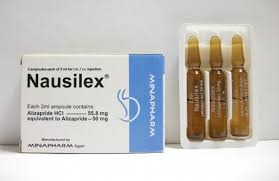 Mechanism of effect
The anti-emetic action of Alizapride is due to its antagonist activity at D2 receptors in the chemoreceptor trigger zone (CTZ) in the central nervous system (CNS)—this action prevents nausea and vomiting triggered by most stimuli. Structurally similar to metoclopramide.
Pharmacodynamic
Alizapride is a dopamine antagonist.
Pharmacokinetics
Absorption: Well absorbed after oral admin.
Route of elimination: renal
Half-life: 3 hours
Excretion: Excreted mainly unchanged in urine.
Dosage
Oral
Nausea and vomiting
Adult: 75-300 mg/day in divided doses.
Child: 5 mg/kg/day.
Parenteral
Nausea and vomiting associated with cancer chemotherapy
Adult: 2-5 mg/kg/day given by IV/IM in 2 divided doses. 1st dose to be administered 30 min before and the next dose 4-8 hr after admin of cytotoxic drug. For highly emetogenic regimens requiring doses >5 mg/kg, dose may be given via IV infusion over 15 min every 2 hr for 5 doses. Start infusion 30 min before admin of cytotoxic drug. Max: 4.5 g/course of chemotherapy.
Interactions
Butalbital and Acetaminophen
,
Ramelteon
,
Rotigotine
,
Secobarbital
,
Tolcapone
,
Quazepam
,
Cariprazine
,
Opium
,
Digoxin
,
Levodopa
,
ethotoin
Alerts
It is not advisable to drink alcohol concomitantly with Alizapride.
Alizapride not recommended in patients with epilepsy as the benzamides can lower the seizure threshold.
Alizapride is not recommended for epileptic patients because benzamides may lower theepileptic threshold .
Special Warnings: The duration of treatment should not exceed one week.


Pregnancy level
In the absence of epidemiological studies, alizapride should not be prescribed during pregnancy.
Breast feeding warning
It is not known if alizapride hydrochloride is excreted into human milk and thereforeits use duringlactation is not recommended.
Tags