Drug information of ioxilan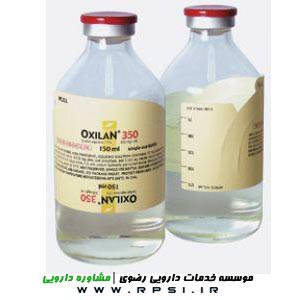 Mechanism of effect
Intravascular injection results in opacification of vessels in the path of flow of the contrast medium, permitting radiographic visualization of the internal structures of the human body until significant hemodilution occurs.
Pharmacodynamic
As with other iodinated contrast agents the degree of contrast enhancement is directly related to the iodine content in the administered dose.
Pharmacokinetics
absorption:
Peak iodine plasma levels occur immediately following rapid intravenous injection. Iodine plasma levels fall rapidly within 5 to 10 minutes. This can be accounted for by the dilution in the vascular and extravascular fluid compartments.

volume of distribution:
Ioxilan is distributed mainly in the blood as suggested by the apparent volume of distribution (central compartment), 7.2 ± 1.0 L in women and 10.0 ± 2.4 L in men

protein binding:
Binding of ioxilan to plasma protein is negligible.

metabolism:

There is no evidence for metabolism.

Route of elimination:

The average amount of ioxilan excreted unchanged in urine at 24 hours represents 93.7% of the dose in young healthy subjects (21-27 years) after intravenous administration. This finding suggests that, compared to the renal excretion, biliary and/or gastrointestinal excretion are not important.

half-life:
An initial fast distribution phase with a half-life of 13.1 ± 4.2 minutes (women) or 23.5 ± 15.3 minutes (men) was followed by an elimination phase with a half-life of 102.0 ± 16.9 minutes (women) and 137 ± 35.4 minutes (men).


Dosage
CECT Imaging
CECT of Head
30-60 g iodine indicated
Oxilan 300: 100-200 mL IV
Oxilan 350: 86-172 mL IV
Not to exceed 200 mL
CECT of Body
15-60 g iodine indicated
Oxilan 300: 50-200 mL IV
Oxilan 350: 43-172 mL IV
Not to exceed 200 mL
Cerebral Arteriography
8-12 mL intra-arterially (2.4-3.6 g iodine); not to exceed 150 mL
Intra-arterial administration
Oxilan 350 is indicated

Left and right coronary arteries: 2-10 mL (0.7-3.5 g iodine)

Left ventricle: 25-50 mL (8.75-17.5 g iodine)
Alerts
The reaction to intrathecal administration can be fatal
Points of recommendation
Caution in severe renal impairment, combined renal/hepatic disease, thyroid dysfunction, multiple myeloma, anuria, pheochromocytoma, sickle cell, CHF, severe arterial/venous disease
Severe cutaneous adverse reactions(SCAR), including Stevens-Johnson syndrome and toxic epidermal necrolysis (SJS/TEN), acute generalized exanthematous pustulosis (AGEP) and drug reaction with eosinophilia and systemic symptoms (DRESS), may develop from 1 hr to several weeks after intravascular contrast agent administration; reaction severity may increase and time to onset may decrease with repeat administration of contrast agent; prophylactic medications may not prevent or mitigate severe cutaneous adverse reactions; avoid administering product to patients with history of severe cutaneous adverse reaction to product
May cause renal failure in patients with advanced vascular disease, diabetes; should be well hydrated before/after procedure
Hypersensitivity to contrast medium, iodine
Myocardial infarctions and stroke reported with angiographic procedures
Avoid extravasation, especially in patients with severe arterial or venous disease
Inhibits blood coagulation (less than ionic contrast media in vitro)
Allergies (bronchial asthma, hay fever, food allergies)
Pregnancy level
May be acceptable. Either animal studies show no risk but human studies not available or animal studies showed minor risks and human studies done and showed no risk.
Breast feeding warning
Not known, use caution