Drug information of Mesalazine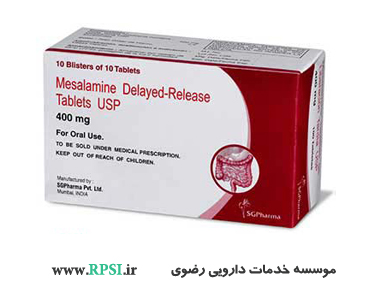 Mechanism of effect
The mechanism of action of Mesalazine (and sulfasalazine) is unknown. it is possible that Mesalazine diminishes inflammation by blocking cyclooxygenase and inhibiting prostagladin (PG) production in the colon.
Pharmacodynamic
Mesalazine (INN, BAN), also known as Mesalamine (USAN) or 5-aminosalicylic acid (5-ASA), is an anti-inflammatory drug used to treat inflammation of the digestive tract (Crohn's disease) and mild to moderate ulcerative colitis.
Pharmacokinetics
20 to 30% absorbed following oral administration. 10 to 35% absorbed from the colon (rectal suppository).
About 80% of N-Ac-5-ASA is bound to plasma proteins Rapidly and extensively metabolized, mainly to N-acetyl-5-ASA (Ac-5-ASA) in the intestinal mucosal wall and the liver.
Approximately 28% of the Mesalazine in Asacol tablets is absorbed after oral ingestion, leaving the remainder available for topical action and excretion in the feces.
It is excreted mainly by the kidney as N-acetyl-5-aminosalicylic acid . At steady state, the mean elimination half-life was seven hours for both 5-ASA and N-acetyl-5-ASA.
Dosage
Usual Adult Dose for Ulcerative Colitis
- Active ORAL: Asacol(R), Delzicol(TM): 800 mg orally 3 times a day Asacol(R) HD: 1600 mg orally 3 times a day Lialda(R): 2.4 to 4.8 g orally once a day Pentasa(R): 1 g orally 4 times a day Duration of therapy: -Asacol(R), Asacol(R) HD, Delzicol(TM): 6 weeks -Lialda(R), Pentasa(R): Up to 8 weeks in controlled trials
Alerts
1-Caution should be exercised if Mesalazine is administered to patients with impaired hepatic function
2- Mesalazine has been associated with an acute intolerance syndrome that may be difficult to distinguish from a flare of inflammatory bowel disease. Although the exact frequency of occurrence cannot be ascertained, it has occurred in 3% of patients in controlled clinical trials of mesalazine or sulfasalazine.
3- Symptoms include cramping, acute abdominal pain and bloody diarrhea, sometimes fever, headache, and rash. If acute intolerance syndrome is suspected, prompt withdrawal is required. If a rechallenge is performed later in order to validate the hypersensitivity, it should be carried out under close medical supervision at reduced dose and only if clearly needed.
4- Caution should be exercised if Mesalazine is administered to patients with impaired renal function
Points of recommendation
1- Capsules may be taken without regard to meals.
2- should not be coadministered with antacids (coating of granules depends on pH for dissolution)
3- Monitoring: Renal function in all patients (before starting and periodically during therapy)