Drug information of Mesna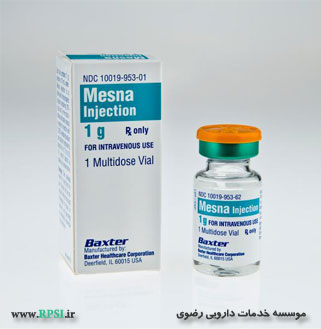 Mechanism of effect
Oxidized to dimesna in the blood, and is in turn reduced back to mesna in the kidney; synthetic sulfhydryl (thiol) compound binds & detoxifies ifosfamide metabolite acrolein in bladder/kidney
Mesna disulfide (dimesna): Inert metabolite
Pharmacodynamic
Mesna binds to and inactivates acrolein there by preventing or reducing bladder problems
Pharmacokinetics
Bioavailability : 45-79 %
Protein Bound : 69-75% (mesna plus dimesna)
Metabolism : Kidney
Metabolites : Mesna disulfide
Excretion : Urine (18-32% as mesna; 33% as dimesna)
Distribution : Does not penetrate tissue
Half-life : 0.36 hr (Mesna); 1.17 hr (dimesna)
Peak plasma time : 4 hr (mesna); 3 hr (dimesna)
Peak plasma concentration: 3.3 mcg/mL (PO; mesna); 7.3 mcg/mL (PO; dimesna)
Dosage
Prevention of Ifosfamide Induced Hemorrhagic Cystitis
240 mg/m² (if receiving 1.2 g/m² ifosfamide dose) IVP 15 minutes before & 4 & 8 hours after ifosfamide admin OR
240 mg/m² (if receiving 1.2 g/m² ifosfamide dose) IVP 15 minutes before & 480 mg/m² of mesna tablets PO 2 & 6 hours after ifosfamide admin
Adjust dose accordingly if ifosfamide dose changes
Prevention of Cyclophosphamide Induced Hemorrhagic Cystitis (Off-label)
20% of cyclophosphamide dose when injected, 4 and 8 hours after each dose
Mesna
injection is given as intravenous bolus injections in a dosage equal to 20% of the ifosfamide dosage (w/w) at the time of ifosfamide administration. Mesna tablets are given orally in a dosage equal to 40% of the ifosfamide dose 2 and 6 hours after each dose of ifosfamide. The total daily dose of
Mesna
is 100% of the
ifosfamide
dose.
Side effects
Fever
,
nausea
,
chest pain
,
dry mouth
,
vomiting
,
Seizures
,
Blurred vision
,
irregular or fast heart rate
,
vertigo
,
asthenia
,
confusion
,
sweating
,
Thirst
,
swelling
,
blood in the urine
,
lightheadedness
,
tightness in the chest
Alerts
The Mesna injection multiple dose vials may be stored and used for up to 8 days after initial puncture.

Store diluted solutions at 25°C (77°F). Use diluted solutions within 24 hours.

Do not mix Mesna injection with epirubicin, cyclophosphamide, cisplatin, carboplatin, and nitrogen mustard.
Dilute the volume of Mesna injection for the dose in any of the following fluids to obtain a final concentration of 20 mg/mL:
5% Dextrose Injection, USP
5% Dextrose and 0.2% Sodium Chloride Injection, USP
5% Dextrose and 0.33% Sodium Chloride Injection, USP
5% Dextrose and 0.45% Sodium Chloride Injection, USP
9% Sodium Chloride Injection, USP
Lactated Ringer's Injection, USP
Does NOT prevent nephrotoxicity, myelosuppression, or neurotoxicity
Contains benzyl alcohol as preservative ( associated w/ potentially fatal "Gasping Syndrome" in preemies)
Will not prevent hemorrhagic cystitis in all patients; examine morning urine specimen for hematuria prior to ifosfamide or cyclophosphamide treatment
Does not prevent or improve other toxicities associated with ifosfamide or cyclophosphamide
Mesna does not prevent thrombocytopenia-related hematuria
Benzyl alcohol, a preservative in Mesna injection, has been associated with serious adverse reactions and death (including gasping syndrome) in neonates, premature, and low-birth weight infants.
Points of recommendation
If patient vomits within 2 hr after PO dose, repeat dose or give IV