Drug information of Nabilone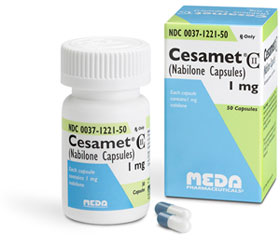 Mechanism of effect
Antiemetic activity may be due to effect on cannabinoid receptors (CB1) within the central nervous system.
Pharmacokinetics
Absorption:
Rapid and complete
Distribution:
~12.5 L/kg
Metabolism:
Extensively metabolized to several active metabolites by oxidation and stereospecific enzyme reduction; CYP450 enzymes may also be involved
Excretion:
Feces (~60%); renal (~24%)
Time to Peak:
Serum: Within 2 hours
Half-Life Elimination:
Parent compound: ~2 hours; Metabolites: ~35 hours
Drug indications
Labeled Indications
Nausea and vomiting (refractory): Treatment of refractory nausea and vomiting associated with cancer chemotherapy in patients who have failed to adequately respond to conventional antiemetic regimens.
Limitations of use: Due to disturbing psychotomimetic reactions not observed with other antiemetic agents, nabilone should only be used for refractory nausea and vomiting. Nabilone is intended for use under close supervision, particularly during initial use and with dose adjustments. Nabilone is a schedule II controlled substance; schedule II substances have a high potential for abuse; limit prescriptions to the amount necessary for a single chemotherapy cycle (eg, a few days). Nabilone is not intended to be used on as needed basis or as an initial antiemetic agent. Monitor patients receiving nabilone for signs of excessive use, abuse and misuse; patients who may be at increased risk for substance abuse include those with a personal or family history of substance abuse (including drug or alcohol abuse) or mental illness.
Dosage
Usual Adult Dose for Nausea/Vomiting - Chemotherapy Induced
Recommended Dose:
-1 mg or 2 mg orally 2 times a day

Initial Dose:
-The dose should be given 1 to 3 hours before the first dose of the chemotherapeutic agent is administered.
-The lower starting dose should be used to minimize side effects; the dose can be increased as necessary.

Maintenance Dose:
-This drug may be given 2 or 3 times a day during the entire course of each cycle of chemotherapy and, if needed, for 48 hours after the last dose of each cycle.

Maximum Dose:
-2 mg orally 3 times a day

Comments:
-A dose of 1 mg or 2 mg orally the night before each cycle of chemotherapy may be useful.
-This drug is not intended to be used on an as-needed basis or as a first-line antiemetic.
Drug contraindications
Hypersensitivity to nabilone, other cannabinoids, or any component of the formulation
Side effects
WARNING/CAUTION: Even though it may be rare, some people may have very bad and sometimes deadly side effects when taking a drug. Tell your doctor or get medical help right away if you have any of the following signs or symptoms that may be related to a very bad side effect:
Signs of an allergic reaction, like rash; hives; itching; red, swollen, blistered, or peeling skin with or without fever; wheezing; tightness in the chest or throat; trouble breathing, swallowing, or talking; unusual hoarseness; or swelling of the mouth, face, lips, tongue, or throat.
Low mood (depression).
Mental, mood, or behavior changes that are new or worse.
Feeling confused.
Very bad dizziness or passing out.
A fast heartbeat.
Hallucinations (seeing or hearing things that are not there).
Memory problems or loss.
Feeling very sleepy.
Big change in balance.
Change in eyesight.
All drugs may cause side effects. However, many people have no side effects or only have minor side effects. Call your doctor or get medical help if any of these side effects or any other side effects bother you or do not go away:
Feeling tired or weak.
Dizziness.
Feeling sleepy.
Feeling high (easy laughing and feeling good).
Dry mouth.
Feeling more or less hungry.
Change in balance.
Not able to sleep.
Headache.
Not able to focus.
These are not all of the side effects that may occur. If you have questions about side effects, call your doctor. Call your doctor for medical advice about side effects.
Interactions
Butalbital and Acetaminophen
,
Ramelteon
,
Tolcapone
,
Quazepam
,
Cariprazine
,
Opium
,
Chlormethiazole
,
Buprenorphine
,
Sodium Oxybate
,
propoxyphene
,
levomethadyl acetate
,
ethotoin
Alerts
Concerns related to adverse effects:
Cardiovascular effects: May cause tachycardia and/or orthostatic hypotension; use with caution in patients with cardiovascular disease.
CNS effects: May impair physical or mental abilities; patients must be cautioned about performing tasks which require mental alertness (eg, operating machinery or driving). Dizziness, drowsiness, ataxia, depression, hallucinations, and psychosis have been reported. Use with caution in patients with mania, depression, or schizophrenia; cannabinoid use may reveal symptoms of psychiatric disorders. Careful psychiatric monitoring is recommended; psychiatric adverse reactions may persist for up to 3 days after discontinuing treatment.
Disease-related concerns:
Substance abuse: Use with caution in patients with a history of substance abuse; potential for dependency exists. Tolerance, psychological and physical dependence may occur with prolonged use.
Concurrent drug therapy issues:
CNS depressants: Effects may be potentiated when used with other psychoactive drugs, sedatives and/or ethanol.
Special populations:
Elderly: Use with caution in the elderly; may cause postural hypotension.
Points of recommendation
Tell your doctor If you are allergic to nabilone; any part of nabilone; or any other drugs, foods, or substances. Tell your doctor about the allergy and what signs you had.
If you are breast-feeding. Do not breast-feed while you take nabilone.
This medicine may interact with other drugs or health problems.
Tell all of your health care providers that you take nabilone. This includes your doctors, nurses, pharmacists, and dentists.
This medicine may cause mood changes when you start taking it. Be sure there is someone you can trust to help you if needed when you take this drug.
Some side effects may last several days after taking nabilone. Some of these effects include lowered alertness, mood changes, and confusion.
Avoid driving and doing other tasks or actions that call for alertness while you take nabilone.
To lower the chance of feeling dizzy or passing out, rise slowly if you have been sitting or lying down. Be careful going up and down stairs.
Avoid alcohol or other drugs and natural products that slow your actions.
Do not smoke or use other forms of cannabis (marijuana) while taking nabilone. Talk with your doctor.
This medicine may be habit-forming with long-term use.
You will be watched closely to make sure you do not misuse, abuse, or become addicted to nabilone.
If you are 65 or older, use nabilone with care. You could have more side effects.
Use with care in children. Talk with the doctor.
Tell your doctor if you are pregnant or plan on getting pregnant. You will need to talk about the benefits and risks of using nabilone while you are pregnant.
Use nabilone as ordered by your doctor. Read all information given to you. Follow all instructions closely.
Take with or without food.
Keep taking nabilone as you have been told by your doctor or other health care provider, even if you feel well.
Take a missed dose as soon as you think about it.
If it is close to the time for your next dose, skip the missed dose and go back to your normal time.
Do not take 2 doses at the same time or extra doses.
Store at room temperature.
Store in a dry place. Do not store in a bathroom.
Keep all drugs in a safe place. Keep all drugs out of the reach of children and pets.
Storage
Store at 25°C (77°F); excursion permitted to 15°C and 30°C (59°F and 86°F).
Pregnancy level
C
This drug should be used during pregnancy only if clearly needed and the benefit outweighs the risk to the fetus.


Breast feeding warning
Use of this drug by breastfeeding mothers is not recommended.

Excreted into human milk: Unknown
Excreted into animal milk: Data not available

Comments: Some cannabinoids are excreted in breast milk.
This drug is known to have an inhibitory effect on prolactin release, which may have contributed to reduced milk production observed in rats given doses 150 times the maximum recommended human dose.
Drug forms
Cesamet