Drug information of voxelotor
voxelotor
Voxelotor is used to treat sickle cell disease in adults and children at least 12 years old.
Voxelotor is sometimes given together with another medicine called hydroxyurea.
Voxelotor was approved by the US Food and Drug Administration (FDA) on an "accelerated" basis. In clinical studies, some people responded to voxelotor, but further studies are needed.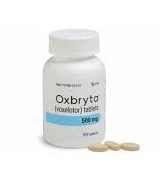 Mechanism of effect
Voxelotor is an HbS polymerization inhibitor that reversibly binds to Hb and stabilizes the oxygenated Hb state. Through the increased Hb affinity for oxygen, voxelotor demonstrates dose-dependent inhibition of HbS polymerization, and may inhibit RBC sickling, improve RBC deformability, and reduce whole blood viscosity. Voxelotor may also extend RBC half-life and reduce anemia and hemolysis .
Pharmacokinetics
Absorption
A high-fat, high-calorie meal increased voxelotor whole blood AUC and Cmax by 42% and 45%, respectively (compared to a fasted state); likewise, plasma AUC and Cmax increased by 42% and 95%, respectively.
Distribution
Vd: Central compartment: 338 L; Peripheral compartment: 72.2 L; distributed predominantly into RBCs.
Metabolism
Primarily hepatic through phase I metabolism (oxidation and reduction), phase II metabolism (glucuronidation), and combinations of phase I and II metabolism. Oxidation is primarily by CYP3A4, with minor contribution from CYP2C19, CYP2B6, and CYP2C9.
Excretion
Feces: ~63% (33% as unchanged drug); Urine: ~36% (0.08% as unchanged drug).
Clearance: 6.7 L/hour.
Time to Peak
Median: 2 hours.
Half-Life Elimination
35.5 hours.
Protein Binding
99.8%.
Drug indications
Sickle cell disease: Treatment of sickle cell disease in adults and pediatric patients ≥12 years of age.
Dosage
Usual Adult Dose for Sickle Cell Anemia
1500 mg orally once a day
Drug contraindications
Serious hypersensitivity (eg, generalized rash, urticaria, mild shortness of breath, mild facial swelling, eosinophilia) to voxelotor or any component of the formulation.
Side effects
Comments
:
-This drug may be given with or without hydroxyurea.
Use: For the treatment of sickle cell
disease.Usual Pediatric Dose for Sickle Cell Anemia12 years or older: 1500 mg orally once a day
Comments:
-This drug may be given with or without hydroxyurea.
Use: For the treatment of sickle cell disease in patients 12 years or older.Side effects requiring immediate medical attentionAlong with its needed effects, voxelotor may cause some unwanted effects. Although not all of these side effects may occur, if they do occur they may need medical attention.Check with your doctor immediately if any of the following side effects occur while taking voxelotor:
Rare
Black, tarry stools
chest pain
chills
cough
fever
hives or welts, itching or skin rash
painful or difficult urination
redness of the skin
sore throat
sores, ulcers, or white spots on the lips or in the mouth
swelling of the face
swollen glands
trouble breathing
unusual bleeding or bruising
unusual tiredness or weakness
Side effects not requiring immediate medical attentionSome side effects of voxelotor may occur that usually do not need medical attention. These side effects may go away during treatment as your body adjusts to the medicine. Also, your health care professional may be able to tell you about ways to prevent or reduce some of these side effects.Check with your health care professional if any of the following side effects continue or are bothersome or if you have any questions about them:
More common
Diarrhea
headache
nausea
stomach pain
Interactions
Quinine
,
Dexlansoprazole
,
Entrectinib
,
Abemaciclib
,
Nitrendipine
,
Triphasic
,
riociguat
,
oleandomycin
,
Gefitinib
,
vemurafenib
,
Itraconazole
,
Bosentan
,
Primidone
,
Posaconazole
,
Pimozide
,
Dexamethasone
,
tucatinib
,
nafcillin
,
selpercatinib
,
lemborexant
,
cenobamate
,
st. john's wort
,
Avapritinib
,
Siponimod
,
Troleandomycin
,
Ceritinib
,
conivaptan
,
levomethadyl acetate
,
neratinib
,
Delavirdine
,
Butorphanol
,
Apalutamide
,
encorafenib
,
pexidartinib
,
Lorlatinib
,
Simeprevir
,
Etravirine
,
Dabrafenib
,
Halofantrine
,
Mibefradil
,
cobicistat
,
Fosphenytoin
,
Idelalisib
,
Ivacaftor
,
brigatinib
,
Efavirenz
,
Telaprevir
,
Amprenavir
,
Fosamprenavir
,
Telithromycin
,
boceprevir
,
Indinavir
,
Hydrocodone
,
Nefazodone
,
ritonavir
,
saquinavir
,
nelfinavir
,
nevirapine
,
mitotane
,
fentanyl
,
Rifabutin
,
Rifapentine
,
Atazanavir
,
Ranolazine
,
Oxycodone
,
Voriconazole
,
Carbamazepine
,
Ketoconazole
,
Clarithromycin
,
Colchicine
,
Enzalutamide
,
Rifampin
,
Cisapride
,
Fluconazole
,
Phenobarbital
,
Phenytoin
,
Modafinil
,
Netupitant
Points of recommendation
You should not use voxelotor if you are allergic to it.
Tell your doctor if you have ever had:
It is not known whether voxelotor will harm an unborn baby. Tell your doctor if you are pregnant or plan to become pregnant.
Do not breastfeed while using this medicine, and for at least 2 weeks after your last dose.
Voxelotor is not approved for use by anyone younger than 12 years old.
Follow all directions on your prescription label and read all medication guides or instruction sheets. Use the medicine exactly as directed.
You may take voxelotor with or without food.
Swallow the tablet whole and do not crush, chew, or break it.
If you are receiving exchange transfusions, voxelotor can affect the results of certain blood tests. Tell any doctor who treats you that you are using voxelotor.
You should not stop using voxelotor without your doctor's advice.
Store at room temperature away from moisture and heat. Keep the tablets in their original container, along with the packet or canister of moisture-absorbing preservative.
Skip the missed dose and use your next dose at the regular time. Do not use two doses at one time.
Storage
Store at ≤30°C (86°F).
Pregnancy level
HAVE NOT BEEN ESTABLISHED
Benefit should outweigh risk

US FDA pregnancy category: Not assigned
Breast feeding warning
Not Recommended

Excreted into human milk: Unknown
Excreted into animal milk: Yes

Comments:
-Because of the potential for changes in the hematopoietic system in the breastfed infant, breastfeeding is not recommended during treatment and for at least 2 weeks after the last dose.
There are no data on the effects of this drug on the breastfed infant or its effects on milk production. This drug is present in the milk of lactating rats.
Drug forms
Oxbryta