Drug information of sitaxentan
sitaxentan
Sitaxentan was marketed under the trade name Thelin for the treatment of pulmonary arterial hypertension (PAH) by Encysive Pharmaceuticals until Pfizer purchased Encysive in February 2008. In 2010, Pfizer voluntarily removed sitaxentan from the market over concerns of hepatotoxicity.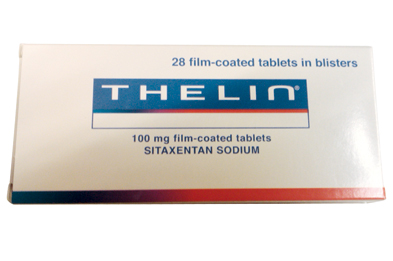 Mechanism of effect
Sitaxentan is a competitive antagonist of endothelin-1 at the endothelin-A (ET-A) and endothelin-B (ET-B) receptors. Under normal conditions, endothelin-1 binding of ET-A or ET-B receptors causes pulmonary vasoconstriction. By blocking this interaction, Sitaxentan decreases pulmonary vascular resistance. Sitaxentan has a higher affinity for ET-A than ET-B.
Pharmacodynamic
Sitaxentan belongs to a class of drugs known as endothelin receptor antagonists (ERAs). Patients with PAH have elevated levels of endothelin, a potent blood vessel constrictor, in their plasma and lung tissue. Sitaxentan blocks the binding of endothelin to its receptors, thereby negating endothelin's deleterious effects.
Pharmacokinetics
Absorption: 70-100%
Protein binding: 99% +
Metabolism: Hepatic (CYP2C9- and CYP3A4-mediated)
Route of elimination: Renal (50 to 60%) Fecal (40 to 50%)
Half-life: 10 hours
Dosage
Thelin is to be taken orally as a dose of 100 mg once daily. It may be taken with or without food and without regard to the time of day.In the case of clinical deterioration despite Thelin treatment for at least 12 weeks, alternative therapies should be considered. However, a number of patients who showed no response by week 12 of treatment with Thelin responded favourably by week 24, so an additional 12 weeks of treatment may be considered.
Drug contraindications
Hypersensitivity to the active substance or to any of the excipients.
Mild to severe hepatic impairment (Child-Pugh Class A-C).
Elevated aminotransferases prior to initiation of treatment (aspartate aminotransferase (AST) and/or alanine aminotransferase (ALT) > 3x ULN).
Elevated direct bilirubin >2 x ULN prior to initiation of treatment.
Concomitant administration with ciclosporin A
lactation
Side effects
Diarrhea
,
Headache
,
nausea
,
dizziness
,
vomiting
,
flushing
,
Hyperbilirubinemia
,
elevated INR
,
nasal stuffiness
,
Muscle cramps
,
skin rush
,
tiredness
,
Digestive complaints
Interactions
Treprostinil
,
Digoxin
,
Sildenafil
,
Cyclosporine
,
Fluconazole
,
Nifedipine
,
Warfarin
,
Ketoconazole
,
pravastatin
,
Ethinyl Estradiol
,
ritonavir
,
nelfinavir
,
norethindrone
Alerts
Liver function:Liver function abnormalities have been associated with PAH. Endothelin receptor antagonists, as a class, have been associated with liver function abnormalities.
Elevations of AST and/or ALT associated with Thelin occur both early and late in treatment, usually progress slowly, and are typically asymptomatic. During clinical trials, these changes were usually reversible when monitoring and discontinuation guidelines were followed. Liver aminotransferase elevations may reverse spontaneously while continuing treatment with sitaxentan sodium.
The mechanism of liver toxicity is not fully documented and it might vary between endothelin receptor antagonists. Appropriate care should be exercised when initiating sitaxentan in patients who discontinued other endothelin receptor antagonists due to liver enzyme abnormalities
BleedingThere is an increased risk of bleeding with Thelin, mainly in the form of epistaxis and gingival bleeding.
Vitamin K antagonists: Thelin increases the plasma levels of Vitamin K antagonists such as warfarin, acenocoumarol and fenprocoumon.
Oral contraceptive agents: Thelin increases oestrogen exposure when given concomitantly with oral contraceptive agents. Therefore, especially in women who smoke, there is an increased risk for thromboembolism. Given a theoretical higher risk for thromboembolism, traditional concomitant use of vitamin K antagonists should be considered.
Haemoglobin concentration: Treatment with Thelin was associated with a dose-related decrease in haemoglobin. Most of this decrease of haemoglobin concentration was detected during the first few weeks of treatment and haemoglobin levels stabilized by 4 weeks of Thelin treatment. It is recommended that haemoglobin concentrations be checked prior to treatment, after 1 and 3 months, and every 3 months thereafter. If a marked decrease in haemoglobin concentration occurs, further evaluation should be undertaken to determine the cause and need for specific treatment.
Pregnancy level
Due to possible teratogenicity, Thelin must not be initiated in women of child-bearing potential unless they practise reliable contraception. If necessary, pregnancy testing should be undertaken.
There are no human data regarding the use of sitaxentan sodium during pregnancy.Sitaxentan sodium caused teratogenicity in rats. Potential effects in humans are unknown. Thelin should not be used during pregnancy unless clearly necessary ie, in case no alternative treatment options are available.
Breast feeding warning
Sitaxentan sodium was detected in the plasma of breast fed pups from female rats treated with sitaxentan sodium, indicating that sitaxentan sodium was present in the breast milk. It is unknown whether or not sitaxentan sodium is excreted into human milk. Women should not breastfeed while using Thelin.
Drug forms
Thelin