Drug information of Selinexor
Selinexor
Selinexor is used to treat multiple myeloma in adults. Selinexor is given together with a steroid medicine called dexamethasone.
Selinexor is also used in adults to treat certain types of diffuse large B-cell lymphoma.
Selinexor is given after other specific medications did not work or have stopped working.
Selinexor was approved by the US Food and Drug Administration (FDA) on an "accelerated" basis. In clinical studies, some people responded to selinexor, but further studies are needed.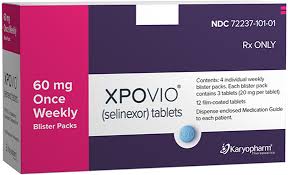 Mechanism of effect
elinexor binds to and inhibits exportin-1 (XPO1). XPO1 is a nuclear exporter protein which contains a pocket to which nuclear proteins can bind. When complexed with these proteins and Ran, activated through guanosine triphosphate (GTP) binding, the XPO1-protein-Ran-GTP complex is able to exit the nucleus through a nuclear pore. Once outside, GTP is hydrolyzed and the complex dissociates. The inhibition of this process in cancer cells allows the targets of XPO1, many of which are tumor suppressors, to collect in the nucleus and result in increased transcription of tumor suppressor genes. Tumor suppressor proteins known to be affected by XPO1 inhibition include p53, p73, adenomatous polyposis coli, retinoblastoma, forkhead box protein O, breast cancer, nucleophosmin, and merlin. Regulators of cell cycle progression are also affected, namely p21, p27, galectin-3, and Tob. Inhibitor of NFκB also collects in the nucleus as a result leading to reduced activity of NFκB, a known contributor to cancer. XPO1 participates in the formation of a complex with eukaryotic initiation factor 4E and contributes to the transport of messenger RNA for several oncegenes including cell cycle promotors, cyclin D1, cyclin E, and CDK2/4/6, as well as antiapoptotic proteins, Mcl-1 and Bcl-xL.4 These wide ranging changes in protein expression and gene transcription culminate in cell cycle arrest and the promotion of apoptosis in cancer cells.
Pharmacodynamic
Selinexor causes cell cycle arrest and apoptosis in cancer cells.
Pharmacokinetics
Distribution: Vd: 133 L.
Protein binding: 95%.
Metabolism: Hepatic via CYP3A4, multiple UDP-glucuronosyltransferases, and glutathione S-transferases.
Half-life elimination: 6 to 8 hours.
Time to peak: Within 4 hours.
Excretion: Clearance: 18.6 L/hour
Dosage
Multiple Myeloma
Indicated in combination with dexamethasone for adults with relapsed or refractory multiple myeloma (RRMM) who have received at least 4 prior therapies and whose disease is refractory to at least 2 proteasome inhibitors, at least 2 immunomodulatory agents, and an anti-CD38 monoclonal antibody
80 mg PO plus dexamethasone 20 mg PO on Days 1 and 3 of each week
Continue until disease progression or unacceptable toxicity
Diffuse Large B-Cell Lymphoma
Indicated for relapsed or refractory diffuse large B-cell lymphoma (DLBCL), not otherwise specified, including DLBCL arising from follicular lymphoma, in patients previously treated with at least 2 lines of systemic therapy
60 mg PO on Days 1 and 3 of each week
Continue until disease progression or unacceptable toxicity
Side effects
Infection
,
Diarrhea
,
edema
,
weight decrease
,
nausea
,
dizziness
,
vomiting
,
Blurred vision
,
Urinary tract infection
,
fever
,
myalgia
,
Hypomagnesemia
,
anorexia
,
Hyperkalemia
,
Hypocalcemia
,
hemorrhage
,
peripheral nephropathy
,
pneumonia
,
Hypophosphatemia
,
cardiac failure
,
tiredness
,
Abdominal pain
,
Leukopenia
,
Hypocalcemia
,
Syncope
Alerts
Life-threatening thrombocytopenia, potentially leading to hemorrhage may occur
Neutropenia commonly reported, potentially increasing infection risk
Nausea and/or vomiting commonly occurs; follow recommendations for adequate hydration and prophylactic antiemetics
Diarrhea commonly reported; monitor for dehydration and provide supportive care as required
Anorexia and weight loss reported
Hyponatremia may rapidly occur (median onset 8 days) and may be severe
Infections reported; most infections were not associated with neutropenia and were caused by nonopportunistic organisms
Neurological toxicity may occur, including dizziness, syncope, depressed level of consciousness, and mental status changes (including delirium and confused state)
Embryofetal toxicity can occur
Pregnancy level
Not assigned
Based on animal studies and its mechanism of action, selinexor can cause fetal harm if administered to pregnant women
Verify pregnancy status of females of reproductive potential before initiating selinexor
Breast feeding warning
No data are available regarding the presence of selinexor or its metabolites in human milk, or their effects on the breastfed child or milk production
Because of the potential for serious adverse reactions in breastfed children, advise women not to breastfeed during treatment and for 1 week after the last dose
Tags