Drug information of anastrozole
anastrozole
Anastrozole, sold under the brand name Arimidex among others, is a medication used in addition to other treatments for breast cancer.[6][1] Specifically it is used for hormone receptor-positive breast cancer.[1] It has also been used to prevent breast cancer in those at high risk.[1] It is taken by mouth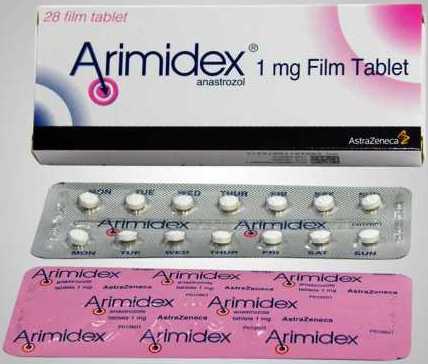 Mechanism of effect
Anastrozole is a potent and selective nonsteroidal aromatase inhibitor. By inhibiting aromatase, the conversion of androstenedione to estrone, and testosterone to estradiol, is prevented, thereby decreasing tumor mass or delaying progression in patients with tumors responsive to hormones. Anastrozole causes an 85% decrease in estrone sulfate levels.
Dosage
Breast cancer, advanced: Postmenopausal females: Oral: 1 mg once daily; continue until tumor progression.
Breast cancer, advanced, estrogen receptor-positive, HER2-negative (off-label combination):
Postmenopausal females: Oral: 1 mg once daily (in combination with abemaciclib) until disease progression or unacceptable toxicity (Goetz 2017).
Premenopausal or perimenopausal females: Oral: 1 mg once daily (in combination with ribociclib [and the luteinizing hormone-releasing hormone (LHRH) agonist goserelin]) until disease progression or unacceptable toxicity (Tripathy 2018).
Breast cancer, early (adjuvant treatment): Postmenopausal females: Oral: 1 mg once daily.
Side effects
artirit rhomatoid
,
depression
,
Pain
,
Alopecia
,
Headache
,
nausea
,
vomiting
,
fatigue
,
flushing
,
itching
,
skin rush
,
Osteoporosis
Alerts
Concerns related to adverse effects:
• Decreased bone mineral density: Due to decreased circulating estrogen levels, anastrozole is associated with a reduction in bone mineral density (BMD) in postmenopausal females; decreases (from baseline) in total hip and lumbar spine BMD have been reported. Patients with preexisting osteopenia are at higher risk for developing osteoporosis (Eastell 2008). When initiating anastrozole treatment, monitor BMD at baseline and periodically thereafter. Lifestyle modifications (including exercise, smoking cessation, decreased alcohol intake) and adequate vitamin D and calcium intake are recommended. Bone-modifying agents may be useful in patients at risk for fractures (ASCO [Shapiro 2019]).
• Hypercholesterolemia: Elevated total cholesterol levels (contributed to by low-density lipoprotein [LDL] cholesterol increases) have been reported in patients receiving anastrozole; use with caution in patients with hyperlipidemias. Cholesterol levels should be monitored/managed in accordance with current guidelines for patients with LDL elevations.
• Hypersensitivity: Allergic reactions, including anaphylaxis, angioedema, and urticaria, have been reported.
Disease-related concerns:
• Hepatic impairment: Plasma concentrations in patients with stable hepatic cirrhosis were within the range of concentrations seen in normal subjects across all clinical trials. Has not been studied in patients with severe hepatic impairment.
• Ischemic disease: Patients with preexisting ischemic cardiac disease have an increased risk for ischemic cardiovascular events.
Special populations:
• Premenopausal females: Aromatase inhibitors (including anastrozole) should not be used as monotherapy in premenopausal females with breast cancer (Puhalla 2009). Premenopausal females with metastatic breast cancer should be offered ovarian suppression or ablation along with hormonal therapy (ASCO [Rugo 2016]).