Drug information of Avapritinib
Avapritinib
It is used to treat a type of stomach, bowel, or esophagus cancer.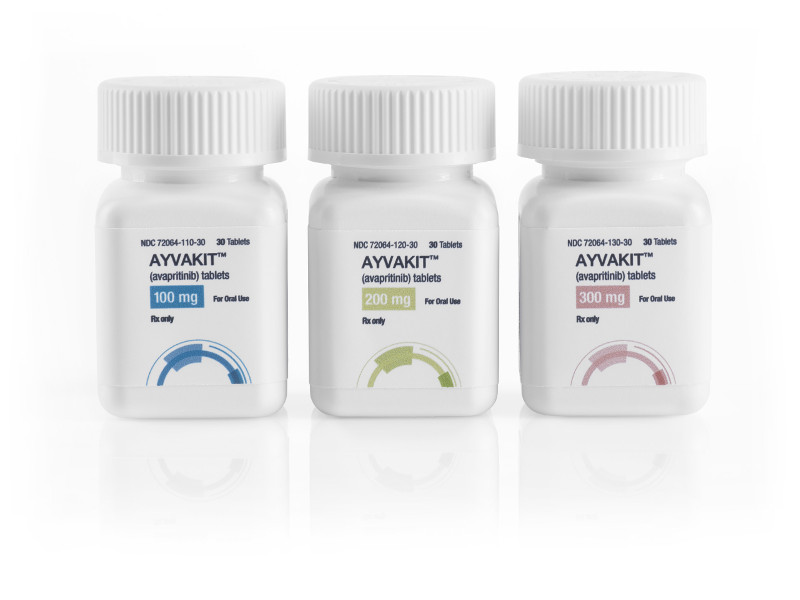 Mechanism of effect
Avapritinib has a negative modulating effect on the transporters ABCB1 and ABCG2, which mediate the multidrug resistance phenotype of some cancers. This modulation may be due to interactions of avapritinib with the drug binding pocket of these transporters. Negative modulation of these transporters, resensitizes cancerous cells to treatment with chemotherapeutic agents like paclitaxel.
Pharmacodynamic
Avapritinib is a selective kinase inhibitor that negatively modulates the action of cell transporters to resensitize them to other chemotherapies. It has a long duration of action as it is given once daily. Patients should be counselled regarding the risk of intracranial hemorrhage, CNS effects, and embryo-fetal toxicity.
Pharmacokinetics
absorption: A 300mg oral dose of avapritinib reaches a Cmax of 813ng/mL with a Tmax of 2.0-4.1h and an AUC of 15400h*ng/mL.
volume of distribution:The mean apparent volume of distribution is 1200L.
protein binding:Avapritinib is 98.8% protein bound in serum.
metabolism: Avapritinib is metabolized mainly by CYP3A4 and CYP2C9 in vitro.A 310mg oral dose is recovered as 49% unchanged drug, 35% hydroxy glucuronide metabolite, and 14% oxidatively deaminated metabolite.
Route of elimination:Avapritinib is 70% eliminated in the feces with 11% as the unchanged drug and 18% eliminated in the urine with 0.23% as the unchanged drug.
half-life: The half life of avapritinib is 32-57h.
Dosage
Gastrointestinal Stromal Tumors
Indicated for adults with unresectable or metastatic gastrointestinal stromal tumor (GIST) harboring a platelet-derived growth factor receptor alpha (PDGFRA) exon 18 mutation, including PDGFRA D842V mutation
300 mg PO qDay
Continue until disease progression or unacceptable toxicity
Side effects
Diarrhea
,
Headache
,
edema
,
weight decrease
,
nausea
,
thyroid dysfunction
,
vomiting
,
rash
,
vertigo
,
Hypertension
,
thrombocytopenia
,
neutropenia
,
leukopenia
,
Hypomagnesemia
,
Hypokalemia
,
Creatinine increased
,
Increased ALT
,
Increased AST
,
Hyperbilirubinemia
,
elevated INR
,
Hypophosphatemia
,
tiredness
,
shortness of breath
,
Abdominal pain
,
trouble in sleeping
Interactions
Drospirenone
,
oleandomycin
,
Meningococcal conjugate vaccine
,
voxelotor
,
Amiodarone
,
Aprepitant
,
Erythromycin
,
Itraconazole
,
Isoniazid
,
Imatinib
,
Crizotinib
,
Lorlatinib
,
Ceritinib
,
conivaptan
,
nafcillin
,
butalbital
,
Indinavir
,
Ribociclib
,
Butabarbital
,
encorafenib
,
elagolix
,
Fedratinib
,
Nefazodone
,
ritonavir
,
nelfinavir
,
mitotane
,
Mifepristone
,
Lopinavir
,
Clozapine
,
Bicalutamide
,
Rifabutin
,
Rifapentine
,
Darunavir
,
Pentobarbital
,
Haloperidol
,
Carbamazepine
,
Ketoconazole
,
Clarithromycin
,
Chloramphenicol
,
Clobazam
,
Cyclosporine
,
Fluvoxamine
,
Fluconazole
,
Phenobarbital
,
Phenytoin
,
Modafinil
,
Bosentan
,
Primidone
,
Posaconazole
,
Doxycycline
,
Diltiazem
,
Rifampin
,
tucatinib
,
Netupitant
Alerts
Intracranial hemorrhage (eg, subdural hematoma, intracranial hemorrhage, cerebral hemorrhage) occurred
A broad spectrum of CNS adverse reactions were reported; these include cognitive impairment, dizziness, sleep disorders, mood disorders, speech disorders, and hallucinations
Based on findings from animal studies and its mechanism of action, fetal harm can occur when administered to pregnant women
Drug interaction overview
Avapritinib is a CYP3A4 and a CYP2C9 substrate
Strong and moderate CYP3A inhibitors
Coadministration with a strong or moderate CYP3A inhibitor increases avapritinib plasma concentrations, which may increase the incidence and severity of adverse reactions of avapritinib
Strong and moderate CYP3A inducers
Coadministration with a strong or moderate CYP3A inducer decreases avapritinib plasma concentrations, which may decrease efficacy of avapritinib
Pregnancy level
Based on findings from animal studies and its mechanism of action, fetal harm may occur when administered to a pregnant woman
No data available on use in pregnant women
Verify pregnancy status of females of reproductive potential before initiation
Contraception
Females of reproductive potential: Use effective contraception during treatment and for 6 weeks after the final dose
Males with female partners of reproductive potential: Use effective contraception during treatment and for 6 weeks after the final dose
Infertility
Based on findings from animal studies, may impair fertility for both males and females
Breast feeding warning
There are no data on the presence of avapritinib or its metabolites in human milk or the effects of avapritinib on the breastfed child or milk production
Advise women not to breastfeed during treatment and for 2 weeks following the final dose