Drug information of Fidaxomicin
Fidaxomicin
Fidaxomicin is indicated for the treatment of Clostridioides (formerly Clostridium) difficile-associated diarrhea in adult and pediatric patients 6 months of age and older.
Fidaxomicin should only be used in patients with proven or strongly suspected C. difficile infection to reduce the risk of development of drug-resistant bacteria and maximize the therapeutic effectiveness of fidaxomicin and other antimicrobial agents.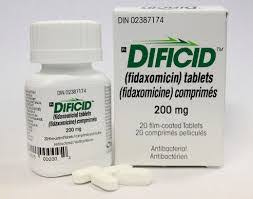 Mechanism of effect
Macrolide antibiotic that inhibits RNA synthesis by binding to RNA polymerases
Bactericidal against C difficile in vitro; demonstrates a postantibiotic effect vs C difficile of 6-10 hr
Pharmacodynamic
Fidaxomicin has a narrow-spectrum antibacterial profile, with potent bactericidal activity specifically against C. difficile. The minimum inhibitory concentration for 90% of organisms for fidaxomicin against C. difficile ranged from 0.0078 to 2 μg/mL in vitro. The bactericidal activity of fidaxomicin is time-dependent. Other than C. difficile, fidaxomicin has moderate inhibitory activity against Gram-positive bacteria (S. aureus and Enterococcus spp.) and poor activity against normal colonic flora, including anaerobes and enteric Gram-negative bacilli. Isolates of C. difficile that are resistant to rifamycins or other antimicrobial classes (such as cephalosporins, fluoroquinolones, clindamycin) were not shown to be cross-resistant to fidaxomicin.
Pharmacokinetics
Absorption
Bioavailability: Minimal systemic absorption
Peak plasma time: 2 hr (range 1-5 hr)
Peak plasma concentration: 5.2 ng/mL (+/- 2.81)
AUC: 14 ng•hr/mL
Distribution
Fecal concentrations: 639-2710 mcg/g; OP-1118 213-1210 mcg/g
Metabolism
Metabolized by hydrolysis at the isobutyryl ester to form OP-1118
Metabolites: OP-1118 (active metabolite)
Elimination
Half-life: 9 hr
Excretion: Feces (92%)
Dosage
Indicated for treatment of Clostridioides difficile-associated diarrhea (CDAD)
200 mg PO BID x10 days
Interactions
cholera vaccine live
,
Amiodarone
,
Erythromycin
,
Spironolactone
,
Itraconazole
,
Propafenone
,
Hydroxyprogesterone Caproate
,
talazoparib
,
Typhoid vaccine (live), oral
,
rolapitant
,
prucalopride
,
Venetoclax
,
tucatinib
,
Suvorexant
,
tolvaptan
,
Bepridil
,
neratinib
,
Sarecycline
,
lasmiditan
,
Istradefylline
,
Cabozantinib
,
Larotrectinib
,
Troleandomycin
,
gilteritinib
,
Eliglustat
,
Apalutamide
,
encorafenib
,
midostaurin
,
pexidartinib
,
elagolix
,
Flibanserin
,
Mibefradil
,
Fostamatinib
,
Erdafitinib
,
Binimetinib
,
Ibrutinib
,
Isavuconazonium
,
Ticagrelor
,
Ivacaftor
,
brigatinib
,
Ponatinib
,
Telaprevir
,
Ulipristal
,
ritonavir
,
saquinavir
,
nelfinavir
,
Telithromycin
,
boceprevir
,
Quinine
,
Ranolazine
,
astemizole
,
Tamoxifen
,
Quinidine
,
Lomitapide
,
dronedarone
,
Nilotinib
,
Verapamil
,
Ketoconazole
,
Clarithromycin
,
Enzalutamide
,
Daclatasvir
,
Tacrolimus
,
Diltiazem
,
Sorafenib
,
Cyclosporine
,
Lapatinib
,
Nifedipine
Alerts
Not indicated for systemic infections owing to minimal systemic absorption
Only use for infection proven or strongly suspected to be caused by C difficile to avoid development of drug resistant bacteria; therapy not effective for treatment of other types of infections due to minimal systemic absorption of fidaxomicin
Acute hypersensitivity reactions, including dyspnea, rash, pruritus, and angioedema of the mouth, throat, and face reported; discontinue and treat appropriately if reaction occurs therapy should be instituted
Some patients with hypersensitivity reactions also reported a history of allergy to other macrolides
Use in the absence of proven or strongly suspected C difficile infection is unlikely to provide benefit to the patient and increases risk of developing drug-resistant bacteria
Prolonged cardiac repolarization and QT interval have been reported in patients receiving treatment with macrolides
Points of recommendation
Oral Suspension Preparation
Shake glass bottle to ensure granules move around freely and no caking has occurred
Measure 130 mL of purified water, add to glass bottle, and cap tightly
Hold bottle in horizontal position and shake bottle vigorously in that position for at least 2 minutes
Verify homogeneous suspension obtained; if not, repeat shaking
Once homogeneous suspension is visually confirmed, shake an additional 30 seconds
Let bottle stand for 1 minute
Verify that the suspension is still homogeneous; if not, repeat shaking instructions
Once reconstituted, oral suspension is white to yellowish white in color
Write discard date (current date plus 12 days) on the bottle
Oral Administration
May take with or without food
Oral suspension
Remove bottle from refrigerator 15 minutes before administration
Shake vigorously until suspension has an even consistency
Remove cap, then administer orally with or without food using an oral dosing syringe
Between doses, replace cap and refrigerate
Storage
Tablets
20-25ºC (68-77ºF); excursions permitted to 15-30ºC (59-86ºF)
Store in the original bottle
Oral suspension
Unreconstituted granules

20-25ºC (68-77ºF); excursions permitted to 15-30ºC (59-86ºF)
Store in the original package; do not open pouch until time of use

Reconstituted suspension

Refrigerate at 36-46ºF (2-8ºC) for up to 12 days
Store capped in the original bottle
Pregnancy level
HAVE NOT BEEN ESTABLISHED
Pregnancy
Limited available data in pregnant women are insufficient to inform any drug-associated risk for major birth defects; miscarriage or adverse maternal or fetal outcomes
Animal data
Embryo-fetal reproduction studies in rats and rabbits dosed intravenously during organogenesis revealed no evidence of harm to fetus at exposures 65-fold or higher than the clinical exposure at the recommended dose
Breast feeding warning
There is no information on presence of fidaxomicin or its main metabolite, OP-1118, in human milk, the effects on breastfed infant, or on milk production; developmental and health benefits of breastfeeding should be considered along with mother's clinical need for therapy and any potential adverse effects on breastfed infant from therapy or from the underlying maternal condition
Drug forms
Dificid
Tags