Drug information of Netupitant
Netupitant
Netupitant is an antiemitic drug approved by the FDA in October 2014 for use in combination with palonosetron for the prevention of acute and delayed vomiting and nausea associated with cancer chemotherapy including highly emetogenic chemotherapy. Netupitant is a neurokinin 1 receptor antagonist. The combination drug is marketed by Eisai Inc. and Helsinn Therapeutics (U.S.) Inc. under the brand Akynzeo.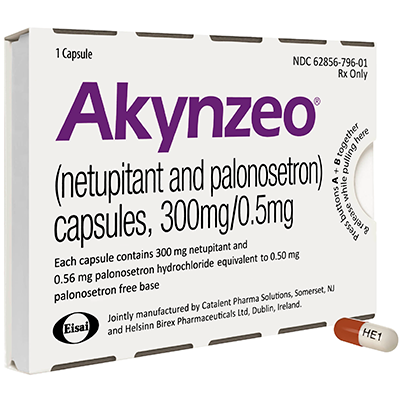 Mechanism of effect
Tachykinin NK1 receptor (substance P) antagonist
Pharmacodynamic

Delayed emesis (vomiting) has been largely associated with the activation of tachykinin family neurokinin 1 (NK1) receptors (broadly distributed in the central and peripheral nervous systems) by substance P. As shown in in vitro and in vivo studies, netupitant inhibits substance P mediated responses.

Netupitant is a CYP3A4 substrate and a moderate inhibitor of CYP3A4
Pharmacokinetics
Absorption
Upon oral administration of a single dose of netupitant, netupitant started to be measurable in plasma between 15 minutes and 3 hours after dosing. Plasma concentrations reached Cmax in approximately 5 hours. There was a greater than dose-proportional increase in the systemic exposure with the dose increase from 10 mg to 300 mg and a dose-proportional increase in systemic exposure with a dose increase from 300 mg to 450 mg.
Volume of distribution
In cancer patients, Vz/F: 1982 ± 906 L (mean ± SD).
Protein binding
> 99.5% at drug concentrations ranging from 10-1300 ng/mL.
Metabolism
Once absorbed, netupitant is extensively metabolized to form three major metabolites: desmethyl derivative, M1; N-oxide derivative, M2; and OH-methyl derivative, M3. Metabolism is mediated primarily by CYP3A4 and to a lesser extent by CYP2C9 and CYP2D6. Metabolites M1, M2 and M3 were shown to bind to the substance P/neurokinin 1 (NK1) receptor.
Route of elimination
Primarily fecal.
Half-life
96 hours with CV% of 61.
Clearance
Estimated systemic clearance of 20.3 ± 9.2 L/h (mean ± SD)
Dosage
Highly emetogenic chemotherapy
Includes cisplatin-based chemotherapy
1 capsule (300 mg/0.5 mg) PO ~1 hr before starting chemotherapy OR
1 reconstituted vial (235mg/0.25mg) IV over 30 min starting 30 min before chemotherapy PLUS
Dexamethasone 12 mg PO 30 minutes prior to chemotherapy on day 1 and 8 mg PO qDay on days 2-4
Chemotherapy not considered highly emetogenic
Includes anthracyclines and cyclophosphamide-based chemotherapy
1 capsule (300 mg/0.5 mg) PO ~1 hr before starting chemotherapy PLUS
Dexamethasone 12 mg PO 30 minutes prior to chemotherapy on day 1
Administration of dexamethasone on days 2-4 is not necessary
Interactions
Entrectinib
,
Cabozantinib
,
Cariprazine
,
Temsirolimus
,
Cannabidiol
,
Amitriptyline
,
Imipramine
,
Bosentan
,
Paroxetine
,
Primidone
,
Tranylcypromine
,
Venetoclax
,
Avapritinib
,
tucatinib
,
neratinib
,
nafcillin
,
lemborexant
,
tazemetostat
,
Eslicarbazepine acetate
,
voxelotor
,
pexidartinib
,
ivosidenib
,
Flibanserin
,
Cobimetinib
,
Levomilnacipran
,
Siponimod
,
Dabrafenib
,
Desvenlafaxine
,
Milnacipran
,
olaparib
,
Apalutamide
,
encorafenib
,
mitotane
,
Apomorphine
,
Ivabradine
,
Fosphenytoin
,
Efavirenz
,
Etravirine
,
protriptyline
,
Naratriptan
,
Almotriptan
,
Frovatriptan
,
nevirapine
,
eletriptan
,
Rifapentine
,
Phenelzine
,
Amoxapine
,
isocarboxazid
,
Pentobarbital
,
rasagiline
,
Clomipramine
,
Enzalutamide
,
Zolmitriptan
,
escitalopram
,
fentanyl
,
Rifabutin
,
Phenobarbital
,
Phenytoin
,
Midazolam
,
Nortriptyline
,
Venlafaxine
,
Carbamazepine
,
Rifampin
,
Sertraline
,
Selegiline
,
Citalopram
,
Fluvoxamine
,
Fluoxetine
,
Trimipramine
,
Desipramine
,
Dexamethasone
,
Duloxetine
,
Doxepin
,
Rizatriptan
Alerts
Infusion site reactions (ISRs) reported with injection; majority of severe ISRs, including thrombophlebitis and vasculitis, were reported with concomitant vesicant (anthracycline-based) chemotherapy administration, particularly when associated with extravasation; necrosis was also reported in some patients with concomitant vesicant chemotherapy; if a severe ISR develops during infusion, discontinue infusion and administer appropriate medical treatment

Serious hypersensitivity reactions, including anaphylaxis, during or soon after administration of therapy reported; symptoms including dyspnea, eye swelling, flushing, pruritus and wheezing reported with IV infusion; monitor patients during and after administration; if hypersensitivity reactions occur, discontinue drug and administer appropriate medical therapy; do not reinitiate treatment in patients who experience these symptoms with previous use

Severe and disabling arthralgia reported in patients taking DPP-4 inhibitors; consider as a possible cause for severe joint pain and discontinue drug if appropriate
Points of recommendation
IV Compatibilities
D5W or 0.9% NaCl
IV Incompatibilities
Solutions containing divalent cations (eg, calcium, magnesium), including Lactated Ringer's and Hartmann's Solution
Limited data are available on the compatibility with other IV substances, additives or other medications, and should not be added to netupitant/palonosetron solution or infused simultaneously
If the same IV line is used for sequential infusion of several different drugs, flush line before and after infusion with 0.9% NaCl
IV Preparation
Injection contains no antimicrobial preservatives
Lyophilized powder
Inject 20 mL D5W or 0.9% NaCl along the vial wall and not jetted in order to prevent foaming; swirl vial gently
Prepare an infusion vial or bag filled with 30 mL of D5W or 0.9% NaCl
Final dilution
Withdraw entire contents of the reconstituted vial or ready-to-dilute solutin vial and transfer it into the infusion vial or bag to yield a total volume of 50 mL
Gently invert vial or bag until complete dissolution
Before administration, inspect final diluted solution for particulate matter and discoloration; discard vial or bag if particulates and/or discoloration are observed
IV Administration
Infuse over 30 minutes
At the end of the infusion, flush infusion line with the same carrier solution to ensure complete drug administration
Oral Administration
Capsules: Take with or without food
Storage
Capsules
Room temperature at 20-25ºC (68-77ºF); excursions permitted from 15-30ºC (59-86ºF)
Unopened vials
Lyophilized powder for reconstitution: Refrigerate at 2-8ºC (35.6-46.4ºF)
Ready-to-dilute IV solution: Room temperature at 20-25ºC (68-77ºF)
Store in carton; protect from light
Reconstituted vials and diluted solutions
Store at room temperature
Do not exceed 24 hr total time from reconstitution/dilution to start of infusion
Pregnancy level
HAVE NOT BEEN ESTABLISHED
An increased incidence of external and skeletal abnormalities in rabbit fetuses was observed following daily oral administration of netupitant in rabbits at 10 mg/kg/day and higher (0.2 times the human AUC at the recommended single dose to be given with each cycle of chemotherapy) during the period of organogenesis; abnormalities included positional abnormalities in the limbs and paws, and fused sternebrae
Reduction in fetal rabbit weight occurred at 30 mg/kg/day; maternal toxicity in rabbits (eg, loss of bodyweight during the treatment period) was also observed at 30 mg/kg/day; daily oral administration of up to 30 mg/kg netupitant (3.7 times the human AUC at the recommended dose) in rats during organogenesis through lactation produced no adverse effects in the offspring
Breast feeding warning
No data on the presence of netupitant (or fosnetupitant) or palonosetron in human milk, the effects on the breastfed infant, or the effects on milk production
Consider the developmental and health benefits of breastfeeding along with the mother's clinical need for netupitant/palonosetron and any potential adverse effect on the breastfed child from netupitant/palonosetron or from the underlying maternal condition
Drug forms
Akynzeo, fosnetupitant
Tags