Drug information of Alclometasone
Alclometasone
Alclometasone topical (for the skin) is used to treat the inflammation and itching caused by a number of skin conditions such as allergic reactions, eczema, and psoriasis.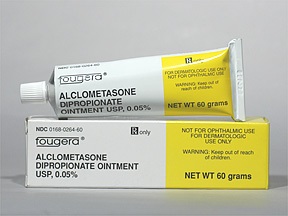 Mechanism of effect
Corticosteroids decrease inflammation by stabilizing leukocyte lysosomal membranes, preventing release of destructive acid hydrolases from leukocytes; inhibiting macrophage accumulation in inflamed areas; reducing leukocyte adhesion to capillary endothelium; reducing capillary wall permeability and edema formation; decreasing complement components; antagonizing histamine activity and release of kinin from substrates; reducing fibroblast proliferation, collagen deposition, and subsequent scar tissue formation
Pharmacodynamic
Alclometasone is a synthetic corticosteroid for topical dermatologic use. The corticosteroids constitute a class of primarily synthetic steroids used topically as anti-inflammatory and antipruritic agents. Alclometasone is a selective glucocorticoid receptor agonist.
Pharmacokinetics
Absorption
Topical: ~3% absorbed systemically after 8 hours when applied to intact skin
Onset of Action
Initial response ; Eczema: 5.3 days; Psoriasis: 6.7 days
Time to Peak
Peak response ;Eczema: 13.9 days; Psoriasis: 14.8 days
Drug indications
Dermatit
Inflammatory & Pruritic Skin Disorders
Dosage
Apply thin film to affected area q8-12hr; discontinue treatment when control achieved
Reassess diagnosis if no improvement within 2 weeks
Side effects
Dermatit
,
dry skin
,
Dermatitis acneiform
Skin atrophy
Hypopigmentation
Miliaria
Cushing's syndrome
Dryness
Striae
Acneform lesions
Secondary infection
Irritation
HPA suppression (with higher potency used >2 wk)
Interactions
Acarbose
,
insulin
,
Repaglinide
,
Glimepiride
,
insulin regular
,
Insulin glargine
,
Miglitol
,
lixisenatide
,
nateglinide
,
Troglitazone
,
Exenatide
,
Ertugliflozin
,
dulaglutide
,
Albiglutide
,
Semaglutide
,
Pramlintide
,
Alogliptin
,
Saxagliptin
,
Acetohexamide
,
Dapagliflozin
,
Empagliflozin
,
glyburide
,
Tolazamide
,
Rosiglitazone
,
chlorpropamide
,
Linagliptin
,
Canagliflozin
,
Insulin aspart
,
Sitagliptin
,
Pioglitazone
,
Glipizide
,
Aldesleukin
,
Tolbutamide
insulin aspart protamine-insulin degludec-insulin detemir-insulin glulisine-insulin inhalation, rapid acting-insulin isophane-insulin lispro-insulin lispro protamine-insulin zinc-insulin zinc extended
Alerts
-Chronic topical corticosteroid therapy may interfere with growth and development in children
-Pregnancy
-Breastfeeding
-Development of Kaposi's sarcoma with prolonged use reported (discontinue therapy if it occurs)
-Adrenal suppression may occur in younger patients or patients receiving high doses for prolonged periods
-Adrenal suppression: May cause hypercortisolism or suppression of hypothalamic-pituitary-adrenal (HPA) axis, particularly in younger children or in patients receiving high doses for prolonged periods. HPA axis suppression may lead to adrenal crisis
- Contact dermatitis: Allergic contact dermatitis can occur, it is usually diagnosed by failure to heal rather than clinical exacerbation.
- Immunosuppression: Prolonged use may result in fungal or bacterial superinfection; discontinue if dermatological infection persists despite appropriate antimicrobial therapy.
-Sensitization: Topical use has been associated with local sensitization (redness, irritation); discontinue if sensitization is noted.
-Topical corticosteroids may be absorbed percutaneously. Absorption of topical corticosteroids may cause manifestations of Cushing syndrome, hyperglycemia, or glycosuria. Absorption is increased by the use of occlusive dressings, application to denuded skin, or application to large surface areas.
Points of recommendation
-Use medium to very high potency for <2 wk to reduce local and systemic side effects
-Use low potency for chronic therapy
-Avoid medium to very high potency on face, folds, groin because can increase steroid absorption
-Use lower potency for peds
Pregnancy level
C
C
Animal studies have revealed evidence of teratogenicity when corticosteroids are administered systemically or topically. There are no adequate and well-controlled studies in pregnant women.
Breast feeding warning
It is not known whether topical administration of topical corticosteroids could result in sufficient systemic absorption to produce detectable quantities in human milk. Use with caution.
Drug forms
Aclovate