Drug information of flortaucipir F 18
flortaucipir F 18
Flortaucipir F-18, also known as 18F-T807 and 18F-AV-1451, is a small indole molecule synthesized with a radioactive fluorine isotope. It is used as a marker in positron emission tomography (PET) imaging of patients suspected of having Alzheimer's disease. After crossing the blood-brain barrier, flortaucipir F-18 binds to aggregated tau protein, a hallmark of Alzheimer's disease whose incidence correlates well with disease progression.
Although flortaucipir F-18 displays low levels of background binding throughout the brain,it does display off-target binding to monoamine oxidase MAO-A and MAO-B, as well as to regions containing high levels of melanin, neuromelanin, and iron. It was approved by the FDA on May 28, 2020, for sale by Avid Radiopharmaceuticals under the name TAUVID™ and is the first FDA-approved molecule for imaging aggregated tau protein in the brain.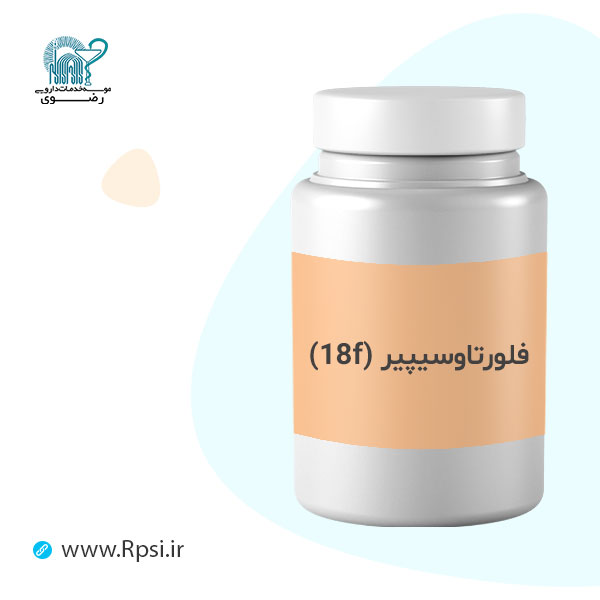 Mechanism of effect
Alzheimer's disease is a progressive neurodegenerative disease characterized by the build-up of hyperphosphorylated tau protein aggregates. Hyperphosphorylated tau forms dimers termed paired helical filaments (PHFs), which aggregate further to form neurofibrillary tangles (NFTs) associated with neurodegeneration and severity of Alzheimer's symptoms.
Flortaucipir F-18 is a small molecule that contains radioactive 18F, which decays by positron emission to 18O with a half-life of 109.8 minutes.As a small relatively lipophilic molecule, flortaucipir F-18, following intravenous injection, quickly passes through systemic circulation, crosses the blood-brain barrier, and binds to NFTs. Once bound, the ensuing radioactive decay emits pairs of 511 keV gamma photons useful in diagnostic imaging. The pattern and intensity of emission during imaging is used in the diagnosis of Alzheimer's disease
Pharmacodynamic
Flortaucipir F-18 is a radioactive molecule that binds to and accumulates in tau NFT deposits allowing for imaging detection; however, non-specific binding and other factors allow for the possibility of misdiagnosis. As Flortaucipir F-18 is a radioactive substance, standard precautionary measures for protecting both patients and health care workers are advised. The safety and efficacy of flortaucipir F-18 in patients being evaluated for chronic traumatic encephalopathy are unknown and hence is not recommended.
Pharmacokinetics
Mechanism of Action
Flortaucipir F 18 binds to aggregated tau protein
In brains of patients with AD, tau aggregates combine to form NFTs, 1 of 2 components required for neuropathological diagnosis of AD
Distribution
Distributed throughout the body with <10% of the injected flortaucipir F 18 radioactivity present in the blood by 5 min following administration, and <5% present in the blood by 10 min after administration
Elimination
Clearance: Primarily by hepatobiliary and renal excretion
Dosage
370 MBq (10 mCi) IV bolus in a total volume of ≤10 mL
Alerts
Safety and efficacy not established for patients being evaluated for CTE
Risk for misdiagnosis
Imaging agent does not target beta-amyloid, 1 of 2 required components of the neuropathological diagnosis of AD
Performance for detecting tau pathology was assessed in terminally ill patients, the majority of whom had AD dementia with B3 level NFT pathology
Performance for detecting tau pathology may be lower in patients in earlier stages of the pathological spectrum

Negative scan

NFTs may be present at levels that qualify for neuropathological diagnosis of AD (B2 tau pathology in presence of at least moderate levels of cortical amyloid pathology)
Consider additional evaluation to confirm absence of AD pathology

False-positive scan

Small foci of noncontiguous tracer uptake may lead to a false-positive scan
Only uptake of tracer in neocortex should contribute to interpretation of a positive scan
Points of recommendation
IV Preparation
Radioactive drug
Only authorized persons qualified by training and experience should receive, use, or administer injection
Use aseptic technique and radiation shielding during preparation and administration
Visually inspect solution before administration; do not use it if it contains particulate matter or if it is discolored (solution appears clear and colorless)
Dilute aseptically with 0.9% NaCl to a maximum dilution of 1:5 by the end-user
Use diluted product within 3 hr of dilution and prior to product expiration
Assay dose in a suitable dose calibrator before administration
IV Administration
Follow injection with IV flush of 0.9% NaCl
Dispose of any unused drug in compliance with applicable regulations
Storage
Store at 25ºC (77ºF); excursions permitted to 15-30ºC (59-86ºF)
Does not contain a preservative
Store upright in a shielding container
Expiration date and time are provided on the container label
Use within the labeled expiration
Pregnancy level
Forbidden
All radiopharmaceuticals have the potential to cause fetal harm depending on the fetal stage of development and the magnitude of radiation dose
Advise pregnant females of potential risks of fetal exposure to radiation
Not likely to be used in females of reproductive age
No data available use in pregnant females
Breast feeding warning
There are no data on the presence of flortaucipir F 18 in human milk, or its effects on breastfed infants or milk production
Advise a lactating females to avoid breastfeeding for 4 hr after administration in order to minimize radiation exposure to a breastfed infant
Drug forms
Tauvid
Tags