Drug information of Fulvestrant
Fulvestrant
Fulvestrant is a drug treatment of hormone receptor (HR)-positive metastatic breast cancer in post-menopausal women with disease progression following anti-estrogen therapy. It is an estrogen receptor antagonist with no agonist effects, which works both by down-regulating and by degrading the estrogen receptor. While it is used as monotherapy for the treatment of breast cancers, it is also used in combination with alpelisib for the treatment of HR-positive, human epidermal growth factor receptor 2 (HER2)-negative, PIK3CA-mutated, advanced or metastatic breast cancer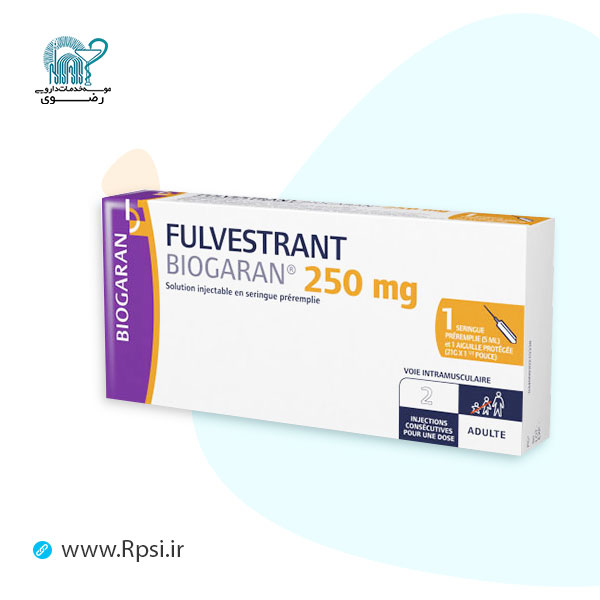 Mechanism of effect
Breast cancer: Competitively binds to estrogen receptors on tumors and other tissue targets, producing nuclear complex that decreases DNA synthesis and inhibits estrogen effects; no estrogen-receptor agonist activity; downregulates estrogen receptors and inhibits breast tumor growth
Precocious puberty (off-label): Estrogen receptor antagonist
Pharmacodynamic
Fulvestrant for intramuscular administration is an estrogen receptor antagonist without known agonist effects.
Pharmacokinetics
Absorption
Peak Plasma Time: 7 days
Duration: Plasma levels detected for 1 month
Distribution
Protein Bound: 99%
Vd: 3-5 L/kg
Metabolism
Via multiple hepatic pathways
Excretion
Half-Life: 40 days
Excretion: Feces >90%; urine <1%
Dosage
500 mg IM on days 1, 15, 29, then once monthly thereafter
Alerts
Caution in bleeding diathesis, thrombocytopenia, therapeutic anticoagulation
Systemic exposure was increased in patients with moderate hepatic impairment (see Dosage Modifications)
Advise females of reproductive potential of the potential risk to a fetus and to use effective contraception; see Pregnancy section
Therapy can interfere with estradiol measurement by immunoassay, resulting in falsely elevated estradiol levels
Injection site related events including sciatica, neuralgia, neuropathic pain, and peripheral neuropathy reported; caution should be taken while administering therapy at dorsogluteal injection site due to proximity of underlying sciatic nerve
Fulvestrant is metabolized primarily in the liver. A dose of fulvestrant 250 mg is recommended in patients with moderate hepatic impairment (Child-Pugh class B). Care is recommended when using fulvestrant in patients with severe hepatic impairment (Child-Pugh class C) as the agent has not been studied in these patients.
Points of recommendation
Also see Dosage Modifications
Administer IM in buttocks slowly over 1-2 minutes; not to exceed 250 mg/5 mL per IM injection site
Discard the empty single use syringe into an approved sharps collector in accordance with applicable regulations and institutional policy
Storage
Store in refrigerator at 2-8°C (36-46°F)
Protect from light, store in the original carton until time of use
Pregnancy level
Forbidden
Based on findings from animal studies and its mechanism of action, fulvestrant can cause fetal harm when administered to a pregnant woman
In animal reproduction studies, administration of fulvestrant to pregnant rats and rabbits during organogenesis resulted in embryo-fetal toxicity at daily doses that are significantly less than the maximum recommended human dose
Advise pregnant women of the potential risk to a fetus
Advise females of reproductive potential to use effective contraception during treatment and for 1 year after the last dose
Pregnancy testing is recommended for females of reproductive potential within 7 days prior to initiating fulvestrant
Breast feeding warning
Excretion in human milk unknown
Detected in rat milk
Because of the potential for serious adverse reactions in breastfed infants, advise lactating women not to breastfeed during treatment and for 1 year after the final dose
Drug forms
Faslodex
Tags