Drug information of Mitoxantrone
Mitoxantrone
Mitoxantrone is a cancer medication that interferes with the growth and spread of cancer cells in the body. Mitoxantrone is used to treat prostate cancer and certain types of leukemia. Mitoxantrone is also used to treat the symptoms of relapsing multiple sclerosis. This medication will not cure multiple sclerosis.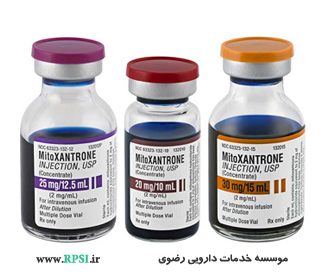 Mechanism of effect
Mitoxantrone, a DNA-reactive agent that intercalates into deoxyribonucleic acid (DNA) through hydrogen bonding, causes crosslinks and strand breaks. Mitoxantrone also interferes with ribonucleic acid (RNA) and is a potent inhibitor of topoisomerase II, an enzyme responsible for uncoiling and repairing damaged DNA. It has a cytocidal effect on both proliferating and nonproliferating cultured human cells, suggesting lack of cell cycle phase specificity.
Pharmacodynamic
Mitoxantrone has been shown in vitro to inhibit B cell, T cell, and macrophage proliferation and impair antigen presentation, as well as the secretion of interferon gamma, TNFa, and IL-2.
Pharmacokinetics
Mitoxantrone is excreted in urine and feces as either unchanged drug or as inactive metabolites. Mitoxantrone is 78% bound to plasma proteins in the observed concentration range of 26 to 455 ng/mL. This binding is independent of concentration.
Dosage
Usual Adult Dose for Acute Nonlymphocytic Leukemia For induction, the initial dosage of mitoxantrone recommended for this patient with acute nonlymphocytic leukemia (ANLL) is 12 mg/m2 intravenously once a day on days 1 through 3 (in combination with cytosine arabinoside for 7 days). Usual Adult Dose for Multiple Sclerosis 12 mg/m2 given as a short (approximately 5 to 15 minute) intravenous infusion every 3 months. Usual Adult Dose for Prostate Cancer 12 to 14 mg/m2 given as a short intravenous infusion every 21 days in combination with corticosteroids. Usual Adult Dose for non-Hodgkin's Lymphoma 8 to 10 mg/m2 given as an intravenous infusion every 21 to 28 days as a part of a combination chemotherapy regimen.
Interactions
Trastuzumab
,
Fingolimod
,
pimecrolimus
,
Cyclosporine
,
Natalizumab
,
Clozapine
,
denosumab
,
Disulfiram
,
Dolasetron
,
Adenovirus types 4 and 7 live, oral
,
Meningococcal conjugate vaccine
Alerts
1-Except for the treatment of acute nonlymphocytic leukemia, Mitoxantrone therapy generally should not be given to patients with baseline neutrophil counts of less than 1,500 cells/mm3. 2-Congestive heart failure (CHF), potentially fatal, may occur either during therapy with Mitoxantrone or months to years after termination of therapy. 3-Mitoxantrone Injection, USP (concentrate) should be administered under the supervision of a physician experienced in the use of cytotoxic chemotherapy agents. Mitoxantrone Injection, USP (concentrate) should be given slowly into a freely flowing intravenous infusion. It must never be given subcutaneously, intramuscularly, or intra-arterially.
Points of recommendation
1-All patients should be assessed for cardiac signs and symptoms by history, physical examination, and ECG prior to start of Mitoxantrone therapy. 2-All patients should have baseline quantitative evaluation of left ventricular ejection fraction (LVEF) using appropriate methodology (ex. Echocardiogram, multi-gated radionuclide angiography (MUGA), MRI, etc.).