Drug information of Miconazole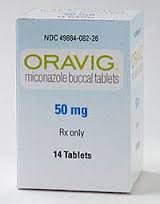 Mechanism of effect
Inhibits biosynthesis of ergosterol, damaging the fungal cell wall membrane, which increases permeability causing leaking of nutrients
Pharmacodynamic
Miconazole is an anti-fungal medication related to fluconazole (Diflucan), ketoconazole (Nizoral),
Pharmacokinetics
Absorption:Minimal Duration of Action:Buccal adhesion: 15 hours
Dosage
Dosing: Adult Oropharyngeal candidiasis: Buccal tablet: 50 mg (1 tablet) applied to the upper gum region once daily for 14 days
Side effects
nausea
,
Headache
,
abdominal pain
,
vomiting
,
fatigue
,
Diarrhea
,
pruritus
,
neutropenia
,
anemia
,
Cough
,
Upper respiratory tract infection
,
Pain
Alerts
1- Although systemic absorption is typically minimal, use with caution in patients with hepatic impairment. 2-Monitor patients with a history of azole hypersensitivity.
Points of recommendation
Miconazole should be discontinued at once at the first sign of hypersensitivity.
Related drugs