Drug information of Adapalene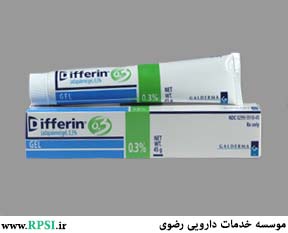 Mechanism of effect
Mechanistically, Adapalene binds to specific retinoic acid nuclear receptors but does not bind to the cytosolic receptor protein. Although the exact mode of action of Adapalene is unknown, it is suggested that topical Adapalene may normalize the differentiation of follicular epithelial cells resulting in decreased microcomedone formation.
Pharmacodynamic
Adapalene is a chemically stable, retinoid-like compound. Biochemical and pharmacological profile studies have demonstrated that Adapalene is a modulator of cellular differentiation, keratinization, and inflammatory processes all of which represent important features in the pathology of acne vulgaris
Pharmacokinetics
Absorption of Adapalene through human skin is low. Only trace amounts (<0.25 ng/mL) of parent substance have been found in the plasma of acne patients following chronic topical application of Adapalene in controlled clinical trials. Excretion appears to be primarily by the biliary route.
Dosage
Usual Adult Dose for Acne
Adapalene Topical 0.1% cream, 0.1% gel, 0.3% gel:
Apply to the affected area once a day at bedtime after washing. A thin film should be applied
Lotion: Apply a thin film of lotion to the entire face and other affected areas of the skin once daily, after washing gently with a mild soapless cleanser
Alerts
Use of Adapalene gel should be discontinued if hypersensitivity to any of the ingredients is noted.
Patients with sunburn should be advised not to use the product until fully recovered.
Points of recommendation
1-If a reaction suggesting sensitivity or chemical irritation occurs, use of the medication should be discontinued
2- Exposure to sunlight, including sunlamps, should be minimized during the use of Adapalene.
3-Use of sunscreen products and protective clothing over treated areas is recommended when exposure cannot be avoided.
4-Avoid contact with the eyes, lips, angles of the nose, and mucous membranes.
5-The product should not be applied to cuts, abrasions, eczematous skin, or sunburned skin.