Drug information of Adefovir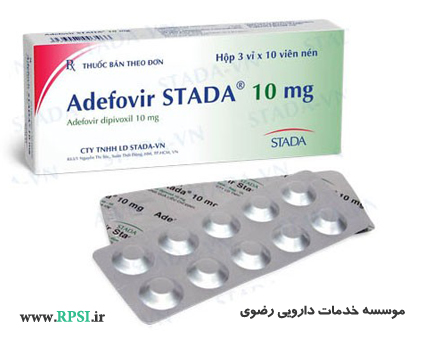 Mechanism of effect
Adefovir diphosphate inhibits HBV DNA polymerase (reverse transcriptase) by competing with the natural substrate deoxyadenosine triphosphate and by causing DNA chain termination after its incorporation into viral DNA.
Pharmacodynamic
Adefovir is a nucleotide analog . It works by slowing the growth of the virus. It is not a cure for hepatitis B .
Pharmacokinetics
Absorption
Adefovir Dipivoxil is a diester prodrug of the active moiety adefovir. Based on a cross study comparison, the approximate oral bioavailability of adefovir from Adefovir Dipivoxil Tablets is 59%.
Effects of Food on Oral Absorption
Adefovir exposure was unaffected when a 10 mg single dose of Adefovir Dipivoxil Tablets was administered with food (an approximately 1000 kcal high-fat meal). Adefovir Dipivoxil Tablets may be taken without regard to food.
Distribution
The volume of distribution at steady-state following intravenous administration of 1 or 3 mg/kg/day is 392 ± 75 and 352 ± 9 mL/kg, respectively.
Elimination
Adefovir is renally excreted by a combination of glomerular filtration and active tubular secretion.

Dosage
Usual Adult Dose for Chronic Hepatitis B :
10 mg orally once a day, without regard to food
Usual Pediatric Dose for Chronic Hepatitis B :
* Less than 12 years: Not recommended.
* 12 years or older: 10 mg orally once a day, without regard to food.

Side effects
nausea
,
Headache
,
vomiting
,
vertigo
,
Diarrhea
,
neuropathy
,
Cough
,
anorexia
,
renal failure
,
skin rush
,
Abdominal pains
,
trouble in sleeping
Interactions
Acyclovir
,
Amphotericin B
,
Acetaminophen
,
Ibuprofen
,
Indomethacin
,
Doxorubicin
,
Adriamycin
,
Aspirin
,
morphine
,
Cimetidine
,
Fluconazole
,
Phenytoin
,
Ganciclovir
,
probenecid
,
Pentamidine
,
Colomycin
,
Kanamycin
,
Meglumine Compound
,
Netilmicin
,
Diatrizoate (Amidotrizoic acid)
,
Olsalazine
,
Balsalazide
,
Valdecoxib
,
Bromfenac
,
Ioxaglate
,
Oxaprozin
,
Gallium Nitrate
,
Iothalamate Meglumine
,
Benorilate
Alerts
-Severe acute exacerbation of hepatitis has been reported in patients who have discontinued anti-hepatitis B therapy , including therapy with Adefovir Dipivoxil Tablets.
Hepatic function should be monitored at repeated intervals with both clinical and laboratory follow-up for at least several months in patients who discontinue Adefovir Dipivoxil Tablets . If appropriate, resumption of anti-hepatitis B therapy may be warranted.

-Nephrotoxicity characterized by a delayed onset of gradual increases in serum creatinine and decreases in serum phosphorus was historically shown to be the treatment-limiting toxicity of Adefovir Dipivoxil therapy at substantially higher doses in HIV-infected patients (60 and 120 mg daily) and in chronic hepatitis B patients (30 mg daily).
Chronic administration of Adefovir Dipivoxil Tablets (10 mg once daily) may result in delayed nephrotoxicity.
The overall risk of nephrotoxicity in patients with adequate renal function is low.
However, this is of special importance in patients at risk of or having underlying renal dysfunction and patients taking concomitant nephrotoxic agents such as cyclosporine, tacrolimus, aminoglycosides, vancomycin and non-steroidal anti-inflammatory drugs .It is recommended that creatinine clearance is calculated in all patients prior to initiating therapy with Adefovir Dipivoxil Tablets.

- Prior to initiating Adefovir Dipivoxil therapy, HIV antibody testing should be offered to all patients. Treatment with anti-hepatitis B therapies , such as Adefovir Dipivoxil Tablets, that have activity against HIV in a chronic hepatitis B patient with unrecognized or untreated HIV infection may result in emergence of HIV resistance.
Adefovir Dipivoxil Tablets has not been shown to suppress HIV RNA in patients; however, there are limited data on the use of Adefovir Dipivoxil Tablets to treat patients with chronic hepatitis B co-infected with HIV.

-Lactic acidosis and severe hepatomegaly with steatosis, including fatal cases, have been reported with the use of nucleoside analogs alone or in combination with antiretrovirals.

Points of recommendation
Some MEDICINES MAY INTERACT with adefovir . Tell your health care provider if you are taking any other medicines, especially any of the following :
• Nucleoside analogs (eg, didanosine, lamivudine) because the risk of lactic acidosis or severe liver problems may be increased
• Medicines that may harm your kidneys (eg, aminoglycosides [eg, gentamicin], amphotericin B, cyclosporine, nonsteroidal anti-inflammatory drugs [NSAIDs] [eg, ibuprofen], tacrolimus, tenofovir, vancomycin) because the risk of severe kidney problems may be increased. Ask your doctor if you are unsure if any of your medicines might harm the kidney.