Drug information of Vardenafil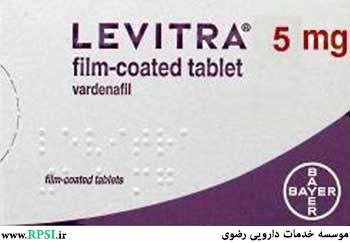 Mechanism of effect
Enhances the effect of nitric oxide at the nerve ending and endothelial cells in the corpus cavernosum by inhibiting phosphodiesterase type 5 (PDE5) in the corpus cavernosum of the penis. This results in vasodilation, increased inflow of blood into the corpora cavernosa, and penile erection upon sexual stimulation.
Pharmacodynamic
Vardenafil is used to treat male erectile dysfunction (impotence) and pulmonary arterial hypertension (PAH).
Pharmacokinetics
Rapidly absorbed with bioavailability of approximately 15%.Vd ss is 208 L. Protein binding is approximately 95%. Metabolized predominately by CYP3A4 and to a lesser degree by CYP3A5 and CYP2C isoforms. The major metabolite (M1) accounts for 7% of the total activity. Excretion as metabolites (91% to 95% in feces, 2% to 6% in urine). Total body Cl is 56 L/h. Half-life M1 is approximately 4 to 5 h for Levitra and approximately 4 to 6 h (3 to 5 h for M1) for Staxyn .
Dosage
Usual Adult Dose for Erectile Dysfunction -Initial dose: 10 mg orally once a day, as needed, approximately 60 minutes before sexual activity. Increase to 20 mg or decrease to 5 mg based on efficacy and tolerability. -Maximum dose: 20 mg once a day
Side effects
nausea
,
Headache
,
insomnia
,
chest pain
,
Tachycardia
,
dizziness
,
Seizures
,
Blurred vision
,
allergic reaction
,
rash
,
flushing
,
vertigo
,
asthenia
,
pruritus
,
Hypertension
,
Erythema
,
palpitations
,
paresthesia
,
Rhinitis
,
dyspepsia
,
sinusitis
,
Hypertonia
,
Flu-like symptoms
,
somnolence
,
syncope
,
Angina pectoris
,
MI
,
sweating
,
ventricular arrhythmias
,
orthostatic hypotension
,
Abnormal ejaculation
,
Photosensitivity
,
Facial edema
,
Visual abnormalities
Interactions
Alprostadil
,
Spironolactone
,
Imatinib
,
Tamsulosin
,
Hydralazine
,
Amiodarone
,
Erythromycin
,
Itraconazole
,
isosorbide dinitrate
,
Isoniazid
,
Posaconazole
,
Clarithromycin
,
Quinidine
,
Terazosin
,
Phenoxybenzamine
,
Miconazole
,
Nitroglycerin
,
Voriconazole
,
Ketoconazole
,
Phentolamine Mesylate
,
Bisoprolol
,
Ziprasidone
,
Doxazosin
,
Dolasetron
,
vandetanib
,
sparfloxacin
,
Mefloquine
,
Dofetilide
,
Amyl Nitrite
,
Halofantrine
,
Grepafloxacin
,
cobicistat
,
Alfuzosin
,
riociguat
,
Bepridil
,
vemurafenib
,
Nesiritide
Alerts
1-Monitor patients for response to therapy, any changes in BP or heart rate, and hearing or vision loss. 2-Because men 65 y and older may have higher plasma levels, a lower starting dose is recommended. 3-Do not use in patients on renal dialysis. 4-Reduce starting dose in patients with moderate hepatic impairment. Do not use Levitra in patients with severe hepatic impairment. Do not use Staxyn in patients with moderate or severe hepatic impairment. 5-Use with caution in patients with anatomical deformation of the penis (eg, angulation, cavernosal fibrosis, Peyronie disease) or patients prone to priapism (eg, leukemia, multiple myeloma, sickle cell anemia). 6-Administer with caution to patients with bleeding disorders or significant active peptic ulceration. 7-Evaluate CV status, history of QT prolongation, left ventricular outflow obstruction (eg, aortic stenosis, idiopathic hypertrophic subaortic stenosis), and BP before treatment. 8-Sudden decrease in hearing or hearing loss may occur and may be accompanied by tinnitus and dizziness. 9-Prolonged erections (exceeding 4 h) and priapism (painful erections longer than 6 h) may occur and require immediate medical assistance.
Points of recommendation
• May be taken with or without food. • Administer orally, as needed, approximately 60 min before sexual activity. • Staxyn should be placed on the tongue, where it will disintegrate. It should be taken without liquid immediately upon removal from the blister. • Staxyn is not interchangeable with Levitra . • Advise patients with phenylketonuria that Staxyn tablets contain phenylalanine.