Drug information of Vigabatrin
Vigabatrin
Anticonvulsant; irreversible inhibitor of GABA transaminase (GABA-T).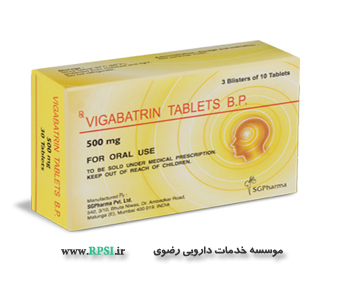 Mechanism of effect
Exact mechanism of antiseizure effect unknown; thought to be related to preferential and irreversible inhibition of GABA-T, the enzyme responsible for the degradation of GABA, and the resultant increase in GABA concentrations in the CNS.
Pharmacodynamic
Irreversibly inhibits gamma-aminobutyric acid transaminase (GABA-T), increasing the levels of the inhibitory compound gamma amino butyric acid (GABA) within the brain. Duration of effect is dependent upon rate of GABA-T resynthesis.
Pharmacokinetics
Following oral administration, Vigabatrin is essentially completely absorbed. The time to maximum concentration (Tmax) is approximately 1 hour for children (10 years – 16 years) and adults, and approximately 2.5 hours for infants (5 months – 2 years).
Dosage
Usual Adult Dose for Epilepsy
Children 10 to 16 years of age:
See Usual Pediatric Dose

17 years of age and older:
-Initial dose: 500 mg orally twice a day
-Titration: The total daily dose may be increased in 500 mg increments at weekly intervals depending on response
-Maintenance dose: 1500 mg orally twice a day
-Maximum dose: 3000 mg daily in 2 divided doses; a 6000 mg daily dose has not been shown to confer additional benefit compared to the 3000 mg daily dose and is associated with an increased incidence of adverse events.
Usual Pediatric Dose for Epilepsy
INFANTILE SPASMS:
1 month to 2 years of age:
-Initial dose: 25 mg/kg twice daily
-Titration: The dose may be titrated by 25 to 50 mg/kg/day increments every 3 days up to a maximum of 150 mg/kg/day in 2 divided doses (75 mg/kg twice daily)

COMPLEX PARTIAL SEIZURES IN CHILDREN 10 TO 16 YEARS OF AGE:
-Body weight 25 to 60 kg:
Initial dose: 250 mg orally twice a day
Titration: The total daily dose may be increased in 500 mg increments at weekly intervals depending on response
Maintenance dose: 1000 mg orally twice a day
-Body weight greater than 60 kg:
Patients weighing more than 60 kg should be dosed according to adult recommendations.
Side effects
Anxiety
,
Infection
,
Pain
,
Insomnia
,
Fever
,
Diarrhea
,
Headache
,
nausea
,
Blurred vision
,
vertigo
,
asthenia
,
Flu-like symptoms
,
Tremor
,
pneumonia
,
nasal stuffiness
,
difficulty urinating
,
skin rush
,
tiredness
,
Abdominal pain
,
thrombocytopenia
Alerts
Vigabatrin can cause permanent vision loss. Because of this risk and because, when it is effective, Vigabatrin provides an observable symptomatic benefit; patient response and continued need for treatment should be periodically assessed.
​Based upon adult studies, 30 percent or more of patients can be affected with bilateral concentric visual field constriction ranging in severity from mild to severe. Severe cases may be characterized by tunnel vision to within 10 degrees of visual fixation, which can result in disability.
The onset of vision loss from Vigabatrin is unpredictable, and can occur within weeks of starting treatment or sooner, or at any time after starting treatment, even after months or years.
Abnormal MRI signal changes characterized by increased T2 signal and restricted diffusion in a symmetric pattern involving the thalamus, basal ganglia, brain stem, and cerebellum have been observed in some infants treated with Vigabatrin for infantile spasms.
Vacuolation, characterized by fluid accumulation and separation of the outer layers of myelin, has been observed in brain white matter tracts in adult and juvenile rats and adult mice, dogs, and possibly monkeys following administration of Vigabatrin. This lesion, referred to as intramyelinic edema (IME), was seen in animals at doses within the human therapeutic range.
Antiepileptic drugs (AEDs), including Vigabatrin, increase the risk of suicidal thoughts or behavior in patients taking these drugs for any indication. Patients treated with any AED for any indication should be monitored for the emergence or worsening of depression, suicidal thoughts or behavior, and/or any unusual changes in mood or behavior.
As with all AEDs, Vigabatrin should be withdrawn gradually. However, if withdrawal is needed because of a serious adverse event, rapid discontinuation can be considered. Patients and caregivers should be told not to suddenly discontinue Vigabatrin therapy.
Vigabatrin causes somnolence and fatigue. Patients should be advised not to drive a car or operate other complex machinery until they are familiar with the effects of Vigabatrin on their ability to perform such activities.
Vigabatrin causes symptoms of peripheral neuropathy in adults. Pediatric clinical trials were not designed to assess symptoms of peripheral neuropathy, but observed incidence of symptoms based on pooled data from controlled pediatric studies appeared similar for pediatric patients on Vigabatrin and placebo.
Vigabatrin causes weight gain in adult and pediatric patients.
Points of recommendation
To make sure this medicine is safe for you, tell your doctor if you have:
If you have an allergy to vigabatrin or any other part of this medicine.
If you are allergic to any drugs like this one, any other drugs, foods, or other substances. Tell your doctor about the allergy and what signs you had, like rash; hives; itching; shortness of breath; wheezing; cough; swelling of face, lips, tongue, or throat; or any other signs.
If you are breast-feeding or plan to breast-feed.
Avoid driving and doing other tasks or actions that call for you to be alert or have clear eyesight until you see how this medicine affects you.
Do not stop taking this medicine (vigabatrin tablets) all of a sudden without calling your doctor. You may have a greater risk of seizures. If you need to stop this drug, you will want to slowly stop it as ordered by your doctor.
This medicine may affect certain lab tests. Tell all of your health care providers and lab workers that you take this medicine.
Nerve problems like burning, numbness, or tingling feelings that are not normal have happened with this medicine (vigabatrin tablets). It is not known if these nerve problems will go away if this medicine is stopped. Talk with the doctor.
Talk with your doctor before you drink alcohol or use other drugs and natural products that slow your actions.
If you are 65 or older, use this medicine (vigabatrin tablets) with care. You could have more side effects.
Tell your doctor if you are pregnant or plan on getting pregnant. You will need to talk about the benefits and risks of using this medicine while you are pregnant.
Take with or without food.
To gain the most benefit, do not miss doses.
Keep taking this medicine as you have been told by your doctor or other health care provider, even if you feel well.