Drug information of Capecitabine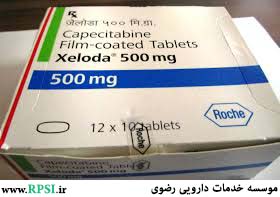 Mechanism of effect
Capecitabine is a prodrug that is selectively tumour-activated to its cytotoxic moiety, fluorouracil, by thymidine phosphorylase, an enzyme found in higher concentrations in many tumors compared to normal tissues or plasma. Fluorouracil is further metabolized to two active metabolites, 5-fluoro-2'-deoxyuridine 5'-monophosphate (FdUMP) and 5-fluorouridine triphosphate (FUTP), within normal and tumour cells. These metabolites cause cell injury by two different mechanisms. First, FdUMP and the folate cofactor, N5-10-methylenetetrahydrofolate, bind to thymidylate synthase (TS) to form a covalently bound ternary complex. This binding inhibits the formation of thymidylate from 2'-deaxyuridylate. Thymidylate is the necessary precursor of thymidine triphosphate, which is essential for the synthesis of DNA, therefore a deficiency of this compound can inhibit cell division. Secondly, nuclear transcriptional enzymes can mistakenly incorporate FUTP in place of uridine triphosphate (UTP) during the synthesis of RNA. This metabolic error can interfere with RNA processing and protein synthesis through the production of fraudulent RNA.
Pharmacodynamic
Capecitabine is a fluoropyrimidine carbamate with antineoplastic activity indicated for the treatment of metastatic breast cancer and colon cancer. It is an orally administered systemic prodrug that has little pharmacologic activity until it is converted to fluorouracil by enzymes that are expressed in higher concentrations in many tumors. Fluorouracil it then metabolized both normal and tumor cells to 5-fluoro-2′-deoxyuridine 5′-monophosphate (FdUMP) and 5-fluorouridine triphosphate (FUTP)
Pharmacokinetics
Readily absorbed through the GI tract (~70%) Protein binding:< 60% (mainly albumin Metabolized by thymidine phosphorylase to fluoruracil Capecitabine and its metabolites are predominantly excreted in urine; 95.5% of administered capecitabine dose is recovered in urine. Fecal excretion is minimal (2.6%). The major metabolite excreted in urine is FBAL which represents 57% of the administered dose.About 3% of the administered dose is excreted in urine as unchanged drug. Half life:45-60 minutes for capecitabine and its metabolites
Dosage
The recommended dose of capecitabine is 1,250 mg/m2 administered orally twice daily (morning and evening; equivalent to 2,500 mg/m2 total daily dose) for 2 weeks followed by a 1 week rest period given as 3 week cycles. Capecitabine tablets should be swallowed with water within 30 minutes after a meal.
Interactions
Protamine sulfat
,
Trastuzumab
,
Cod liver oil
,
Cetuximab
,
Folinic acid
,
Folic acid
,
Levamisole
,
Vitamin A
,
Vitamin E
,
Phenytoin
,
Warfarin
,
Voriconazole
,
Adenovirus types 4 and 7 live, oral
,
Blonanserin
,
Meningococcal conjugate vaccine
,
Florbetapir F18
Alerts
1-Capecitabine can induce diarrhea, sometimes severe. Patients with severe diarrhea should be carefully monitored and given fluid and electrolyte replacement 2-Patients receiving concomitant Capecitabine and oral coumarin-derivative anticoagulant therapy should have their anticoagulant response (INR or prothrombin time) monitored closely 3-The cardiotoxicity observed with Capecitabine includes myocardial infarction/ischemia, angina, dysrhythmias, cardiac arrest, cardiac failure, sudden death, electrocardiographic changes and cardiomyopathy. These adverse reactions may be more common in patients with a prior history of coronary artery disease 4-Rarely, unexpected, severe toxicity (e.g., stomatitis, diarrhea, neutropenia and neurotoxicity) associated with 5-fluorouracil has been attributed to a deficiency of dihydropyrimidine dehydrogenase (DPD) activity. 5-Patients with mild and moderate renal impairment at baseline should be carefully monitored for adverse reactions 6-Capecitabine may cause fetal harm when given to a pregnant woman 7-Hand-and-foot syndrome (palmar-plantar erythrodysesthesia or chemotherapy-induced acral erythema) is a cutaneous toxicity
Points of recommendation
1-Patients and patients' caregivers should be informed of the expected adverse effects of Capecitabine, particularly nausea, vomiting, diarrhea and hand-and-foot syndrome and should be made aware that patient-specific dose adaptations during therapy are expected and necessary 2-Patients who develop a fever of 100.5°F or greater or other evidence of potential infection should be instructed to call their physician
Tags