Drug information of Carbamazepine
Carbamazepine
Carbamazepine is an anticonvulsant. It works by decreasing nerve impulses that cause seizures and pain. Carbamazepine is used to treat seizures and nerve pain such as trigeminal neuralgia and diabetic neuropathy. Carbamazepine is also used to treat bipolar disorder.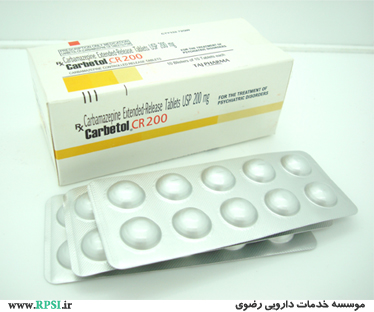 Mechanism of effect
Anticonvulsant activity principally involves limitation of seizure propagation by reduction of post tetanic potentiation (PTP) of synaptic transmission. Appears to provide relief of pain in trigeminal neuralgia by reducing synaptic transmission within the trigeminal nucleus; demonstrates only slight analgesic properties.
Demonstrates sedative, anticholinergic, antidepressant, muscle relaxant, antiarrhythmic, antidiuretic, and neuromuscular transmission-inhibitory actions
Pharmacodynamic
In addition to anticonvulsant effects, carbamazepine has anticholinergic, antineuralgic, antidiuretic, muscle relaxant, antimanic, antidepressive, and antiarrhythmic properties; may depress activity in the nucleus ventralis of the thalamus or decrease synaptic transmission or decrease summation of temporal stimulation leading to neural discharge by limiting influx of sodium ions across cell membrane or other unknown mechanisms; stimulates the release of ADH and potentiates its action in promoting reabsorption of water; chemically related to tricyclic antidepressants.
Pharmacokinetics
Absorption is Slowly from the GI tract.
Distribution : Vd: Neonates: 1.5 L/kg; Children: 1.9 L/kg; Adults: 0.59 to 2 L/kg; carbamazepine and its active epoxide metabolite distribute into breast milk. Induces liver enzymes to increase metabolism and shorten half-life over time; metabolized in the liver by cytochrome.
Excretion:
Urine 72% (1% to 3% as unchanged drug); feces (28%)
Time to Peak:
Immediate release: Suspension: Multiple doses: 1.5 hour; tablet: 4 to 5 hours.
Extended release: Carbatrol, Equetro: 12 to 26 hours (single dose), 4 to 8 hours (multiple doses); Tegretol®-XR: 3 to 12 hours.
Half-life is variable because of autoinduction which is usually complete 3 to 5 weeks after initiation of a fixed carbamazepine regimen.
Carbamazepine: Initial: 25 to 65 hours; Extended release: 35 to 40 hours; Multiple doses: Children: 8 to 14 hours; Adults: 12 to 17 hours.
Protein Binding :Carbamazepine: 75% to 90%.
Dosage
Usual Adult Dose for Epilepsy
Initial dose: 200 mg orally 2 times a day (immediate and extended release) or 100 mg orally 4 times a day (suspension)
Increase dose at weekly intervals by adding up to 200 mg/day using a 2 times a day regimen of extended release or a 3 times a day or 4 times a day regimen of the other formulations.
Maintenance dose: 800 to 1200 mg/day.
Dosage generally should not exceed 1200 mg/day.
However, doses up to 1600 mg/day have been used in rare instances.
Usual Adult Dose for Trigeminal Neuralgia
-Initial dose: 100 mg orally 2 times a day (immediate or extended release) or 50 mg orally 4 times a day (suspension)
-May increase by up to 200 mg per day using increments of 100 mg every 12 hours (immediate or extended release), or 50 mg 4 times a day (suspension), only as needed to achieve freedom from pain. Do not exceed 1200 mg per day.
-Maintenance dose: 400 to 800 mg per day.
Usual Pediatric Dose for Epilepsy
Less than 6 years of age:
-Initial dose: 10 to 20 mg/kg/day orally in 2 to 3 divided doses (tablets) or 4 divided doses (suspension)
-Increase dose at weekly intervals to achieve optimal clinical response administered 3 or 4 times a day.
-Maximum dose: 35 mg/kg/day
6 to 12 years of age:
-Initial dose: 100 mg orally 2 times a day (immediate or extended release tablets) or 50 mg orally 4 times a day (suspension)
-Increase dose at weekly intervals in 100 mg per day increments using a 2 times a day regimen of extended release or a 3 times a day or 4 times a day regimen of the other formulations.
Maintenance dose: 400 to 800 mg per day
Maximum dose: 1000 mg per day
Greater than 12 years of age:
-Initial dose: 200 mg orally 2 times a day (immediate and extended release) or 100 mg orally 4 times a day (suspension)
-Increase dose at weekly intervals in 200 mg per day increments using a 2 times a day regimen of extended release or a 3 times daily to 4 times daily regimen of the other formulations.
-Maintenance dose: 800 to 1200 mg per day
-Dosage generally should not exceed 1000 mg in children 12 to 15 years and 1200 mg/day in patients older than 15 years.
-Doses up to 1600 mg/day have been used in rare instances.
Interactions
Amlodipine/Atorvastatine
,
Erythromycin
,
Everolimus
,
Protamine sulfat
,
Tacrolimus
,
Diltiazem
,
Levonorgestrol
,
Medroxyprogesterone
,
Midazolam
,
Nimodipine
,
Verapamil
,
Aripiprazole
,
Aprepitant
,
Erlotinib
,
Exemestane
,
Itraconazole
,
Irinotecan
,
ixekizumab
,
Abametapir
,
voxelator
,
Estradiol Valerate+Dienogest
,
Piperaquine
,
Asunaprevir
,
rimegepant
,
tucatinib
,
ixabepilone
,
fosaprepitant
,
tazemetostat
,
Bictegravir
,
Elexacaftor, Tezacaftor, and Ivacaftor
,
Venetoclax
,
Dipyrone
,
Brexpiprazole
,
bosutinib
,
lefamulin
,
lemborexant
,
lumateperone
,
zanubrutinib
,
Cobimetinib
,
Naloxegol
,
Lorlatinib
,
Ceritinib
,
Romidepsin
,
Fucidic acid
,
Crizotinib
,
Avanafil
,
Entrectinib
,
Naldemedine
,
Cabozantinib
,
Cariprazine
,
pexidartinib
,
Pretomanid
,
Fedratinib
,
ivosidenib
,
Sonidegib
,
Flibanserin
,
Pimavanserin
,
Betrixaban
,
Doravirine
,
Roflumilast
,
encorafenib
,
midostaurin
,
Eravacycline
,
Erdafitinib
,
Perampanel
,
olaparib
,
ezogabine
,
Ibrutinib
,
Lumacaftor
,
Triazolam
,
Regorafenib
,
Ponatinib
,
Linagliptin
,
Letermovir
,
Panobinostat
,
Ribociclib
,
Ticagrelor
,
Guanfacine
,
Etoposide
,
Zaleplon
,
Prednisolone
,
Lopinavir
,
Telithromycin
,
Alfentanil
,
Quinine
,
Mefloquine
,
Nefazodone
,
dronedarone
,
nevirapine
,
valbenazine
,
Vilazodone
,
Ivabradine
,
lithium
,
Toremifene
,
Tamoxifen
,
Dabigatran
,
BCG vaccine
,
Mipomersen
,
Clarithromycin
,
Clozapine
,
Clomipramine
,
Enzalutamide
,
ledipasvir and sofosbuvir
,
Quetiapine
,
Haloperidol
,
Warfarin
,
Voriconazole
,
Vincristin
,
Ketoconazole
,
cladribine
,
Guaifenesin
,
Lamotrigine
,
Lapatinib
,
Levothyroxine
,
Nifedipine
,
Nilotinib
,
Rifampin
,
Cimetidine
,
Sorafenib
,
Sirolimus
,
Cyclosporine
,
Fluconazole
,
Doxycycline
,
Deferiprone
,
Deflazacort
,
Dexamethasone
,
Doxorubicin
,
Risperidone
,
Isoniazid
,
Bortezomib
,
Buspirone
,
Tadalafil
,
Tramadol
,
Tenofovir
,
Rivaroxaban
,
Daclatasvir
,
Sofosbuvir
,
Rifabutin
,
Ranolazine
,
Praziquantel
,
Vecuronium
,
Caspofungin
,
Buprenorphine
,
Phenelzine
,
Fluoxymesterone
,
Oxycodone
,
teriflunomide
,
Axitinib
,
Almotriptan
,
ritonavir
,
nelfinavir
,
eletriptan
,
Apixaban
,
Phenindione
,
Afatinib
,
Osimertinib
,
Indinavir
,
DHEA
,
Felbamate
,
novafen
,
Butalbital and Acetaminophen
,
Idelalisib
,
Ivacaftor
,
Rocuronium
,
brigatinib
,
Abiraterone
,
Alosetron
,
Felodipine
,
Parecoxib
,
Lumefantrine / artemether
,
Pirfenidone
,
Canagliflozin
,
Dutasteride
,
Dienogest
,
Efavirenz
,
Copanlisib
,
Tipranavir
,
Telaprevir
,
Simeprevir
,
lumacaftor and Ivacaftor
,
Ulipristal
,
Etravirine
,
Dabrafenib
,
Dolutegravir
,
Estropipate
,
Acalabrutinib
,
Maraviroc
,
Darifenacin
,
Nintedanib
,
Nicardipine
,
Nisoldipine
,
cobicistat
,
Delavirdine
,
Sofosbuvir and velpatasvir
,
Fostamatinib
,
Apremilast
,
Pazopanib
,
Palbociclib
,
Bendroflumethiazide
,
Ixazomib
,
Tasimelteon
,
trabectedine
,
Duvelisib
,
Metaxalone
,
tezacaftor/ivacaftor
,
Alpelisib
,
Lercanidipine
,
Edoxaban
,
Darolutamide
,
Pitolisant
,
Istradefylline
,
Lopinavir and Ritonavir
,
Temsirolimus
,
ELBASVIR/GRAZOPREVIR
,
Larotrectinib
,
Troleandomycin
,
gilteritinib
,
Glycerol Phenylbutyrate
,
glasdegib
,
Abemaciclib
,
Triphasic
,
Eliglustat
,
Elvitegravir
,
Suvorexant
,
rilpivirine
,
tolvaptan
,
tibolone
,
oleandomycin
,
Aminophenazone
,
Bepridil
,
bazedoxifene/conjugated estrogens
,
bedaquiline
,
Gefitinib
,
Dasatinib
,
Remdesivir
,
neratinib
,
Cannabidiol
,
Blonanserin
,
vemurafenib
,
vorapaxar
,
rolapitant
,
vortioxetine
,
voxelotor
,
stiripentol
,
Brivaracetam
,
Artesunate
,
Avapritinib
,
Netupitant
,
secukinumab
,
Ombitasvir, Paritaprevir, and Ritonavir
,
Capmatinib
,
Bromazepam
,
Dienestrol
Alerts
Blood dyscrasias: The risk of developing anemia or agranulocytosis is increased during treatment. Monitor CBC, platelets, and differential prior to and during therapy; discontinue if significant bone marrow suppression occurs. A spectrum of hematologic effects has been reported with use (eg, agranulocytosis, aplastic anemia, neutropenia, leukopenia, thrombocytopenia, pancytopenia, and anemias); patients with a previous history of adverse hematologic reaction to any drug may be at increased risk. Early detection of hematologic change is important; advise patients of early signs and symptoms including fever, sore throat, mouth ulcers, infections, easy bruising, and petechial or purpuric hemorrhage.
CNS depression: May cause CNS depression, which may impair physical or mental abilities; patients must be cautioned about performing tasks which require mental alertness (eg, operating machinery or driving).
Dermatologic toxicity: Severe and sometimes fatal dermatologic reactions, including toxic epidermal necrolysis (TENS) and Stevens-Johnson syndrome (SJS), may occur during therapy. The risk is increased in patients with the variant HLA-B*1502 allele, found most often in patients of Asian ancestry. Patients with an increased likelihood of carrying this allele should be screened prior to initiating therapy. Avoid use in patients testing positive for the allele; discontinue therapy in patients who have a serious dermatologic reaction. The risk of SJS or TENS may also be increased if carbamazepine is used in combination with other antiepileptic drugs associated with these reactions. Presence of the HLA-B*1502 allele has not been found to predict the risk of less serious dermatologic reactions such as anticonvulsant hypersensitivity syndrome or nonserious rash.
Hepatotoxicity: Hepatotoxicity ranging from slight elevations in liver enzymes to rare hepatic failure has been reported and may occur concomitantly with other immunoallergenic syndromes such as multiorgan hypersensitivity (DRESS syndrome) and serious dermatologic reactions including SJS; monitor baseline and periodic liver function, particularly in patients with a history of liver disease; discontinue carbamazepine immediately in cases of aggravated liver dysfunction or active liver disease. In some cases, hepatic effects may progress despite discontinuation of carbamazepine. Rare cases of a hepatic failure and vanishing bile duct syndrome involving destruction and disappearance of the intrahepatic bile ducts have been reported. Clinical courses of vanishing bile duct syndrome have been variable ranging from fulminant to indolent.
Hypersensitivity reactions: The risk of developing a hypersensitivity reaction may be increased in patients with the variant HLA-A*3101 allele. These hypersensitivity reactions include SJS/TEN, maculopapular eruptions, and drug reaction with eosinophilia and systemic symptoms (DRESS/multiorgan hypersensitivity).
Hyponatremia: Hyponatremia may occur and is often caused by the syndrome of inappropriate antidiuretic hormone secretion (SIADH). Risk of SIADH appears to be dose-related. Elderly or patients taking diuretics are at increased risk for hyponatremia. Consider discontinuing therapy in patients with symptomatic hyponatremia.
Psychiatric effects: May activate latent psychosis and/or cause confusion or agitation; elderly patients may be at an increased risk for psychiatric effects.
Renal toxicity: Renal toxicity has been reported; monitor renal function at baseline and periodically thereafter.
Anticholinergic sensitivity: Has mild anticholinergic activity; use with caution in patients with sensitivity to anticholinergic effects (urinary retention, increased intraocular pressure, constipation).
Cardiovascular disease: May cause conduction abnormalities, including AV heart block; use caution in patients with underlying ECG abnormalities, preexisting cardiac damage, or patients who are at risk for conduction abnormalities. In a scientific statement from the American Heart Association, carbamazepine has been determined to be an agent that may exacerbate underlying myocardial dysfunction (magnitude: major) in patients with heart failure.
Points of recommendation
You should not take this medicine if you have a history of bone marrow suppression, or if you are allergic to carbamazepine or to an antidepressant such as amitriptyline, desipramine, doxepin, imipramine, or nortriptyline.
Do not use carbamazepine if you have taken an MAO inhibitor in the past 14 days. A dangerous drug interaction could occur. MAO inhibitors include furazolidone, isocarboxazid, linezolid, phenelzine, rasagiline, selegiline, and tranylcypromine.
Carbamazepine may cause severe or life-threatening skin rash, and especially in people of Asian ancestry. Your doctor may recommend a blood test before you start the medication to determine your risk.
To make sure carbamazepine is safe for you, tell your doctor if you have any of these conditions:
heart disease, high blood pressure, high cholesterol or triglycerides;
liver or kidney disease;
glaucoma;
a thyroid disorder;
lupus;
porphyria; or
a history of mental illness, psychosis, or suicidal thoughts or actions.
You may have thoughts about suicide while taking carbamazepine. Tell your doctor if you have symptoms of depression or suicidal thoughts. Your family or other caregivers should also be alert to changes in your mood or symptoms.
Follow your doctor's instructions about taking seizure medication if you are pregnant. Do not start or stop taking this medicine without your doctor's advice, and tell your doctor right away if you become pregnant. Carbamazepine may cause harm to an unborn baby, but having a seizure during pregnancy could harm both mother and baby. The benefit of preventing seizures may outweigh any risks to the baby.
Carbamazepine can make birth control pills or implants less effective. Use a barrier form of birth control (such as a condom or diaphragm with spermicide) to prevent pregnancy while taking carbamazepine.
Carbamazepine can pass into breast milk and may harm a nursing baby. You should not breast-feed while you are using this medicine.
Take the missed dose as soon as you remember. Skip the missed dose if it is almost time for your next scheduled dose. Do not take extra medicine to make up the missed dose.
Related drugs
Oxecarbazepin
,
Pregabalin
,
Valproate sodium
,
Topiramate
,
Zonisamide
,
Phenytoin
,
Lamotrigine
,
Vigabatrin
,
Fenfluramine
,
Felbamate
,
Divalproex sodium
,
Rufinamide
,
lacosamide
Tags