Drug information of Carvedilol
Carvedilol
Carvedilol is a beta-blocker. Beta-blockers affect the heart and circulation (blood flow through arteries and veins). Carvedilol is used to treat heart failure and hypertension (high blood pressure). It is also used after a heart attack that has caused your heart not to pump as well.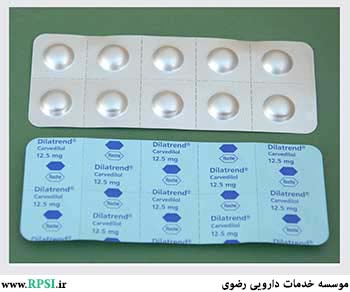 Mechanism of effect
Carvedilol is a racemic mixture in which nonselective β-adrenoreceptor blocking activity is present in the S(-) enantiomer and α1-adrenergic blocking activity is present in both R(+) and S(-) enantiomers at equal potency. Carvedilol has no intrinsic sympathomimetic activity.
Pharmacodynamic
Carvedilol is a nonselective beta-adrenergic blocking agent with alpha1-blocking activity and is indicated for the treatment of hypertension and mild or moderate (NYHA class II or III) heart failure of ischemic or cardiomyopathic origin.
Pharmacokinetics
Carvedilol is rapidly and extensively absorbed following oral administration, with absolute bioavailability of approximately 25% to 35% due to a significant degree of first-pass metabolism.
Carvedilol is extensively metabolized in liver. The metabolites of Carvedilol are excreted primarily via the bile into the feces. Carvedilol is more than 98% bound to plasma proteins, primarily with albumin.
Dosage
Usual Adult Dose for Angina Pectoris Immediate
-release tablets: Initial dose: 6.25 mg orally twice a day with food Maintenance dose: 6.25 mg to 25 mg orally twice a day with food Maximum
dose: 50 mg per day
Usual Adult Dose for Hypertension Immediate
-release tablets: Initial dose: 6.25 mg orally twice a day with food Maintenance dose: 6.25 mg to 25 mg orally twice a day with food Maximum dose: 50 mg per day Extended
-release capsules: Initial dose: 20 mg orally once a day for 7 to 14 days.
If tolerated, may increase dosage to 40 mg orally once a day, then again to 80 mg orally once a day after 7 to 14 days. Maximum dose: 80 mg per day
Side effects
insomnia
,
dry mouth
,
dizziness
,
rash
,
Bradycardia
,
Diarrhea
,
pruritus
,
thrombocytopenia
,
anemia
,
Erythema
,
Peripheral edema
,
hypertriglyceridemia
,
Hypokalemia
,
sweating
,
decreased libido
,
orthostatic hypotension
,
Photosensitivity
Interactions
Paroxetine
,
Drospirenone
,
Dobutamine
,
Sertraline
,
Citalopram
,
Sirolimus
,
Cyclosporine
,
Fluoxetine
,
Fingolimod
,
Mexiletine
,
Ibuprofen
,
Indomethacin
,
Piroxicam
,
Topotecan
,
Dihydroergotamine
,
Digoxin
,
Repaglinide
,
Salbutamol
,
Salmeterol
,
Gliclazide
,
Lidocaine
,
Verapamil
,
Yohimbine
,
Insulin glargine
,
Insulin aspart
,
formoterol
,
Rivaroxaban
,
Disulfiram
,
Bisoprolol
,
ritodrine
,
fluvastatin
,
Doxazosin
,
Dolasetron
,
Felbamate
,
Penbutolol
,
lipiodol
,
Efavirenz
,
Nebivolol
,
Arformoterol
,
Bitolterol
,
ProHance
,
Betrixaban
,
Edoxaban
,
Treprostinil
,
Olodaterol
,
riociguat
,
umeclidinium bromide/vilanterol inhaled
,
Oxtriphylline
,
Cannabidiol
,
talazoparib
Alerts
1-Carvedilol tablets should be discontinued over 1 to 2 weeks whenever possible. If the angina worsens or acute coronary insufficiency develops, it is recommended that Carvedilol tablets be promptly reinstituted, at least temporarily.
2-In clinical trials, Carvedilol tablets caused bradycardia. If pulse rate drops below 55 beats/minute, the dosage should be reduced.
3-Postural hypotension occurred in 1.8% and syncope in 0.1% of hypertensive patients. During initiation of therapy, the patient should be cautioned to avoid situations such as driving or hazardous tasks, where injury could result should syncope occur.
4-Worsening heart failure or fluid retention may occur during up-titration of Carvedilol.
5-Patients with bronchospastic disease (e.g., chronic bronchitis and emphysema) should, in general, not receive β-blockers. arvedilol tablets may be used with caution, however, in patients who do not respond to, or cannot tolerate, other antihypertensive agents.
6-In general, β-blockers may mask some of the manifestations of hypoglycemia, particularly tachycardia. Patients subject to spontaneous hypoglycemia, or diabetic patients receiving insulin or oral hypoglycemic agents, should be cautioned about these possibilities.
7-β-blockers can precipitate or aggravate symptoms of arterial insufficiency in patients with peripheral vascular disease. Caution should be exercised in such individuals.
8-Rarely, use of Carvedilol in patients with heart failure has resulted in deterioration of renal function
9-Chronically administered beta-blocking therapy should not be routinely withdrawn prior to major surgery.
10-caution should be taken in the administration of Carvedilol to patients suspected of having pheochromocytoma.
11-caution should be taken in the administration of Carvedilol to patients suspected of having Prinzmetal's variant angina.
12-β-adrenergic blockade may mask clinical signs of hyperthyroidism, such as tachycardia.
13-Intraoperative Floppy Iris Syndrome (IFIS) has been observed during cataract surgery in some patients treated with alpha-1 blockers.
Points of recommendation
1-Patients should take Carvedilol tablets with food. 2- Patients should not interrupt or discontinue using Carvedilol tablets without a physician's advice. 3- Contact lens wearers may experience decreased lacrimation.