Drug information of Chloramphenicol
Chloramphenicol
Chloramphenicol is an antibiotic first isolated from cultures of Streptomyces venequelae in 1947 but now produced synthetically. It has a relatively simple structure and was the first broad-spectrum antibiotic to be discovered. It acts by interfering with bacterial protein synthesis and is mainly bacteriostatic.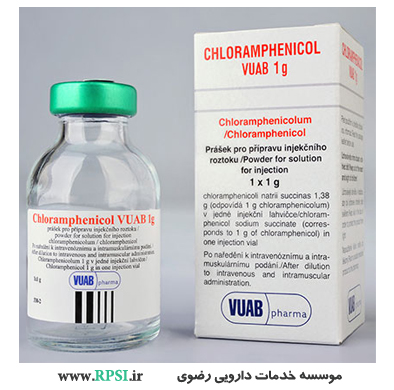 Mechanism of effect
Inhibits bacterial protein synthesis by binding to 50S ribosomal subunit; mainly bacteriostatic
Pharmacodynamic
Chloramphenicol is a semisynthetic, broad-spectrum antibiotic derived from Streptomyces venequelae with primarily bacteriostatic activity. Chloramphenicol diffuses through the bacterial cell wall and reversibly binds to the bacterial 50S ribosomal subunit. The binding interferes with peptidyl transferase activity, thereby prevents transfer of amino acids to the growing peptide chains and blocks peptide bond formation. As a result bacterial protein synthesis is blocked and impede bacterial cell proliferation.
Pharmacokinetics
Absorption :
Rapidly and completely absorbed from gastrointestinal tract following oral administration (bioavailability 80%). Well absorbed following intramuscular administration (bioavailability 70%). Intraocular and some systemic absorption also occurs after topical application to the eye.
Protein binding :
Plasma protein binding is 50-60% in adults and 32% is premature neonates.
Metabolism :
Hepatic, with 90% conjugated to inactive glucuronide.
Half life :
Half-life in adults with normal hepatic and renal function is 1.5 - 3.5 hours. In patients with impaired renal function half-life is 3 - 4 hours. In patients with severely impaired hepatic function half-life is 4.6 - 11.6 hours.
Half-life in children 1 month to 16 years old is 3 - 6.5 hours, while half-life in infants 1 to 2 days old is 24 hours or longer and is highly variable, especially in low birth-weight infants.
Dosage
Eye drop solution :
** Mild disease : Instill 1 to 2 drops into the affected eye(s) up to 4 times a day
** Severe disease: Instill 2 hours into the affected eye(s) every hour until improvement.
Eye ointment :
Apply a small amount to the affected lower conjunctival sac(s) at bedtime as a supplement to the drops.
Intravenous (IV) :
** Adults : 50 to 100 mg/kg IV every 6 hours.
**Children : 50 mg/kg IV every 6 hours; may increase to 100 mg/kg IV every 6 hours in severe illness .
** Newborn infants : 25 mg/kg IV every 6 hours. Newborns over 2 weeks old may receive 50 mg/kg every 6 hours.

Side effects
nausea
,
Headache
,
vomiting
,
Angioedema
,
Depression
,
Diarrhea
,
urticaria
,
fever
,
peripheral nephropathy
,
itching
,
Agranulocytosis
,
stinging
Interactions
Pimozide
,
Deferiprone
,
Iron sucrose
,
Methotrexate
,
Mupirocin
,
Penicillin
,
Cyclophosphamide
,
Phenobarbital
,
Phenytoin
,
Warfarin
,
Vitamin B12
,
Tolbutamide
,
Glipizide
,
Phenindione
,
Mefloquine
,
Doxifluridine
,
chlorpropamide
,
Cefoxitin
,
dinutuximab
,
Cefamandole
,
Secobarbital
,
Floxuridine
,
upadacitinib
,
tezacaftor/ivacaftor
,
Entrectinib
,
Edetate Calcium Disodium
,
cholera vaccine live
,
Carmustine
,
Temsirolimus
,
Abemaciclib
,
Blinatumomab
,
Triphasic
,
riociguat
,
Gefitinib
,
Cannabidiol
,
vemurafenib
,
Typhoid vaccine (live), oral
,
iobenguane I 131
,
Venetoclax
,
Avapritinib
Alerts
Do not exceed the recommended dose or use chloramphenicol for longer than prescribed without checking with your doctor.
Chloramphenicol is effective only against bacteria. It is not effective for treating viral infections (eg, the common cold).

It is important to use chloramphenicol for the full course of treatment. Failure to do so may decrease the effectiveness of chloramphenicol and increase the risk that the bacteria will no longer be sensitive to chloramphenicol and will not be able to be treated by this or certain other antibiotics in the future.
Long-term or repeated use of chloramphenicol may cause a second infection. Your doctor may want to change your medicine to treat the second infection. Contact your doctor if signs of a second infection occur.

If symptoms of "gray syndrome" (swelling of the abdomen, pale or blue skin color, vomiting, shock, difficulty breathing, refusal to suck, loose green stools, limp muscles, low temperature) occur in a newborn or infant, contact your doctor. Death may occur within hours of the onset of symptoms. Stopping use of chloramphenicol when symptoms first appear increases the chance for a complete recovery.

Chloramphenicol may lower your body's ability to fight infection. Prevent infection by avoiding contact with people with colds or other infections. Notify your doctor of any signs of infection, including fever, sore throat, rash, or chills.
Chloramphenicol may reduce the number of clot-forming cells (platelets) in your blood. To prevent bleeding, avoid situations in which bruising or injury may occur. Report any unusual bleeding, bruising, blood in stools, or dark, tarry stools to your doctor.

Diabetes patients - Chloramphenicol may affect your blood sugar. Check blood sugar levels closely and ask your doctor before adjusting the dose of your diabetes medicine.
LAB TESTS, including complete blood cell counts, may be performed to monitor your progress or check for side effects. Be sure to keep all doctor and lab appointments.
Use chloramphenicol with extreme caution in CHILDREN younger than 1 year of age. Safety and effectiveness in this age group have not been confirmed.
Use chloramphenicol with extreme caution in CHILDREN younger than 10 years of age who have diarrhea or a stomach or bowel infection.

Points of recommendation
you are allergic to any ingredient in chloramphenicol
you have previously had serious side effects from chloramphenicol
you have a low white or red blood cell count or decreased blood platelets
you have a minor infection such as a cold, flu, throat infection, or you are using chloramphenicol to prevent a bacterial infection
you are taking other medicines that may decrease your bone marrow (eg, cancer chemotherapy); check with your doctor or pharmacist if you are unsure if any of your other medicines may decrease your bone marrow