Drug information of Althadin
Althadin
Althadin Lozenge is used as Mouth & pharynx Anti-inflammatory
Althadin tablet consists of 220 mg of Althaea officinalis, 15 mg of Glycyrrhiza glabra extract, and 2 mg of menthe pipeita essential oil and contains anti-inflammatory substances like glycyrrhizin, flavonoid, mucilage in addition to essence and components like asparagine, betaine, lecithin, resin . Each Althadin lozenge is standardized as 2.5mg total polyphenols based on pyrogallol.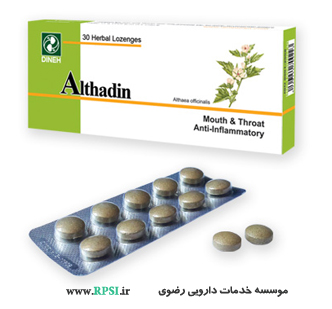 Mechanism of effect
Mucilage and other effective matters in flower and leaves of Althaea officinalis, as the major effective component in this lozenge, has an expectorant and softening effect which prevents from development of stimulations via generating a mucilage and moist layer in throat mucus. The glycerisine contained in Glycyrrhiza glabra extract also has softening, anti-inflammatory, and mucus-provoking effects. Mentha pipeita essence possesses anti-microbial impacts and influences flavor and odor improvement of the pill.
Dosage
One lozenge shall be sucked every 1 – 2 hours.
Alerts
It is contraindicated to take high amounts of this product for diabetic patients due to the sucrose existing in it.
Points of recommendation
For the inflammations resulting from throat infections, Althadin is recommended to be administered under doctor's prescription together with antibiotics.
Pregnancy level
Consult a physician before using