Drug information of Cimifugol
Cimifugol
Cimifugol is used for Menopausal symptoms ( hot flashes ,depressive moods , profuse perspiration , head ache , nervousness / irritability) .Dysmenorrhea , premenstrual syndrome ( PMS).
Each tablet contains 6.5 mg dry extract of Cimifuga racemosa roots ( black cohosh ) equivalent to 0.12 – 0.18 mg 27 – deoxyactein
contituents: Black cohosh contains triterpenes (Triterpene Glycosides ,eg .actein cimigoside ) and 27 – deoxyactein , which are considered the main active constituents .Alkaloids ( quinolizidine like cytisine , methyl cytisine ) phenylpropanoids (isoferulic and ferulic acids ) , flavonoids ( Formononetin) , and a resinous compound ( cimicifugine ) which form 15- 20% ) of root compound .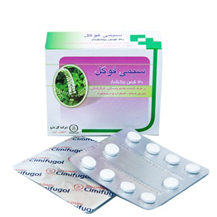 Mechanism of effect
The active ingredients in the root are the triterpine glycosides such as cimifugoside, 25-deoxyactein and the actein. Menopause symptoms result from the increase in luteinizing hormone (LH) that occurs as estrogen levels decrease. The rhizome also contains other potentially biologically active substances, including alkaloids, flavonoids, and tannins. The therapeutic activity of black cohosh was originally believed to derive from an activation of estrogen receptors. however, more recent studies the binding that occurs produces very little, if any, estrogenic effect, and may selectively block some of these effects. It remains unclear whether black cohosh exerts its effect via estrogen receptors or through another mechanism. Estrogenic effects of the plant could not be reproduced in extensive tests in mice. These studies indicate that methanol extracts of C. racemosa contain substances that bind to estrogen receptors. Intraperitoneal injection of the extract in ovariectomized rats caused a selective reduction in luteinizing hormone (LH) level with almost no effect on follicle-stimulating hormone(FSH) or prolactin levels .An open study of 110 female patients over the course of months found suppression of LH in the black cohosh group as compared to placebo but no significant FSH changes .Fractionation studies performed by Duker et al .have identified three classes of active compounds in black cohosh: those that bind to estrogen receptors and inhibit LH release, those that bind to estrogen receptors but do not inhibit LH release, and constituents which do not bind to estrogen receptors but nonetheless suppress LH release .Currently, the primary use of black cohosh extract is for alleviation of menopausal symptoms. "The American College of Obstetrics and Gynecology guidelines on the use of botanicals for the management of menopausal symptoms support this use for up to six months, especially in treating the symptoms of sleep and mood disturbance, and hot flushes . Black cohosh has also been tried to for reducing hot flashes in women who have undergone surgery for breast caner .Black cohosh has a powerful antioxidant effect and can antagonize the cancer inducing effect of free radicals , and protects the cellular DNA against cytotxic effect of menadion . Also, this plants is able to prevent the vaginal dryness and can increase the bladder tone. One dose of standard black chosh extract has the same efficacy of 0.625 – 1.25 mg conjugated estrogen and can alleviate the menopausal symptoms . Clinical Studies:The strongest evidence for a clinical benefit of black cohosh is in the treatment of postmenopausal symptoms. Eight clinical trials have been published since the early 1980s; most of the studies have been carried out in Germany. The German Commission E approves black cohosh for "premenstrual discomfort, dysmenorrhea, or menopausal neurovegetative ailments. One of the first studies involved 36 postmenopausal women treated with Remifemin (an alcoholic extract of black cohosh roots) . Which is standardized to contain triterpene glycoside, usually 1 mg of 27–deoxyacteine per tablet. Treatment for 12 weeks resulted in a decrease in menopausal symptoms, with no reported side effects. These results were supported by a similar study published the next year . The only side effect noted was mild gastrointestinal disturbances in four patients. Several studies have compared Remifemin to conventional treatment of menopausal symptoms with various forms of estrogen or diazepam (Valium). One study compared the efficacy of Remifemin in treating menopausal symptoms to hormone treatment or therapy with a psychotropic drug in 60 patients. Contraindication ,Warning :Patients should be advised to stop taking black cohosh preparations , if they experience symptoms that may indicate liver injury . Also , individuals with estrogen – sensitive tumors , such as breast concer .
Dosage
Take one tablet with some water once a day at the same time morning or evening .
Alerts
Pregnancy and Lactation :Black cohosh is contraindicated during pregnancy and lactation .
Pregnancy level
Forbidden