Drug information of Mixodin
Mixodin
Mixodin:Natural anti-inflammatory supplement ,Food supplement made of turmeric, Ginger and pepper extracts concentrated in Curcumin, Piperine and Gingerol. Turmeric extract concentrated in Curcumin (95%), Ginger extract concentrated in Gingerol (5%), Pepper extract concentrated in Piperine (95%). Each capsule supplies 300 mg of curcumin potentialized by 3.75 mg Piperine and 7.5 mg of Gingerol for an optimized cell protection and for Joints health.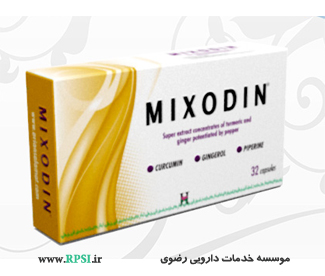 Mechanism of effect
Turmeric is one of the main pillars of traditional Ayur Vedic medicine (Ayur = Life, Veda = knowledge), probably the most ancient Health traditio. . Turmeric has always been considered as a cell purifier and it is recommended for joint health and helps to prevent inflammation. Turmeric is a key component of curries, the vanilloid curcumin being the principal ingredient. Much research has focused on the medicinal properties of curcumin which inhibits or limits several enzymes involved in inflammation: CycloOxygenase 2 (COX 2) and LipoOxygenase. Piperine is the key of Curcumin bioavailability. The nutritional properties of curcumin cannot be completely utilized by the body if it is used alone because of poor bioavailability due to its rapid metabolism in the liver and intestinal wall. Studies show that 1 % Piperine taken with 99% Curcumin enhances the serum concentration, extent of absorption and bioavailability of curcumin with no adverse effects Indians perfectly know that, as they always have associated turmeric and piper in curries. Concomitant administration of Piperine increases 30 times Curcumin bioavailability and helps body cells to take advantage of all the nutritional properties of turmeric. Ginger extract supplies complementary nutrients including Gingerol which is traditionally used by health care professionals to help in various health problems associated with inflammation. Ginger is another pillar of Ayur Vedic health tradition and recent researches have also proven its effect to prevent arthritis and various painful conditions.
Pharmacodynamic
Natural anti-inflammatory supplement
Dosage
Cell protection: 2 caps a day, 2 weeks per month or 1 day yes 1 day no Anti-inflammation and anti pain: 2 to 3 caps a day
Alerts
1-Not recommended for pregnant women or during breastfeeding 2-Patients that take Aspirin, should not be use more than one mixodin a day. 3-Patients with obstruction of bile ducts, can take one mixodin every other day after treatment.
Points of recommendation
Take caps with main dish servings
Pregnancy level
Forbidden