Drug information of Capsian
Capsian
For relieving the pain of either osteoarthritis or rheumatoid arthritis , or muscle pain and spasm . Diabetic neuropathy , chronic lumbago. Also , may be useful in psoriasis and post herpetic neuralgia . In each gram of ointment there is 12 mg of dried fruit extract of capsicum frutescens equivalent to 4-7% capsaicin . Active ingredients : Capsaicin(0.1% to 0.5%) cartenoids , vit A , vit C , flavonoids volatile oil , steroidal saponins.The structure of capsaicin is similar to that of eugenol .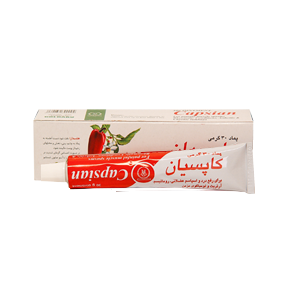 Mechanism of effect
Capsaicin is the most important pharmacological ingredient in capsicum (red pepper) . Capsicum contains six pain – relieving compound and seven anti–inflammatory ones . The most important of which is capsaicin . It also contains salicylates which are similar to salicin , the herbal equivalent of aspirin .Capsaicin inhibits pain by causing and initial increase in substance p and then a depletion of it in the sensory nerves. Substance p is thought to be the principal chemomediator of pain impulses from the periphery (1) .The depletion of substance p is also thought to decrease inflammation in joint tissues affected by osteoarthritis and rheumatoid arthritis , since the presence of Substance p has been shown to activate inflammatory mediators in to joint tissues .Because capsicum is rubefacient , it helps to increase blood flow to painful joints or cold extremities and reduces the scaling and redness of psoriasis . Post – herpetic neuralgia : The first studies and approved use for topically applied capsaicin was in relieving post – herpetic neuralgia . Numerous studies now document this FDA approved application . For example , in one study 39 patients with chronic post – herpetic neuralgia were treated with 0.025% capsaicin cream for 8 weeks . During therapy , the patients rated their pain . Nineteen patients substantially improved after the 8 week trial and 15 patients reported no benefits. Topically applied capsaicin may be effective in reducing the pain of trigeminal neuralgia (2) .In one study 12 patients were followed up for 1 year after the topical application over the painful area of capsaicin 3 times a day for several days. Six patients had complete and four patients had partial relief of pain . The remaining two patients had no relief of pain (3) .Topically applied capsaicin has been shown to be of considerable benefit in relieving the pain of diabetic neuropathy in numerous double-blind studies (4) .Also , topically applied capsaicin may be effective in relieving the pain of osteoarthritis and rheumatoid arthritis (5).
Dosage
As an external analgesic, apply ointment directly to affected area up to four times a day .
Alerts
Wash hands well after use and avoid touching eyes. Not very soluble in water , so use vinegar to rinse it conveniently . Ointment may cause skin irritation in some users. Test on small area of skin before extended use. Discontinue in case of irritation .
Points of recommendation
Topical applications may cause temporary burning sensation or redness , but this should subside without complication .
Pregnancy level
Consult a physician before using