Drug information of Immunace
Immunace
Immunace Protection provides an advanced research based formula of 28 nutrients, including all the benefits of the original Immunace, plus additional nutrients, such as natural lycopene, l-carnitine, resveratrol, astaxanthin, alpha lipoic acid and extra vitamin D at 1000 IU.
Developed by Vitabiotics' experts, Immunace® Extra Protection gives you extra nutritional support with higher daily levels of vitamin D to contribute to the normal function of the immune system.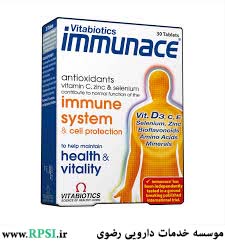 Mechanism of effect
The nutrients found in Immunace Protection including vitamins C & E contribute to the protection of cells from oxidative stress. Immunace® provides a daily source of vitamin C which is not produced or stored by the body.
Immunace® Extra Protection combines a synergistic combination of nutrients such as natural lycopene, l-carnitine, resveratrol, astaxanthin, and alpha lipoic acid.
Additional Vitamin D Immunace® provides a comprehensive formula including additional Vitamin D, Zinc & Selenium which contribute to the normal function of the immune system, plus folate which contributes to normal blood formation.
Immunace® was one of the UK's first immune system supplements to pioneer and recognise that Vitamin D not only contributes to the maintenance of normal bones and muscle function, but also contributes to the normal function of the immune system. New research shows that optimum intake levels of vitamin D may be higher than previously thought.
Each tablet of Immunace® Extra Protection contains an optimum level of 25mcg (1,000 IU) of vitamin D3, which is the specific form made naturally by the human body and therefore preferred over D2 which is found in some supplements. Lycopene extract
Lycopene is the bright red carotenoid pigment found in tomatoes. Lycopene is an intermediate in the biosynthesis of many
carotenoids, including beta-carotene.
Lycopene is not synthesised in the body and must be obtained from the diet. Resveratrol Resveratrol is found in the skin of red grapes. Resveratrol may contribute to cardiovascular health and has been identified as one of the protective substances found in red wine.
Dosage
One tablet per day with main meal
Alerts
1-As with other food supplements, seek professional advice before using if you are under medical supervision, pregnant, breast-feeding or suffer from food allergies.
2-Immunace contains iron, which if taken in excess by very young children may be harmful.
Points of recommendation
1-A general multivitamin is not necessary in addition to Immunace®.
2-Store below 25°C in a dry place, out of sight and reach of children.
Pregnancy level
Forbidden