Drug information of Multi Prenatal
Multi Prenatal
Multi Prenatal tablets provide key vitamins and minerals for nutritional support for women while they are trying to become pregnant as well as during pregnancy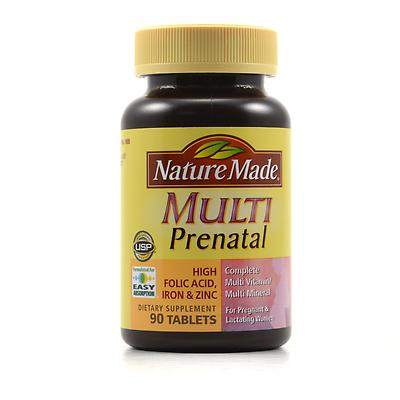 Mechanism of effect
Scientifically formulated with essential vitamins and minerals:
•Folic Acid: Adequate folic acid in healthful diets may reduce a woman's risk of having a child with a neural tube defect.
•Iron: Iron is vital for red blood cell formation and to deliver oxygen to cells throughout the body.
•Calcium and Vitamin D: Calcium and vitamin D help build and support strong bones.
•Vitamin A: Vitamin A helps support a healthy immune system and healthy eye function.
•Vitamins A, C, and D and Zinc: These nutrients all help support the immune system.
Vitamins C and E: Vitamins C and E provide antioxidant support.
• B vitamins (thiamin, riboflavin, niacin, vitamin B6, folic acid, vitamin B12): The B vitamins support cellular energy production.
Dosage
Suggested Use: Take one tablet daily, with a meal. For easier swallowing, take with water before and during ingestion.
Alerts
If you are taking medication, facing surgery, have bleeding problems, or undergoing any other treatment that may affect the ability of your blood to clot, consult your physician before taking this product.
Points of recommendation
Accidental overdose of iron-containing products is a leading cause of fatal poisoning in children under 6. Keep this product out of reach of children. In case of accidental overdose, call a doctor or poison control center immediately.
Pregnancy level
Consult a physician before using