Drug information of Menosof plus
Menosof plus
Phytoestrogens supplement with calcium, magnesium and vitamin D3.
Ingredients:Calcium Coral (34%); Rich Soy extract Phytoestrogens (33%); Passiflora (14%); Magnesium oxide (11%); Bulking agent: Polyvinylpyrrolidone; Anti-caking agent: magnesium salts of fatty acids; Cholecalciferol (0.0004%).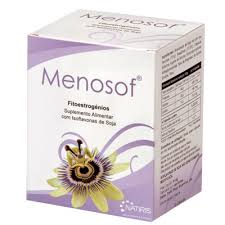 Mechanism of effect
Magnesium contributes to the balance of electrolytes for normal energy producer metabolism, for the normal functioning of the nervous system, for normal protein synthesis to a normal psychological function and the maintenance of normal bone.
Vitamin D contributes to normal absorption / utilization of calcium and phosphorus to normal blood calcium levels and the maintenance of normal bone.
Dosage
Take 1 tablet daily at breakfast.
Alerts
1-Not recommended in pregnancy and breastfeeding.
2-Not recommended in case of hypersensitivity or allergy to any of the constituents of the formulation.
Points of recommendation
1-Store in a cool , dry environment away from sunlight.
2-Keep out of reach of children.
3-Do not exceed the daily dose indicated.
4-This product does not replace a varied diet.
Pregnancy level
Consult a physician before using