Drug information of Sawpalmatto
Sawpalmatto
Saw palmetto is a plant. Its ripe fruit is used to make medicine. Saw palmetto is best known for its use in decreasing symptoms of an enlarged prostate (benign prostatic hypertrophy, BPH). According to many research studies, it is effective for this use.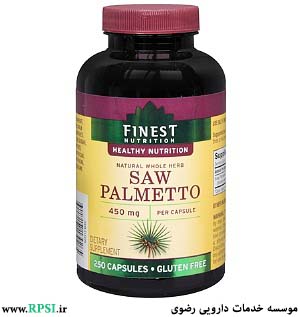 Mechanism of effect
Saw palmetto doesn't shrink the overall size of the prostate, but it seems to shrink the inner lining that puts pressure on the tubes that carry urine.
Dosage
1-For benign prostatic hyperplasia (BPH): 160 mg twice daily or 320 mg once daily.
2-For the treatment of bald spots: 200 mg twice daily combined with beta-sitosterol 50 mg twice daily
Alerts
1-Pregnancy and breast-feeding: Saw palmetto is LIKELY UNSAFE when used during pregnancy or breast-feeding. It acts like a hormone, and this could be dangerous to the pregnancy. Don't use during pregnancy or breast-feeding.
2-Surgery: Saw palmetto might slow blood clotting. There is some concern that it might cause extra bleeding during and after surgery. Stop using saw palmetto at least 2 weeks before a scheduled surgery.
Pregnancy level
Forbidden